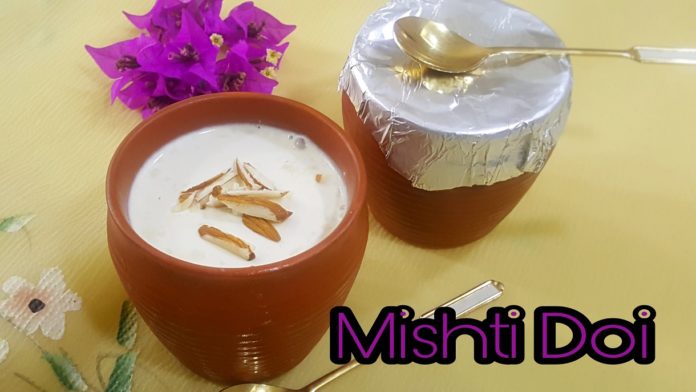 Mishti Doi is a popular Bengali dessert. Nolen Gurer Mishti Doi  is a fermented sweet yoghurt made with milk and nolen gurer. Nolen Gurer is a special jaggery obtained from date palm trees. It is available in Kolkata in winter. Nolen Gur is an intrinsic  part of Bengali cuisine in winters.   Various sweets such as Nolen gur sandesh, Nolen gur rasgulla, Nolen gur Payesh is made during winters in Kolkata. Recently, one of my friends who visited Kolkata brought Nolen gur for me. That's when i decided to make Mishti Doi with Nolen gurer which is the most easiest dessert of Bengali cuisine. 
It's a simple dessert which does not  involve elaborate procedure.  Here's the recipe:
Ingredients
4 cups Milk         
2 tbsp Date palm jaggery
1 tsp curd
Method:
Heat a pan.

Add 4 cups of milk.

Boil stirring occasionally till milk becomes thick and reduces to half its quantity.

Allow the milk to cool slightly.

When the milk is still warm, add the jaggery to the milk and mix well till the jaggery dissolves. 

Add the curd and mix well.

Pour the mixture into clay pots and keep in a warm place to set for 7 to 8 hours.

Refrigerate and serve chilled.
WATCH RECIPE VIDEO

Another famous dish from the Bengali cuisine is Begun Bhaja. Do have a look at the recipe of Begun Bhaja.