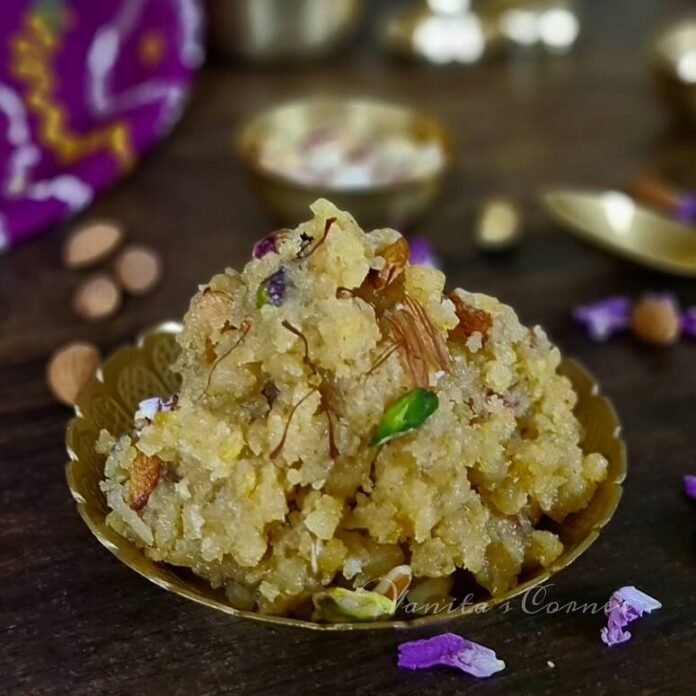 Moong Dal Halwa – a classic Rajasthani dessert, specially made in winters.
Moong Dal Halwa is a calorie rich dessert made with moong dal, ghee, sugar and milk. It is generally prepared in winter season as it is known to keep the body warm. However, it can be made for any festive occasion or whenever you want to pamper your sweet tooth. Though an easy recipe, it takes a long time and lot of patience to saute the moong dal paste and prepare the halwa. But the end result is worth the efforts. Here is the recipe for Moong dal halwa:
Ingredients
1/2 cup split green gram (moong dal)
3 tbsp clarified butter (ghee)
1 tsp semolina (rava)
1 tsp gram flour (besan)
½ cup warm milk (garam doodh)
½ cup warm water (garam paani)
½ cup sugar(cheeni)
few strands of saffron (kesar)
1 tbsp warm milk to soak the saffron (doodh)
4 tbsp chopped almonds and pistachios (badam and pista)
1 tsp cardmom powder (elaichi powder)
a pinch of salt (namak)
Some chopped almonds and pistachios for garnishing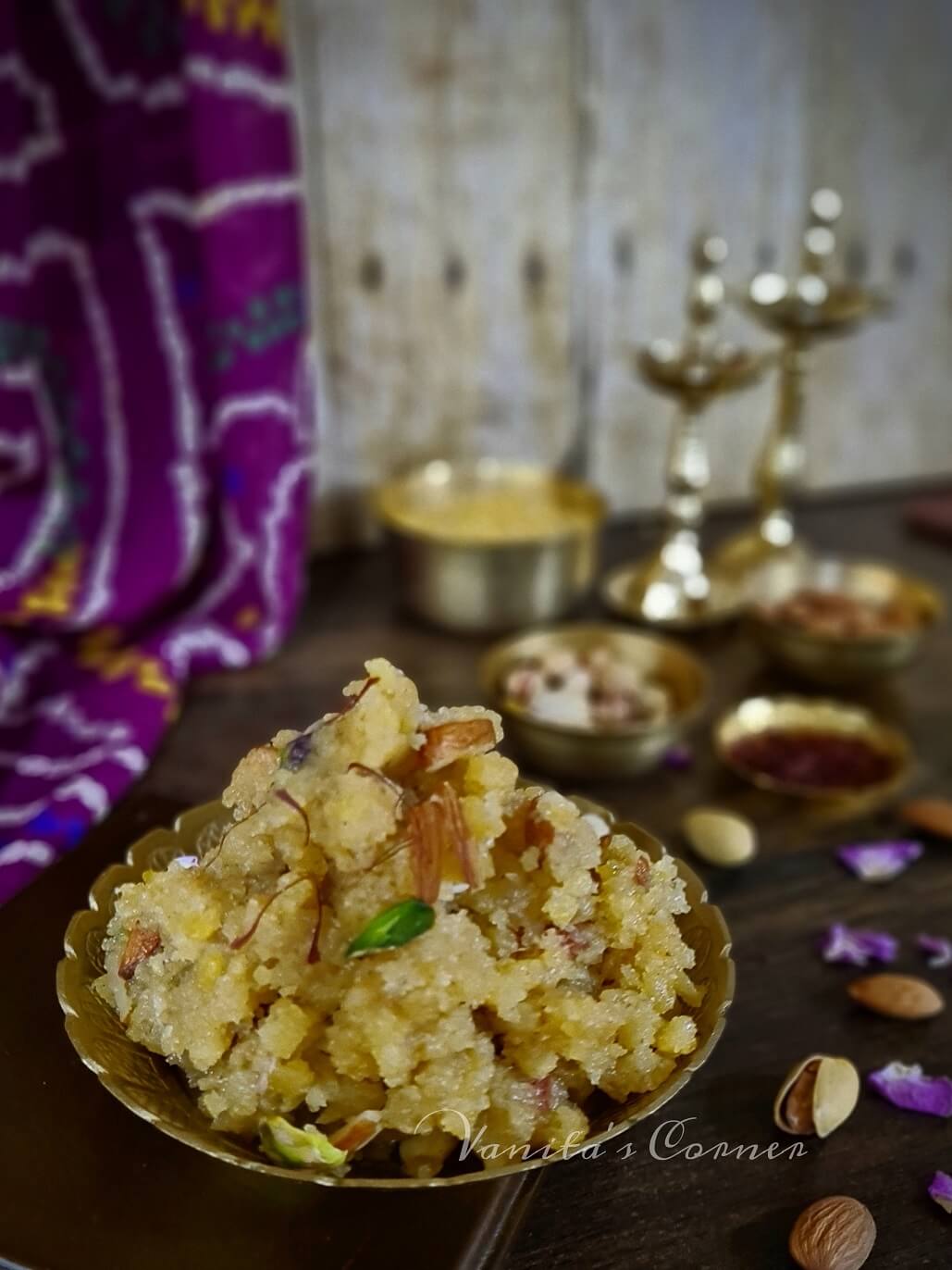 Method
Wash and soak moong dal for 4 hours.

Drain the water and grind moong dal to a coarse paste without adding water. Keep this aside.  

Soak saffron in  warm milk for 30 minutes.

Heat a pan.

Add ghee.

When the ghee starts melting, add rava and besan.

Saute on low flame till the mixture turns golden brown in colour.

Now, add moong dal paste.

Saute on low flame.

Initially the mixture will turn lumpy.

Keep breaking the lumps using the spatula.

Keep stirring on a low flame till the moong dal paste turns golden brown.

The dal will gain a sandy texture and will release ghee.

Now, add warm milk, warm water and keep stirring.

Add sugar and keep stirring on low flame till the mixture starts thickening.  

Add saffron soaked milk and keep stirring.

Add chopped almonds, pistachios and salt.

When the moisture is fully absorbed, add cardamom powder and mix.

Garnish with chopped nuts.

Serve hot.
Note:
Here, the moong dal is ground without adding water. But if you find it difficult to grind without water, add minimum water and grind. If the moong dal paste has excess water after grinding, drain it out through a strainer. More the moisture in moong dal paste, longer it will take to cook.
WATCH RECIPE VIDEO: