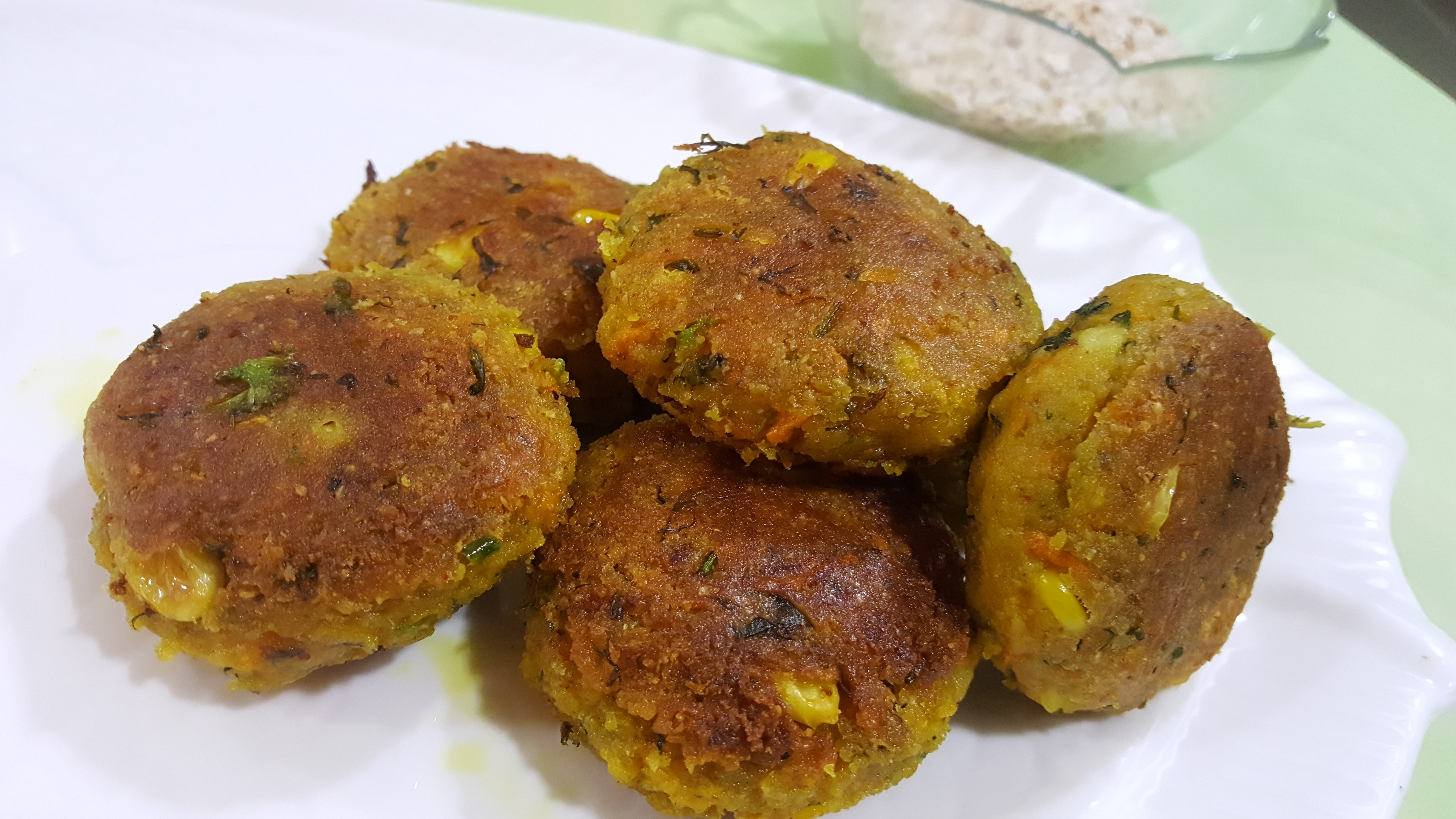 Oats, Corn Paneer Cutlets are cutlets made from healthy oatmeal.
The healthy oats combined with paneer and  sweet corn make for a delicious snack. This delicious cutlets can be served as a tea time snack or as a starter at a party. This cutlet can be deep fried or shallow fried as per one's preference. Here's the recipe:
Ingredients
1 cup Oats                                          
½ cup Paneer (grated)                  
¼ cup Boiled corn                            
¼ cup Boiled potato                       
¼ cup Grated carrot                       
1 tbsp Ginger-garlic paste            
2 tbsp Chopped coriander           
2 tsp Chilly powder                         
1 tsp Turmeric powder 
1 tsp Cumin-coriander pdr          
1 ½ tsp Dry mango powder         
Salt as per taste
Oil for shallow frying the cutlets
Method
Heat a pan and dry roast the oats. Grind the oats to a fine powder. In a mixing bowl, add oats powder, grated paneer, boiled corn, mashed boiled potato, grated carrot, ginger-garlic paste, chopped coriander, chilly powder, cumin-coriander powder, turmeric powder, dry mango powder, salt and mix it well to make a smooth dough. Divide the dough into equal parts and shape them into flat cutlets.
Heat oil in a non-stick pan and shallow fry the cutlets. Serve Oats Corn Paneer Cutlets  with green chutney or tomato ketchup.
Other Oats Recipes:
Oats Strawberry Breakfast Bowl, Oats Mango Parfait, Oats Idlis, Oats Carrot Idlis, Oats Dhokla, Oats Parathas, Vegetable Masala Oats, Oats and Vegetable Dosa