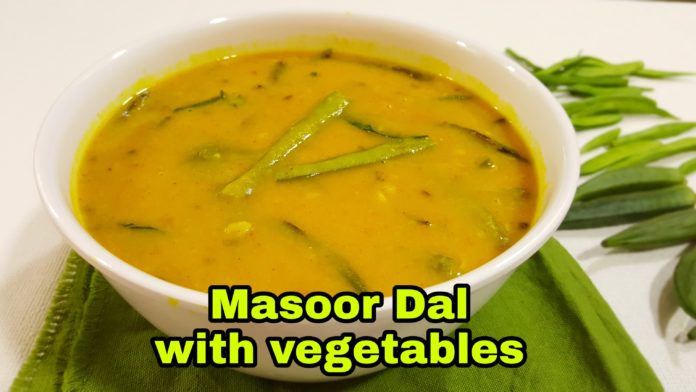 Masoor Dal with vegetables is a variant of the famous Sindhi Kadhi and is an absolute comfort food.  Here, cooked masoor dal is added to sautéed vegetables and roasted gram flour. Sindhi Kadhi is made with vegetables and gram flour, without the dal.  Addition of masoor dal increases the protein content of this dish. The tamarind pulp in the dal gives it a tangy taste. This dal pairs well with steamed rice.  Lets have a look at the recipe:
Ingredients
1 cup Masoor dal
3 tomatoes chopped
3 tbsp oil
8 to 10 bhindi (okra or lady finger)
3 green chillies, slit
10 to 12  gawar (cluster beans)
½ cup gram flour (besan)
2 tsp cumin seeds (jeera)
½ tsp fenugreek seeds (methi seeds)
A big pinch of asafoetida (hing)
1 tsp red chilly powder
1 tsp turmeric powder
3 tbsp tamarind pulp
8 to 10 curry leaves
Salt as per taste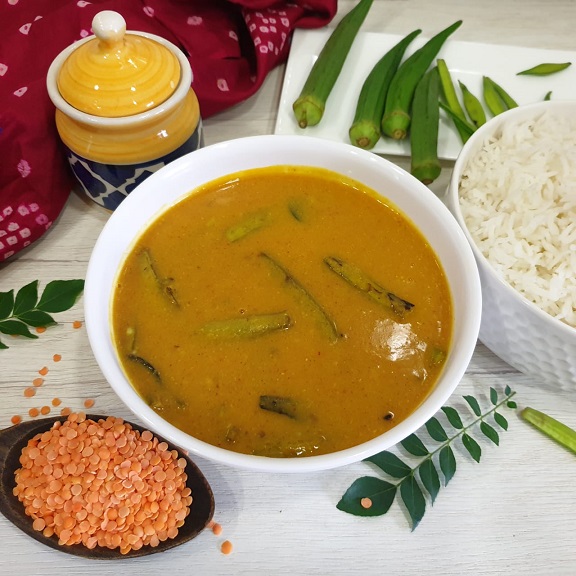 Method
Soak the masoor dal in water for 30 minutes.

Wash the bhindis, dry them with a kitchen napkin, remove the head and the bottom end of the bhindi and slit vertically.

Wash the gavar and string them. If the gavar is tender, they dont need stringing. You can just cut the top and bottom ends of gavar.

Pressure cook the dal with chopped tomatoes and 2 cups of water for 3 to 4 whistles.

When the steam escapes completely, open the pressure cooker.

Strain the cooked dal using a strainer, pressing the dal with the back side of the spoon.

Keep the strained dal aside.

Heat 1 tbsp oil in a pan.

Add the slit bhindis and saute for 5 minutes.

Add slit green chillies and cluster beans and saute.

Cover the pan and allow the vegetables to cook. Keep this aside.

In another pan, heat one tbsp oil.

Add 1 tsp cumin seeds, ½ tsp fenugreek seeds and asafoetida. 

When the cumin seeds start spluttering, add the gram flour and saute for few minutes.

Add 2 cups of water, a little at a time.

Keep stirring continuously so that no lumps are formed.

Now, add the sautéed vegetables and mix. 

Add the cooked masoor dal, turmeric powder, red chilly powder, salt and tamarind pulp.

Mix well.

In a small pan, heat 1 tbsp oil.

Add 1 tsp cumin seeds .

When the seeds start crackling, add the curry leaves.

Pour this seasoning to the dal.

Serve hot with steamed rice.
Note:
To make tamarind pulp, soak a lemon sized ball of tamarind in a bowl of water for 20 to 30 minutes. Squeeze the tamarind in the water and strain the pulp.

Masoor dal can be replaced with tuvar dal.

Besan should be roasted on a slow flame and after adding water, stirring the besan continuously is important to prevent formation of lumps. 
WATCH RECIPE VIDEO
Other Dal recipes : Five Lentils Dal, Dal Pakwan, Ambat Varan, Dal Banjari, Dal Makhni, Dal Hari bhari, Dal Dhokli