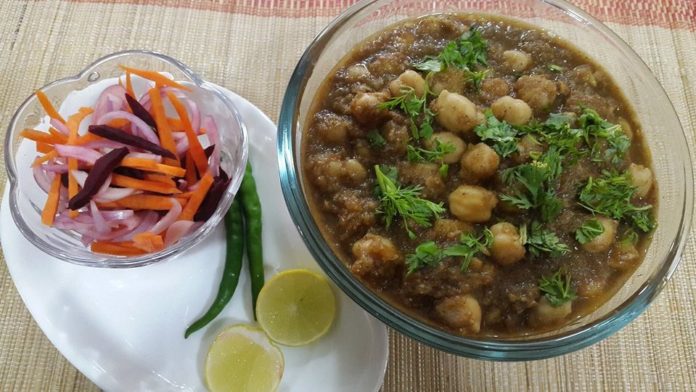 Chole is prepared in a variety of ways by people. Today I am sharing an  easy Punjabi Chole recipe, which I learnt from a Punjabi friend. It's very simple to make and tastes great. Unlike the traditional Punjabi Chole, here the chickpeas, onions, tomatoes and spices are all cooked together.
Ingredients
2 cups Kabuli chana (chickpeas)                    
3 Onions (finely chopped)                              
3 Tomatoes (finely chopped)             
1 tbsp  Ginger & garlic (finely chopped)                    
2 to 3 Bay leaves                                            
1 tbsp Ghee (clarified butter)                        
½ tsp Asafoetida (Hing)                                  
1 tsp coriander powder (Dhaniya)                 
1 tsp Carom  powder (Ajwain)                       
1 tbsp  Raw mango powder (Amchoor)                     
1 tbsp Chana masala (Everest masala)                      
1 tbsp Oil                                                       
For dry masala powder
2 big cardamom
10 black pepper
3 cloves
1 tbsp cumin seeds (Jeera)
Method
Wash and soak kabuli chana overnight in water. 

Pressure cook soaked kabuli channa  alongwith chopped onions, tomatoes, ginger, garlic, bay leaves, ghee, water and salt  for 3 to 4 whistles.

Once the pressure escapes fully, open the pressure cooker.

Heat a pan. Roast big cardamom, black pepper, cloves and  cumin seeds  well so that they attain dark colour.

Grind the spices to a fine powder. Keep this aside. 

Heat oil in a deep pan. 

Add asafoetida, coriander powder, carom powder, raw mango powder, chana masala and the ground powder (cardamom, black pepper, cloves and cumin). 

Saute it for a few seconds  and add the cooked chana to this. 

Mix it well and let it cook for 5 to 10 minutes on a slow flame so that the chole absorbs the flavour of all the spices.

Garnish with coriander. 

Serve hot with puris, rotis or bhaturas.