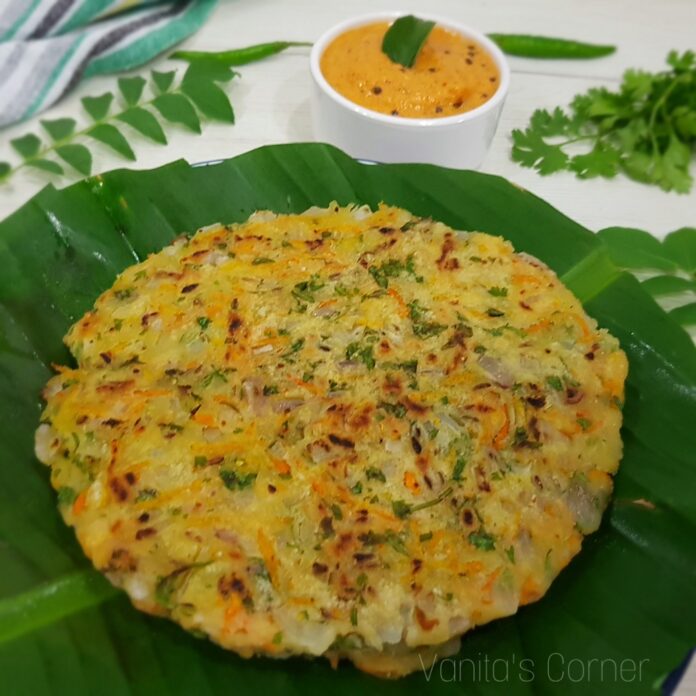 Akki Roti is a popular breakfast dish from Karnataka. Akki in Kannada means rice and this roti is made using rice flour, chopped vegetables and spices. Akki Roti is generally served with a spicy chutney. This  healthy roti is quite filling and keeps you full  for a long time.  I have used onions, carrots and coriander leaves to make this roti, but you can add other vegetables like cucumber, cabbage, bottle gourd etc.  Here's the recipe:
Ingredients
1 cup rice flour (chawal ka atta)
1 large onion, finely chopped (pyaaz)
1 cup grated carrots (gaajar)
½ cup chopped coriander leaves (hara dhaniya)
2 green chillies, finely chopped (hari mirch)
1 tbsp cumin seeds (jeera)
Few curry leaves, chopped (kadi patta)
1 tbsp oil (tel)
Salt as per taste (namak)
Oil to cook the rotis (around 1 tsp oil per roti)
Method
In a mixing bowl, add a cup of rice flour.

Add chopped onions, grated carrots, chopped coriander leaves, chopped green chillies, cumin seeds, chopped curry leaves and salt.

Mix well using a spoon.

Now, add water gradually and knead to make a soft dough.

Once the dough is ready, add 1 tbsp oil and knead again for few seconds.  

Take a small portion of the dough and place it on butter paper.

Shape the dough ball into a thin flat roti using your fingers. 

Lift the roti alongwith the butter paper and flip it on a hot pan.

Gently take off the butter paper.

Drizzle about 1 tsp of oil around the roti and allow it to cook.

Flip the roti and cook it on the other side.

Allow the roti to cook evenly on both sides.

Remove it from the pan and serve with orange coconut chutney or tomato coconut chutney or tomato chutney.
WATCH RECIPE VIDEO: