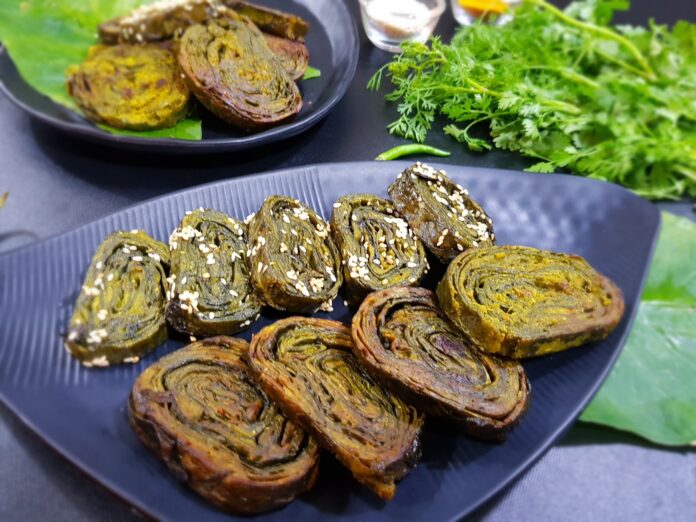 Alu wadi or Paatra is a  popular snack from Maharashtrian and Gujarati cuisine. It is known as Alu wadi in Marathi and Patra in Gujarati. Alu wadi is  prepared with colocasia leaves and gram flour. Colocasia leaves are stuffed with spicy, tangy, sweetish gram flour paste. They are then rolled, steamed and  fried or tempered with little oil and sesame seeds. I have explained both the methods here and have also demonstrated the methods in the video. Here goes the recipe.
Ingredients
18 Colocasia leaves (Arbi/Alu leaves)          
2 cups Gram flour (besan)           
1 cup fresh coriander (hara dhaniya) 
5 cloves Garlic (lehsun)                                                  
1 ½ inches Ginger  (adrak)                                          
3 Green chillies (hari mirch)                             
1 tsp Turmeric powder (haldi)                
2 tbsp Cumin coriander powder (dhaniya jeera powder)
2 tbsp Jaggery (gud)                                 
1 lemon sized ball of tamarind (imli)
Salt as per taste (namak)
Oil  for frying (tel)
1 tsp Sesame seeds (til)                                     
1 tbsp fresh Coconut (scraped) for garnishing (nariyal)
1 tbsp fresh coriander (chopped) for garnishing  (hara dhaniya)                            
Method
Wash the colocasia leaves.

Cut the stem and remove thick veins from the colocasia leaves.

Flatten the thin veins on the leaves with the help of a pestle or a rolling pin (belan). 

Keep the leaves aside. 

Soak the tamarind in ½ cup of water for 30 minutes.

Squeeze the tamarind  in the water.

Strain it and keep the tamarind water aside.

Grind coriander leaves, green chillies, garlic, ginger and jaggery to a fine paste. 

In a bowl, combine the besan,  turmeric powder, cumin-coriander powder,  the ground paste (coriander leaves, chillies, garlic ,ginger and jaggery), tamarind water and salt.

Mix it well to make a thick paste. 

Now spread the paste evenly on the back of each leaf.

Keep one leaf over the other in a manner that the first leaf has its  tip facing upwards  and the second leaf in the opposite direction. The third leaf will again have its tip facing upwards  and the fourth leaf will be in the opposite direction.

After placing each leaf, spread the paste evenly on each leaf. 

Place around five to six leaves in this manner, one over the other.  

Now fold the leaves vertically from both sides.

Then roll the leaves tightly.  I made 3 rolls from 18 leaves. 

Place these rolls on a plate and steam in a steamer or pressure cooker (without the whistle) for 30  minutes or till it is cooked.

Remove and let it cool.  Cut into 1 cm thick pieces.

You can then proceed in two days.
First method – Tempering.
Heat  1 tbsp oil in a pan.

Add sesame seeds.

When they begin to crackle, put in the sliced pieces of alu wadi  and saute in the oil on a low flame for a few minutes till it turns brownish in colour. 
Second method – Frying
 Heat oil in a pan and fry the alu wadi/patra till they turn brownish in colour from both sides.

You can garnish the alu vadi with grated coconut or coriander or both.  

Serve hot.
Note: The quantity of green chillies and jaggery in this recipe can be increased as per your taste.
RECIPE VIDEO: