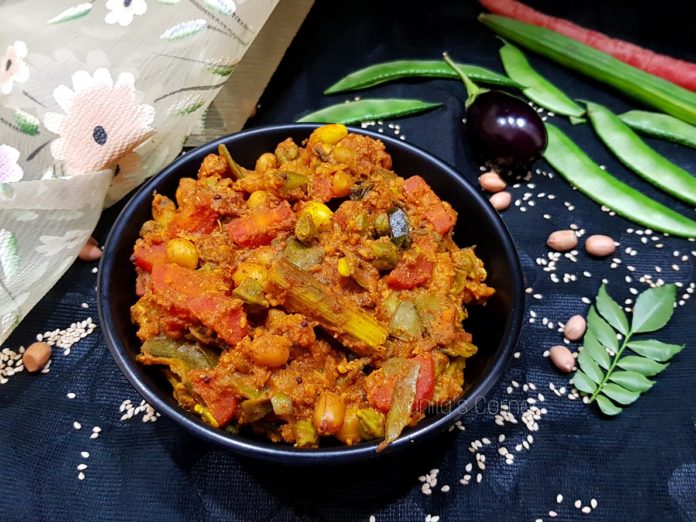 Bhogichi Bhaji is a wonderful medley of winter fresh vegetables like red carrots, brinjal, drumstick, fresh green chana, flat green beans (paapdi) etc.  This bhaji (sabzi) is prepared by Maharashtrians on the day of Bhogi i.e. a day prior to Makar Sankranti.  Peanuts and sesame seeds ( til) are also added to this which provides warmth and nourishment to the body during winters.
Ingredients
1 red carrot
1 potato
2 small brinjals
½ cup fresh green chana
2 tbsp peanuts
1 drumstick
10 to 12 flat green beans (paapdi)
½ tsp mustard seeds
½ tsp cumin seeds
1 tbsp red chilly powder
1/2 tsp turmeric powder
1/4  tsp asafoetida (hing)
Few curry leaves
2 tbsp roasted sesame powder (til)
2 tsp Kala Masala
1 lemon sized ball of tamarind
1 tbsp grated jaggery
3 tbsp grated fresh coconut
Salt as per taste
Kala Masala
1 tsp coriander seeds
½ tsp cumin seeds
½ tsp sesame seeds
1 tbsp grated dry coconut
4 black pepper
2 cloves
½ inch cinnamon
1 small bay leaf
A pinch of asafoetida.
Method
Kala masala


Dry roast all the ingredients mentioned under kala masala except the asafoetida.

Grind the roasted spices to a fine powder and add asafoetida to it. Keep this aside.
Bhaji
Soak the peanuts in water for 2 hours

Soak the tamarind in 3 tbsp water in a small bowl  for 30 minutes. When the tamarind turns soft, mash  the tamarind in the bowl in which it is soaked. 

Pass it through a strainer and keep the tamarind water aside discarding the tamarind.

Wash, peel and chop the carrot and potato into 1 inch cubes. Chop the brinjals into 1 inch cubes. 

Peel and chop the drumstick into 2 inches pieces.

String the flat beans and chop them into 1 inch pieces.

Heat oil in a pan. Add mustard seeds, cumin seeds, asafoetida, curry leaves and saute.

Add potato, drumstick, green chana, peanuts, turmeric powder, and saute. 

Add a little water and cook covered for 10 minutes.

Now, add brinjal, carrot and papdi.

 Add a little water if required and cook covered for another 10 minutes.

 Add the tamarind water, grated jaggery, red chilly powder, kala masala, roasted sesame powder, grated coconut, salt and mix well.

Cook for another 4 to 5 minutes.

Serve hot with bajri bhakri.
WATCH RECIPE VIDEO :