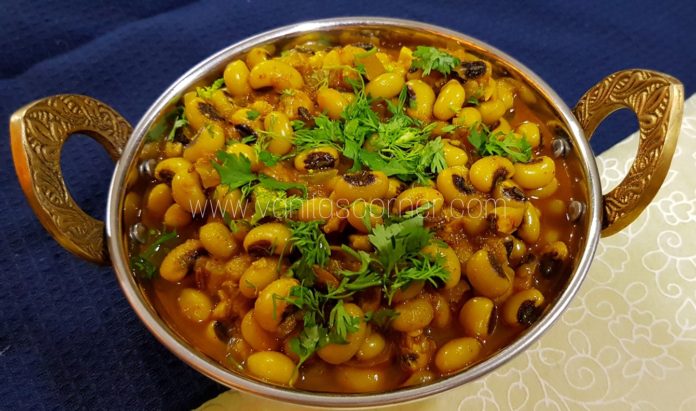 Chavli /Cowpeas/ black eyed peas is not only rich in taste, but is also loaded with nutrients. Chavli usal is the easiest manner to add this humble lentil to our diet. Chavli usal is a common dish in most Indian households.  Chavli usal tastes great both with rotis and rice.
The recipe which I am sharing today is a very easy recipe wherein all the ingredients alongwith the chavli is cooked together in a pressure cooker. There are other methods of making chavli usal wherein coconut paste with other masalas are added to the cooked chavlis. But this easy recipe can be resorted to when you are short of time and want to rustle up a quick meal. 
Ingredients
1 cup Chavli  (Black eyed beans)
1 medium onion
1 medium tomato
4 to 5 cloves Garlic
½ tsp Cumin seeds
½ tsp Mustard seeds
2 tsp Chilly powder
1 tsp Turmeric powder
1 tsp Garam masala powder
1 tsp Cumin coriander powder
1 tbsp Oil                                                                           
Method
Wash and soak chavli in water overnight or for  4 to 5 hours. 

Chop onion, tomato, garlic and keep it aside. 

Heat 1 tbsp oil in a pressure cooker.

Add cumin seeds and mustard seeds.

When the seeds start crackling, add chopped onions and saute.

Add chopped garlic and tomatoes and saute for a minute.

Add turmeric powder, chilly powder, garam masala powder, cumin coriander powder and mix it well. 

Add the chavli.

Give it a good mix.

Add 2 cups of water and close the lid of the cooker.

Cook it for 3 to 4 whistles. 

Let the steam escape completely. 

Open the pressure cooker.

Garnish chavli usal with chopped coriander.

Serve with chapatis or lachcha parathas or steamed rice.