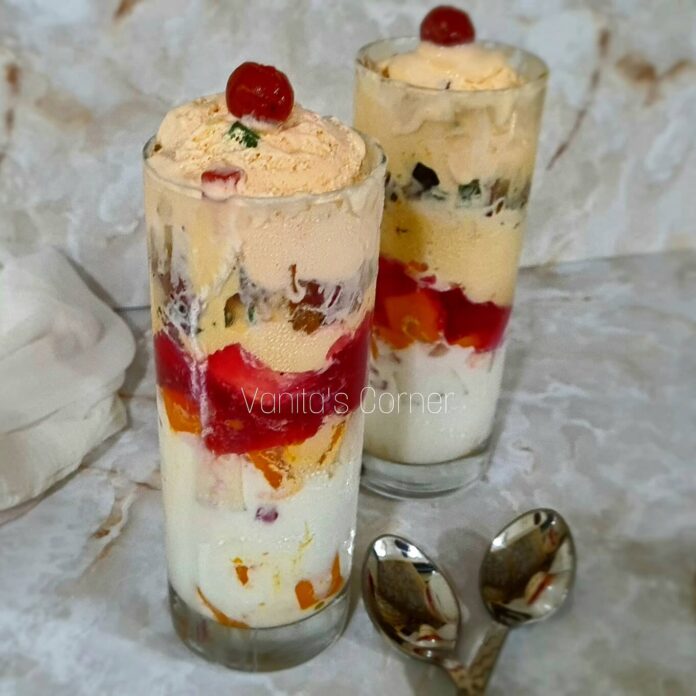 Gadbad – the famous ice-cream from Mangalore.
Gadbad consists of three different flavours of ice-cream layered in between jelly, chopped fruits and nuts.  Gadbad ice-cream is known to be an accidental invention of Diana restaurant in Udipi. The restaurant owner put together a concoction of three flavours of ice-cream as he had very little quantity of each and layered the ice-creams between nuts and fruits. As it was prepared in a hurry (Kannada word for hurry is gadibidi), the ice-cream came to be known as the Gadbad.  It is served in a tall glass with a long spoon.
Gadbad brings back my childhood memories of the summer vacations spent in Mangalore. Our visits to Ideal icecream parlour in Mangalore city is still etched in my mind. We cousins used to look forward to having our favourite gadbad icecream there.
This post is the 500th post on my blog. So, I wanted to make something special. What better than my favourite Gadbad ice cream? I have used vanilla, mango, tutti fruiti ice cream, jelly, some seasonal fruits, nuts and tutti fruiti to make Gadbad. Here goes the recipe:
How to make mango ice cream at home click here to see the recipe
Ingredients
Vanilla ice cream
Mango ice cream
Tutti fruti icecream
chopped mangoes
chopped apples
pomegranate seeds
chopped dry fruits – a mix of cashew nuts, almonds and raisins
tutti frutti
jelly
glazed cherry
Method
Firstly, prepare jelly as per the instructions given on the pack. I have used Weikfield brand of jelly. 

Take a tall glass and drop in chopped mangoes.

Then add, a scoop of vanilla ice-cream.

Next, add some chopped apples, mangoes and pomegranate seeds.

Add 2 to 3 tbsp of jelly.

Next, add a scoop of mango ice-cream.

Add  1 tbsp chopped dry fruits,  1 tbsp tutti fruti and chopped mangoes.

Finally add a scoop of tutti fruti ice cream.

Place a glazed cherry on the top of the tutti fruti ice cream.

Serve immediately.
WATCH RECIPE VIDEO: