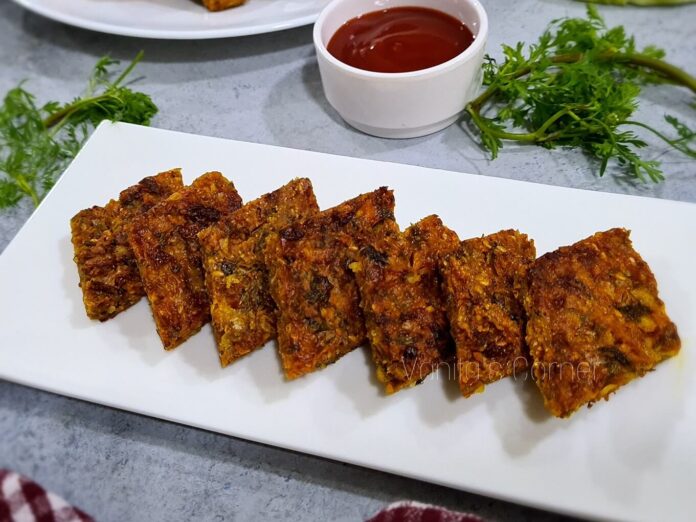 Kobichi Vadi  are cabbage fritters made with a mixture of gram flour /besan, cabbage and spices.
Kobi is a Marathi word for cabbage and kobichi vadi means cabbage fritters. Kobichi vadi is made in the similar manner as the popular Maharshtrian snack Kothimbir vadi. What sets these fritters (Kobi and Kothimbir vadi)  apart from other deep fried snacks is that the the gram flour/besan dough is first steamed and then sliced and fried. These vadis / fritters have wonderful texture. They have  crispy exterior and are soft inside.  Though fried fritters taste the best, they can also be served steamed or just by adding the steamed fritters to a tempering (tadka) of oil, mustard seeds, sesame seeds and garnished with grated coconut and chopped coriander leaves.
Kobichi vadi can be served as a starter, as a side dish with lunch/dinner or as a snack with the evening tea. Here's the recipe for Kobichi Vadi:
Ingredients
1 cup cabbage, finely chopped (patta gobhi)
1 cup  gram flour (besan)      
¾ cup coriander leaves (hara dhaniya)                        
2 tbsp rice flour (chawal ka aata)
2 tbsp semolina (rava)
1 tbsp ginger, garlic and green chilly paste (adrak, lehsun mirchi paste)
½ tsp turmeric powder (haldi)
1 tsp red chilly powder (laal mirch)
1 tsp cumin coriander powder (dhaniya jeera powder)
½ tsp garam masala
1 tbsp sesame seeds (til)
1 tbsp carom seeds (ajwain)
1 tbsp oil (tel)
salt as per taste (namak)
Oil for frying the vadis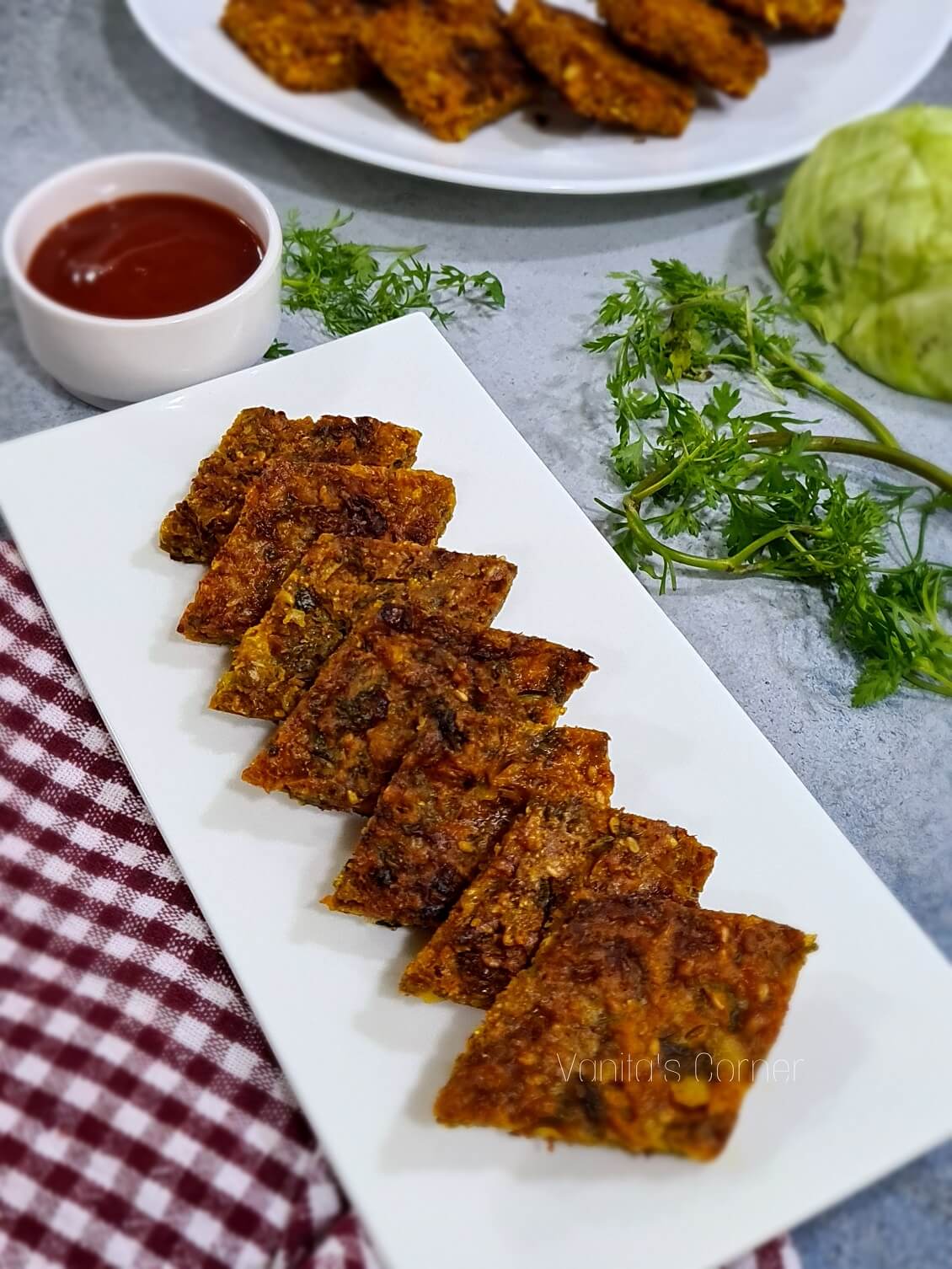 Method
In a mixing bowl, add chopped cabbage, ginger, garlic and green chilly paste,besan, rice flour, rava, turmeric powder, red chilly powder, cumin-coriander powder, garam masala, chopped coriander leaves, sesame seeds, carom seeds, 1 tbsp oil, salt, and mix well. Add 2 to 3 tbsp water and lightly knead to a smooth dough.

Grease a thali/plate  and spread the dough on the thali.  Place the thali in a steamer in which some water is already boiling.

Cover it and steam for 15 minutes. 

To check if it is cooked properly, poke a knife. If it comes out clean, it means kobichi  vadi is cooked properly.

Once it cools, cut into desired shapes..

Heat oil in a pan and shallow fry the vadis. 

Kobichi vadis are ready to be served
Note: Adding of coriander leaves is optional. But it gives a good flavour to Kobichi vadi.
WATCH RECIPE VIDEO: