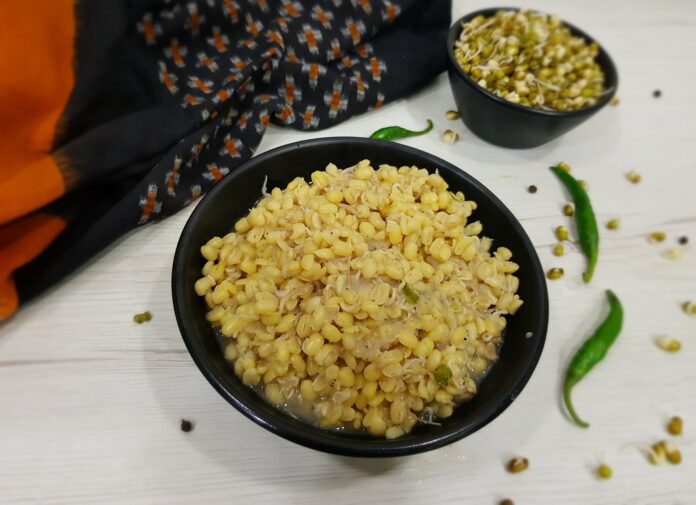 Mugache Pandhre Birde  – literally means White Curry made from Green gram. This dal/ curry is a traditional dish made by the Maharashtrian CKP community on Mondays in the month of Shravan. Sprouted Moong (green gram) is peeled and is used to make this curry with minimal masalas and no oil. Though blandish in appearance, this is a super delicious dal/ curry and pairs fantastically with steamed rice. This dal/curry with a dash of lime can be had all by itself like a soup too and needless to say it is a nutritious dish.  Here's the recipe:
Ingredients
1 cup sprouted green gram (moong)
2  green chillies, chopped (hari mirch)
1/2 cup fresh grated coconut (nariyal)
1 tsp black pepper powder (kali mirch)
Salt as per taste (namak)
Few Lemon wedges – to squeeze over the birda while serving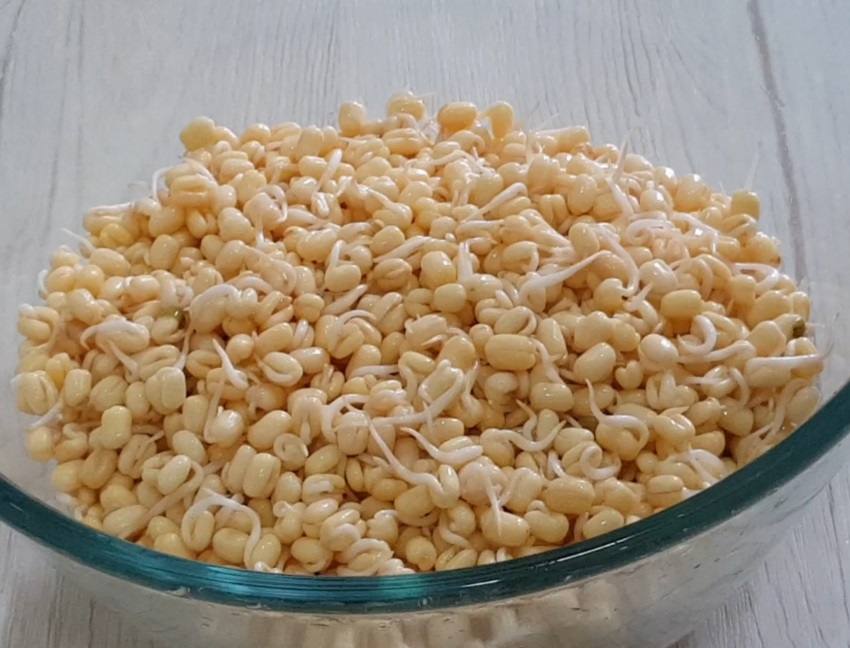 Method
Take the sprouted moong in the big bowl.

Add water to it and deskin the moong.  

Transfer the peeled moong to a pan.

Add chopped green chillies, salt and 1 ½ to 2  cups of water.

Cook for 8 to 10 minutes.  

In the meantime, blend the grated coconut and black pepper powder to a smooth paste.

Add the ground paste to the moong. 

Cook for another 5 minutes. 

While serving the Moong  birda, add lemon juice and serve with steamed rice. 
Note :
Traditionally Mugache Pandhre Birde is made with peeled moong. However, I can understand that peeling the moong is a very tedious and time consuming process. Hence, unpeeled sprouted moong can also be used in this recipe and it will taste equally good.

This dish is made without onion and garlic. But you can even use onion and garlic, if you wish.
WATCH RECIPE VIDEO:
Also, have a look at the recipe of Vaalache Birde