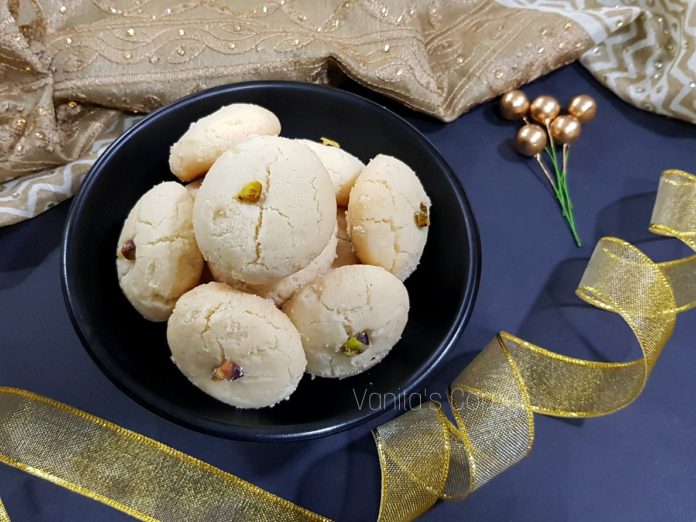 Nankhatais are cookies/biscuits made with refined flour, sugar and ghee. They have brittle, buttery texture  and pair well with a hot cup of tea. These cookies were quite popular a few decades ago. It used to feature in the list of items/sweets made during Diwali. Back in those days, when oven was not a common appliance at home, people used to make the dough at home and get the biscuits baked from nearby bakeries. However, these are now replaced by a whole range of exotic cookies which are easily available in the market. So, just to reminisce on the good old  memories associated with these biscuits, I made a small batch of nankhatais. Nankhatis are fairly simple to make. Here's the recipe:
Ingredients:
1 cup of refined flour (maida)
½ cup of powdered sugar (pisi hui cheeni)
1 tbsp semolina (rava)
6 tbsp clarified butter (ghee)
¼ tsp baking soda
A pinch of cardamom powder (elaichi powder)
Few pistachios, broken into small pieces (pista)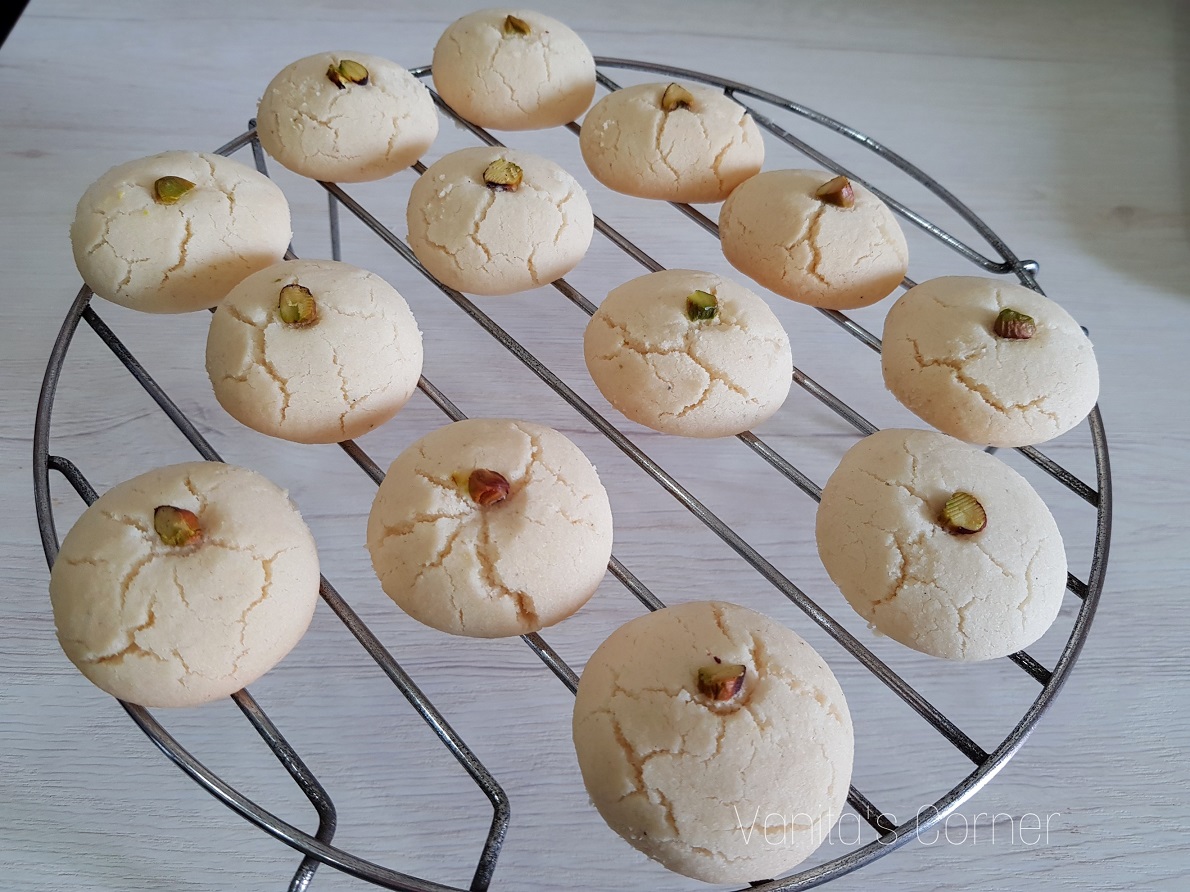 Method:
Pre-heat the oven at 160 degrees C.  

Line a baking tray with parchment paper.

In a mixing bowl, sift maida, baking soda, rava and powdered sugar. Add cardamom powder. Mix everything.

Now, add the ghee, little at a time and mix, using your hands.

Knead the mixture to a smooth dough.

Pinch a small portion of the dough and shape into a ball and flatten it.

Place the dough ball on the baking tray lined with parchment paper.

Repeat with the remaining dough and keep them on the baking tray.  

Place  and press pieces of pista on each nankhatai.

Place the tray in oven and bake at 160 degrees C for 15 minutes.

Keep an eye on the biscuits. Do not allow them to turn brown.

Once the nankhatis are done, remove the tray from the oven and allow the nankhatis to cool completely.

Serve with tea or store in an airtight container.
Note:
Baking time may vary from oven to oven.

Ghee should be added little at a time. Knead the dough till they become smooth. I have used 6 tbsp ghee.The quantity of ghee may vary depending on the variety of flour used.

A pinch of salt can be added while kneading the dough.
WATCH RECIPE VIDEO: