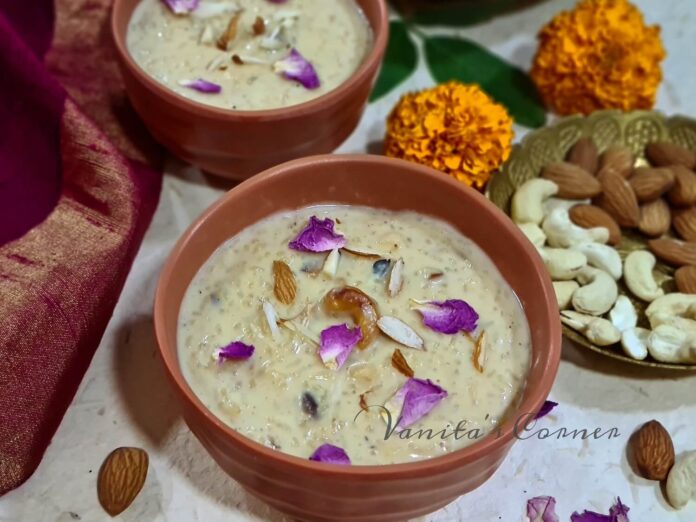 Nolen Gurer Payesh – creamy payesh (kheer)made with Gobindobhog rice and nolen gur (date palm jaggery)
Nolen Gurer Payesh is a Bengali winter delicacy as date palm jaggery is available in winters.  My house help, recently  got jhola gur  for me from Kolkata.  Jhola gur is liquid date jaggery which is extracted from the fruit sap of the date palm tree. It can be consumed with rotis, cereals, breads and can be used to make rasgulla, payesh, mishti doi etc.  The liquid jaggery is quite flavourful and has caramel like fragrance.
Today, I am  here with the recipe of Nolen gurer payesh (kheer). This payesh is made using the fragrant gobindobhog rice, milk and liquid jaggery. The fragrant gobindobhog rice and the caramel flavour of the jaggery gives an unique taste to the kheer.  Here is the recipe for Nolen Gurer Payesh:
Ingredients
1 litre full fat milk
¼ cup gobindobhog rice
4 to 5 tbsp of jhola nolen gur (liquid date palm jaggery)
10 to12 cashew nuts
3 tbsp raisins
2 tbsp chopped almonds
1 tbsp ghee
1 bay leaf
Method
Wash and soak rice for 30 minutes. 

Drain water and keep aside.  

Heat ghee in a small pan.

Fry cashews, raisins and almonds one by one. Keep aside.  

Heat milk in a pan.

Keep stirring the milk on low flame.

When the milk starts boiling, add soaked rice and the bay leaf.

Keep stirring at regular interval and cook on a low flame till the rice is well cooked and the mixture turns creamy and thick.

When the mixture becomes thick and creamy, turn off the heat.

Discard the bay leaf.

Stir in liquid palm jaggery and mix well.

Add cardamom powder and fried nuts/dry fruits. 

Serve hot or refrigerate nolen gurer payesh and serve chilled.
Notes:
In the absence of gobindobhog rice, basmati rice can be used. 

Jhola nolen gur can be replaced with date palm jaggery or cane jaggery. If using date palm jaggery/cane jaggery, grate the jaggery and add after the mixture attains creamy consistency. Cook on a low flame till the jaggery dissolves and later stir in the fried nuts and cardamom powder.
WATCH RECIPE VIDEO :