Tender Mango Pickle – pickle made using baby mangoes, Mangalore style.
Pickle is an important component of Indian meal and pickle making is an age old tradition in India. With the onset of summer, when the raw mangoes are available in plenty, pickle making seem to be a natural ritual at most homes. Few days ago, while shopping for my weekly vegetables, I happened to notice tender mangoes with a vegetable vendor. I was instantly reminded of the tender mango pickle that my mom used to make. So, I bought the mangoes and made this pickle.
The pickle masala for this tender mango pickle is similar to the Mangalorean mango pickle that I have shared earlier. It is very easy to make and tastes awesome. This pickle can be stored in an airtight container for 6 months or more. Here is the recipe:
Ingredients
500 grams small, tender, raw mangoes (kachchi kairi)
3 tbsp salt (namak)
8 to 10 dry red chillies – a mix of Kashmiri & Pandi chillies (sookhi laal mirch)
7 to 8  cloves of garlic (lehsun)
2 tsp mustard seeds  (rai/ sarso)
½ tsp fenugreek seeds (methi)
1 tsp of turmeric powder (haldi)
2 tbsp vinegar (sirka)
For tempering (tadka)
3 tbsp oil (tel)
1 tsp mustard seeds (rai/ sarso)
1 tsp asafoetida (hing)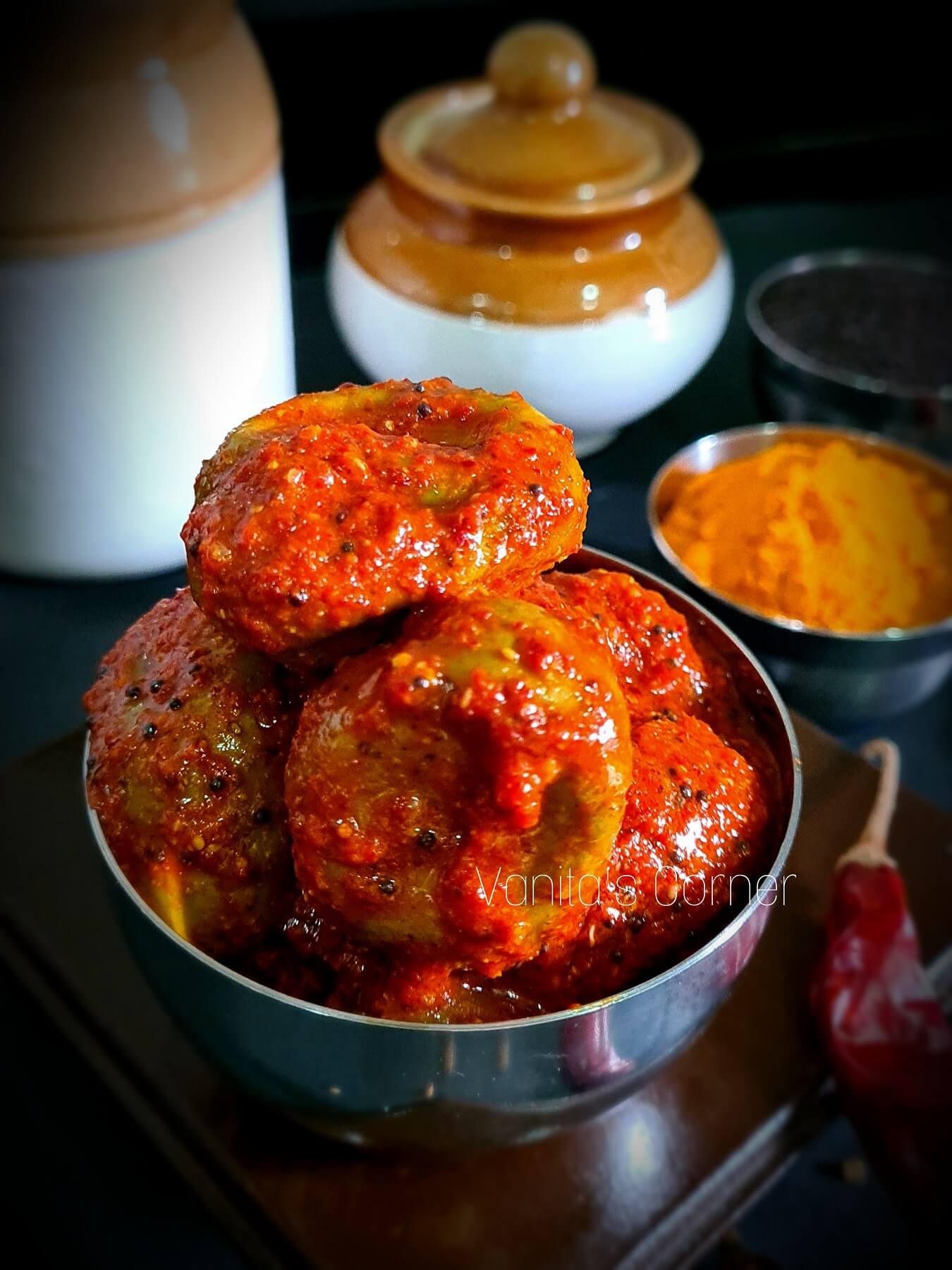 Method
Wash the mangoes well. Wipe them dry.

In a dry, airtight, glass or ceramic jar, add the mangoes in layers.

Firstly make a layer of few mangoes.

Add  1 tbsp salt.

Add another layer of mangoes and 1 tbsp salt.

Lastly add another layer of mangoes and 1 tbsp salt.

Close the jar and keep aside for 6 to 7 days.

Keep shaking the jar every alternate day.

After seven days, the mangoes would have shrunk, absorbed salt and  released water.

Pass the brined  mangoes through a strainer and collect the liquid (water released by the mangoes)  in a bowl.

Reserve this water. This will be used while grinding the masala.

Now, into a mixer jar, add the dry red chillies, mustard seeds, garlic, fenugreek seeds, turmeric powder,  water strained from the marinated mangoes and vinegar. Blend to a fine paste.

Add this masala paste to the mangoes.  Give a good mix.

Now, for the tempering, heat oil in a small pan.

Add mustard seeds.

When the mustard seeds start crackling, add asafoetida.

When it starts turning brown, turn off the heat.

Allow this tempering (tadka) to cool completely.

Pour the tempering over the pickle and mix well.

Store the pickle in a sterilized glass jar or ceramic pickle jar (bharni).
Notes:
Mangoes should be washed and wiped dry. There should be no moisture in the mangoes.

The quantity of vinegar can be adjusted as required, while grinding the masala.

While grinding the masala, you may also use water which is thoroughly boiled and cooled completely.

I have used a mix of Kashmiri and Pandi chillies. However, you can use only byadgi chillies too or even a mix of Kashmiri and Guntur chillies.

Use a clean, dry spoon to handle the pickle.

This pickle can be stored for 6 months or more in an airtight jar.

If keeping in refrigerator, the pickle can be stored for longer time.

But, once stored in the refrigerator, it must always be kept in the refrigerator.
WATCH RECIPE VIDEO: