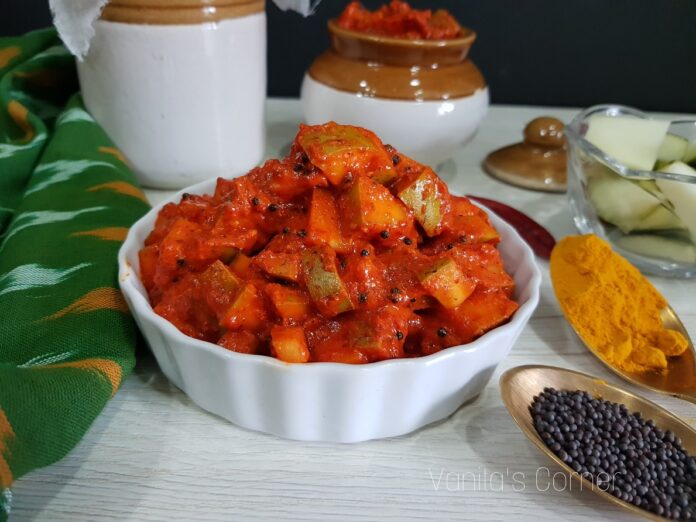 Mangalorean Mango Pickle – a spicy, tangy pickle from the Mangalorean cuisine.
Pickle is a must-have condiment in every Indian kitchen and adds a spicy quotient to the most simple meals. In olden times, it was a practice in most houses to make pickles at home. However, now with variety of pickles readily available in stores, the practice of making pickles at home is slowly fading. But the store-bought pickles cannot match the charm of homemade pickles.
The process of pickle making may seem tedious, but it is very simple to make. I have earlier shared the recipe of instant mango, lemon and carrot pickle. Today, I am sharing my mother's recipe of Mangalorean Mango pickle. This pickle can be stored in an airtight container for 6 months or more. Here is the recipe:
Recipe for Mangalorean Mango Pickle
Ingredients
500 grams raw mangoes (kachchi kairi)
3 tbs salt (namak)
8 to 9 dry red chillies – a mix of Kashmiri & pandi chillies (sookhi laal mirch)
4 cloves of garlic (lehsun)
2 tsp mustard seeds  (rai/ sarso)
½ tsp fenugreek seeds (methi)
1 tsp of turmeric powder (haldi)
4 tsp vinegar (sirka)
For tempering (tadka)
1/4 cup oil (tel) (Coconut or Sesame Oil)
1 tsp mustard seeds (rai/ sarso)
1 tsp asafoetida (hing)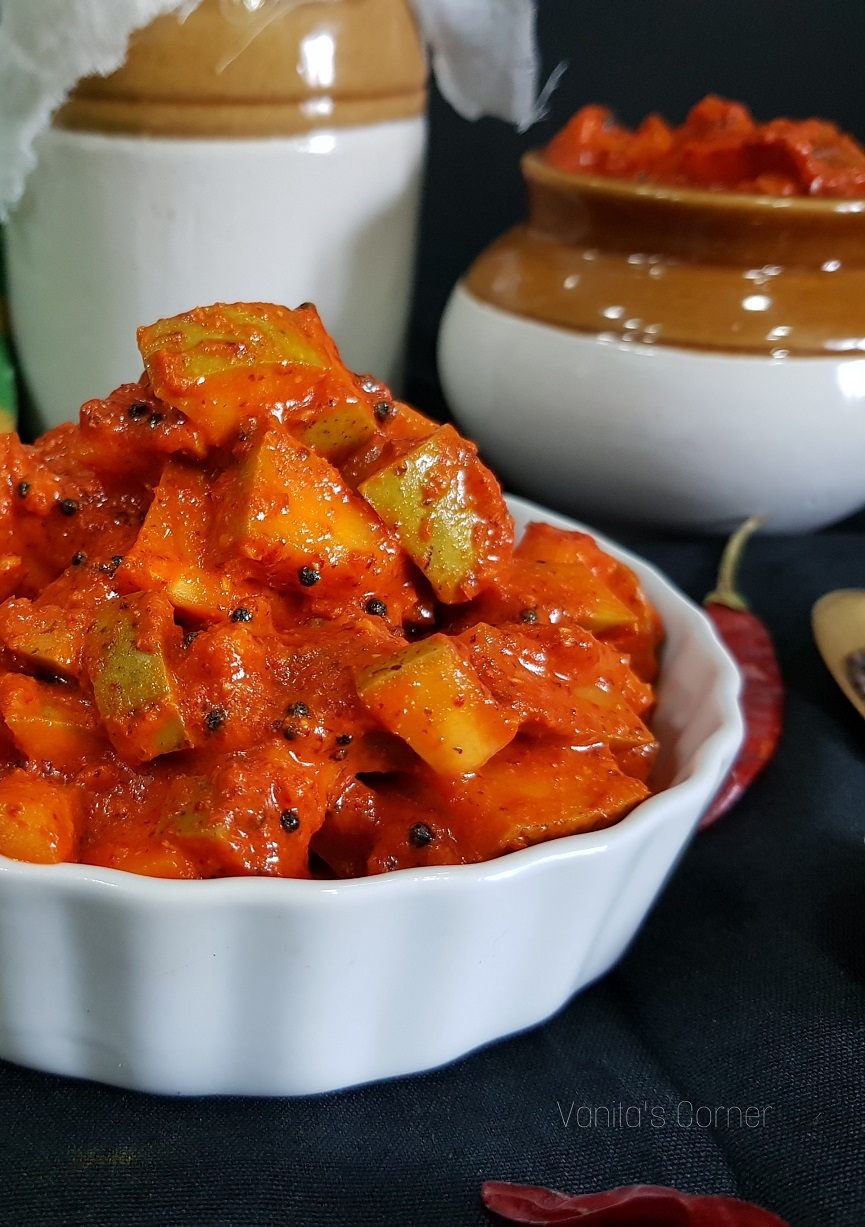 Method
Wash the mangoes well.

Wipe them dry and cut into tiny pieces (or pieces as per your choice).

In a mixing bowl, add the chopped mangoes and salt. Mix well.

Transfer this mixture to an airtight, dry, glass jar. 

Keep this aside for 3 to 4  days.

After three days, the mango pieces would have absorbed salt, released water and become moist and soft.  

Pass the marinated mangoes through a strainer and collect the liquid (water released by the mango pieces)  in a bowl.  Reserve this water. This will be used while grinding the masala.

Now, into a mixer jar, add the dry red chillies, mustard seeds, garlic, fenugreek seeds, turmeric powder,  water strained from the marinated mangoes and vinegar. Blend to a fine paste.

Add this masala paste to the mango pieces. Give a good mix.

Now, for the tempering, heat oil in a small pan.

Add mustard seeds.

When the mustard seeds start crackling, add asafoetida.

When it starts turning brown, turn off the heat.

Allow this tempering (tadka) to cool completely.

 Pour the tempering over the pickle and mix well.

Store the pickle in a sterilized glass jar or ceramic pickle jar (bharni).

Mangalorean Mango Pickle can be stored for longer duration, provided all the necessary care is taken while making the pickle.
Notes:
Mangoes should be wiped dry before chopping them. There should be no moisture in the mangoes.

The quantity of vinegar can be adjusted as required, while grinding the masala.

I have used a mix of Kashmiri and Pandi chillies. However, you can use only byadgi chillies too.

While removing the pickle from the jar, use a clean, dry spoon.

This pickle can be stored for 6 months or more in an airtight jar.

If keeping in refrigerator, the pickle can be stored for longer time.

But, once stored in the refrigerator, it must always be kept in the refrigerator.
WATCH RECIPE VIDEO: