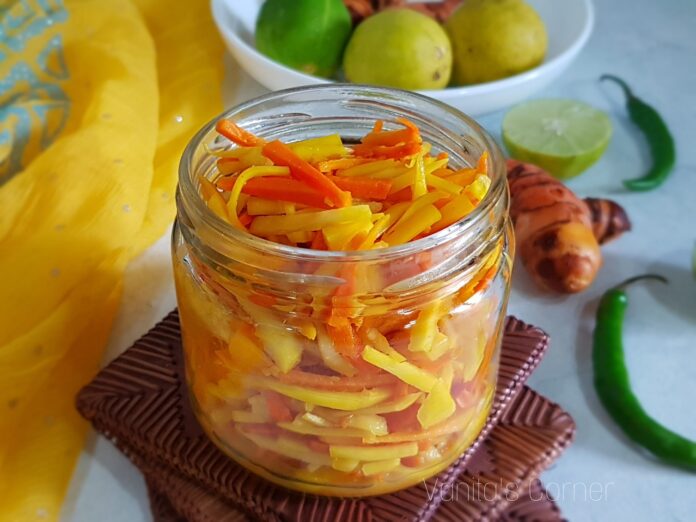 Fresh Turmeric Pickle – Gujarati style pickle made with  raw turmeric and mango ginger.
Today I am sharing an easy pickle recipe which I recently learnt from Ms. Kalpana Desai, who is as passionate about cooking and trying out new recipes as I am.  
Winter is soon approaching and so are the winter fresh vegetables in markets. It is that time of the year when fresh, raw turmeric (kachchi haldi) and mango ginger (amba haldi) are available in plenty. Turmeric is renowned for its healing properties. It has a compound called curcumin which is a powerhouse of antioxidants. It provides relief from pain, heals injuries and helps in boosting overall immunity.  Mango ginger is also used for treating cough, asthma etc.  
Raw turmeric and mango ginger together make a good combination for pickles.  Mango ginger balances the strong flavour of turmeric. This Gujarati style, healthy pickle is very easy to make . Turmeric and mango ginger are peeled and cut into juliennes, marinated with salt and lemon juice for 2 days and the pickle is ready to eat.  
Ingredients
250 grams of fresh raw turmeric (kachchi haldi)
250 grams of mango ginger (amba haldi)
½ cup of lemon juice (nimbu ka ras)
3 to 4 green chillies (hari mirch)
salt as per taste (namak)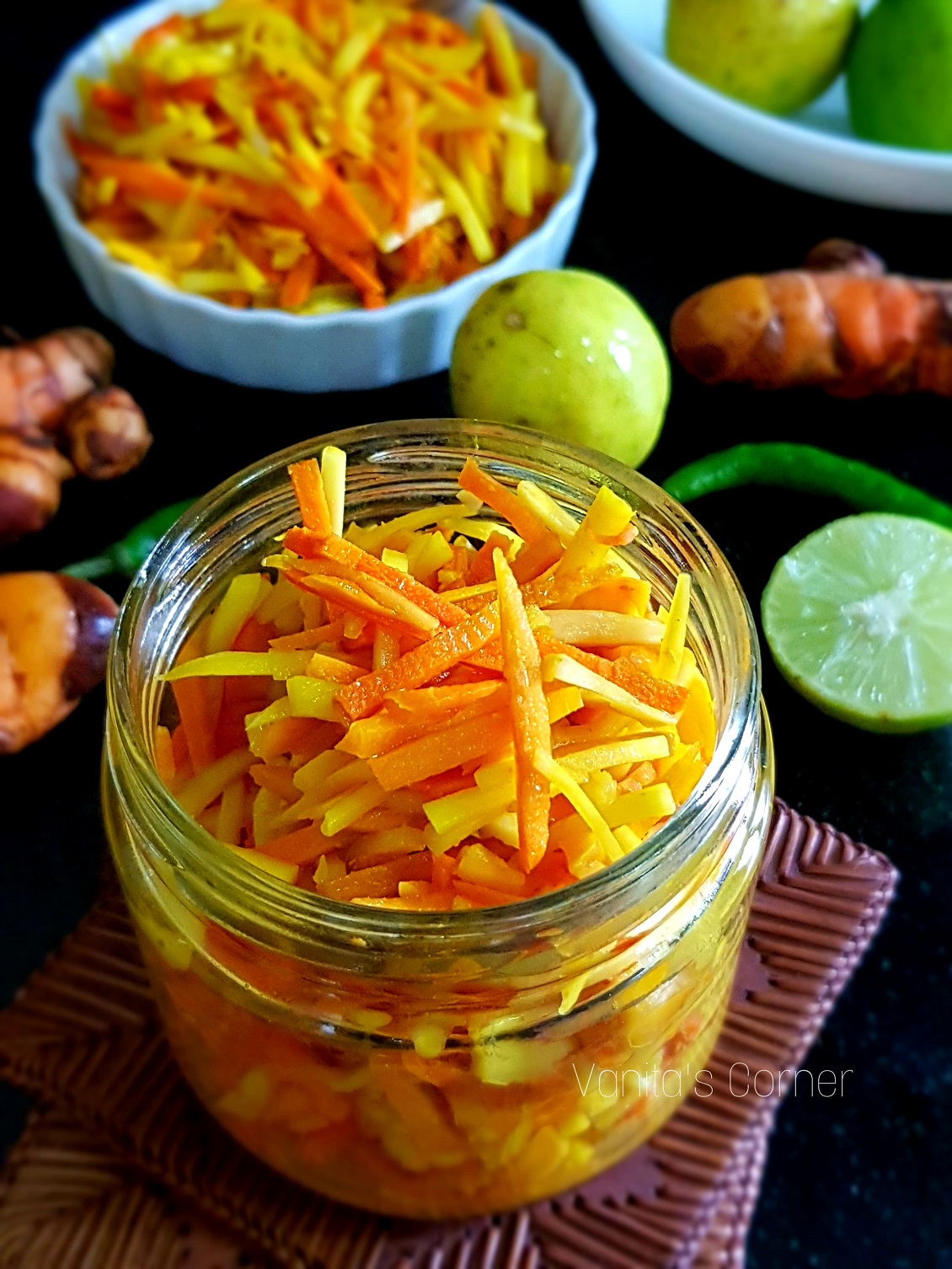 Method
Wash the turmeric and mango ginger thoroughly to remove all soil or dirt.

Peel them and cut into juliennes. (It is recommended to wear disposable gloves while peeling and cutting turmeric . Turmeric will stain your hands yellow and will take a few days to fade away.)

Slit  the green chillies and keep aside. 

In a mixing bowl, add chopped turmeric, chopped mango ginger, green chillies, salt and lemon juice. Mix well.  Cover and keep aside.

Let it marinate for 2 days. 

After 2 days, transfer the pickle to a glass jar, and keep in the refrigerator.

Fresh Turmeric pickle is ready to eat.

This can be easily stored for a month in the refrigerator.
WATCH RECIPE VIDEO:
Instant Pickle recipes : Mango pickle, Carrot pickle