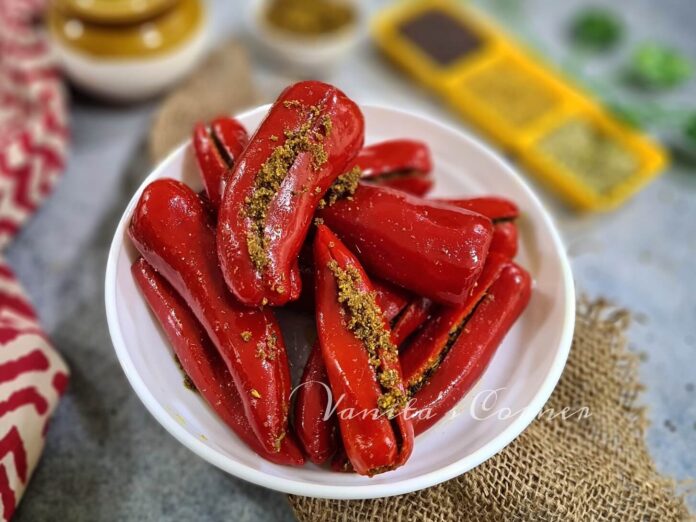 Stuffed Red Chilli Pickle – the famous North Indian, chilli pickle stuffed with a spicy, tangy masala.
Winters bring with it an array of vegetables…… one amongst them is red chillies. These red chillies look so beautiful that every winter I wanted to buy them for their sheer beauty. But, not knowing what to use them for, I always refrained from buying them. However, this year, I saw few stuffed chilli pickle recipes on some facebook food groups. The one recipe that caught my attention was the chilli pickle recipe shared by kannanskitchen.com. The moment I saw the recipe, I made up my mind to make stuffed red chilli pickle. I followed the recipe shared by kannanskitchen.com with some minor changes and I am extremely satisfied with the outcome. So, here is the recipe for Stuffed Red Chilli Pickle.
Ingredients
250 grams fresh red chillies
¾ cup oil, preferably mustard oil (sarso ka tel)
3 tbsp fennel seeds (sauf)
1 tbsp black mustard seeds (rai/sarso)
1 tbsp yellow mustard seeds (rai/sarso)
1 tbsp + ½ tsp fenugreek seeds (methi)
1 tbsp + ½ tsp cumin seeds (jeera)
2 tbsp + 1 tsp salt (namak)
3 tbsp dry mango powder (aamchoor)
1/s tsp asafoetida (hing)
1 tsp turmeric powder (haldi)
½ tsp black salt (kala namak)
½ tsp nigella seeds (kalonji)
Method
Firstly, wash the chillies, pat dry the chillies and allow them to dry completely. It is best to be kept in the sun to dry so that there is no moisture left in the chillies.

Cut the crown  of the chillies and slit them on one side, using a knife.

Using a spoon, remove the seeds from the chillies. It is advisable to oil your hands or use plastic gloves while handling the chillies. 

Once the seeds are removed, keep the chillies aside.

Heat the oil to a smoking point and then allow it to cool completely. Keep the oil aside.

To prepare the pickle masala, heat a pan and dry roast mustard seeds (yellow and black), fenugreek seeds, fennel seeds, cumin seeds, one by one. 

Allow the roasted ingredients to cool completely.

Transfer the roasted ingredients to a mixer jar and blend to a semi-coarse powder. 

To this ground powder, add salt, amchoor, hing, turmeric powder, and nigella seeds.

Add around 2 tsp of cooled oil and mix well.

Now, stuff each chilli with this spice mix.  

Now, dip each of the chilli in cooled oil and place it in a sterilized glass or ceramic jar. 

Pour remaining oil over the stuffed chillies. 

Tie a muslin cloth around the mouth of the jar and keep it under direct sunlight for a week or till the chillies become soft.  I am told that this chilli pickle can be stored easily for a year.
Notes:
This pickle is traditionally made using mustard oil. But I have used rice bran oil to make this pickle as I am not too fond of mustard oil.
Whole Red Chillies, washed and dried       Chillies, slit and deseeded.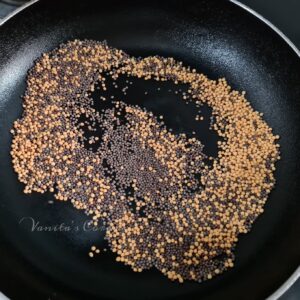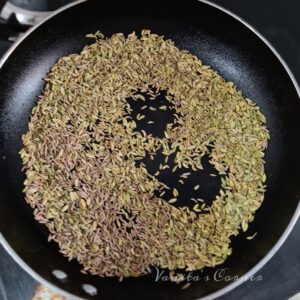 Roasting of mustard seeds                      Roasting of cumin and fennel seeds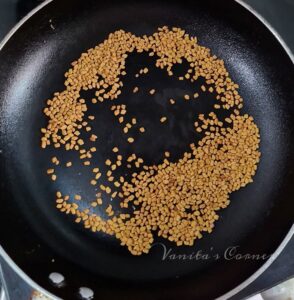 Roasting of methi                                    Roasted ingredients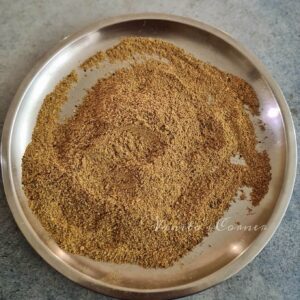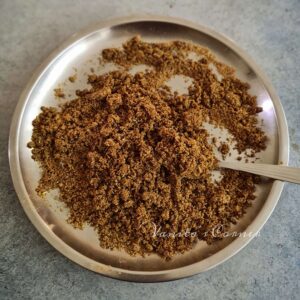 Ground spice mix                                    Final stuffing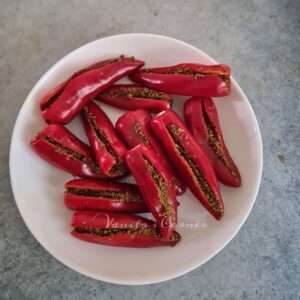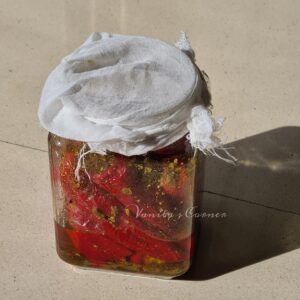 Chillies stuffed with the masala                 Under direct sunlight for a week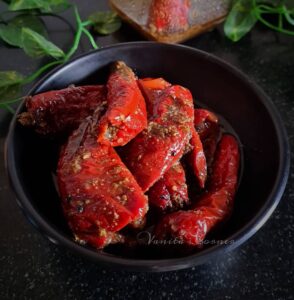 Stuffed Red Chilli Pickle
Some other pickle recipes : Carrot Pickle, Fresh Turmeric Pickle, Sweet Mango Pickle,  Amla Murabba, Mangalorean Tender Mango Pickle and Instant Mango Pickle