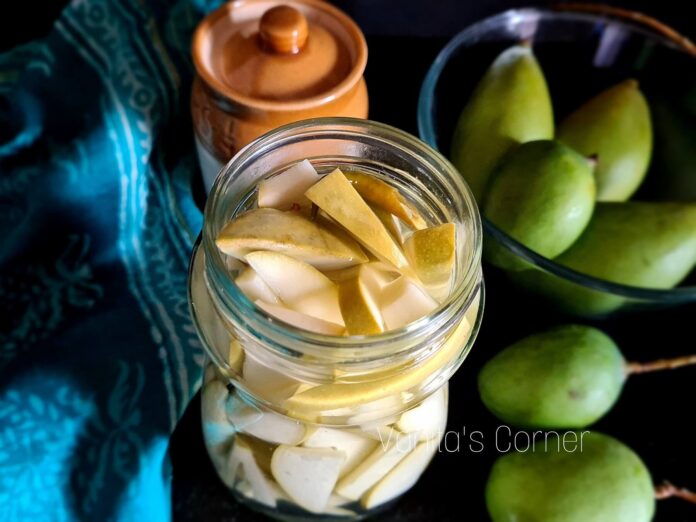 Raw mangoes in brine – raw mangoes preserved in salt water.
Summer is here and so is the king of fruits – mango. Mango, raw or ripe is loved by almost everyone. There are umpteen number of recipes that can be prepared using raw as well as ripe mangoes. Raw mango is a versatile fruit when it comes to cooking. They are used to make pickles, salads,  curries, chutneys, sharbats etc. Some of the raw mango recipes in this blog are raw mango chutney, raw mango rasam, Mangalorean pickle, tender mango pickle, instant mango pickle, kairichi udad methi and Andhra style mango chutney. There is another raw mango recipe which is my all time favourite and that is brined raw mangoes.
Raw mangoes in brine or Kukku da thalli as it is known in Tulu (Tulu is a language spoken by people in the south west part of Karnataka) is something which my mom made every mango season and I absolutely love them. I like to eat brined raw mangoes as it is but it makes for a good accompaniment with meals. It is best had with rice conjee / rice porridge. They can be used to make chutneys, curries etc.  Here is how the raw mangoes are brined.
Ingredients
1 big raw mango 
3 green chillies
3 to 4 tsp salt
water which is boiled and cooled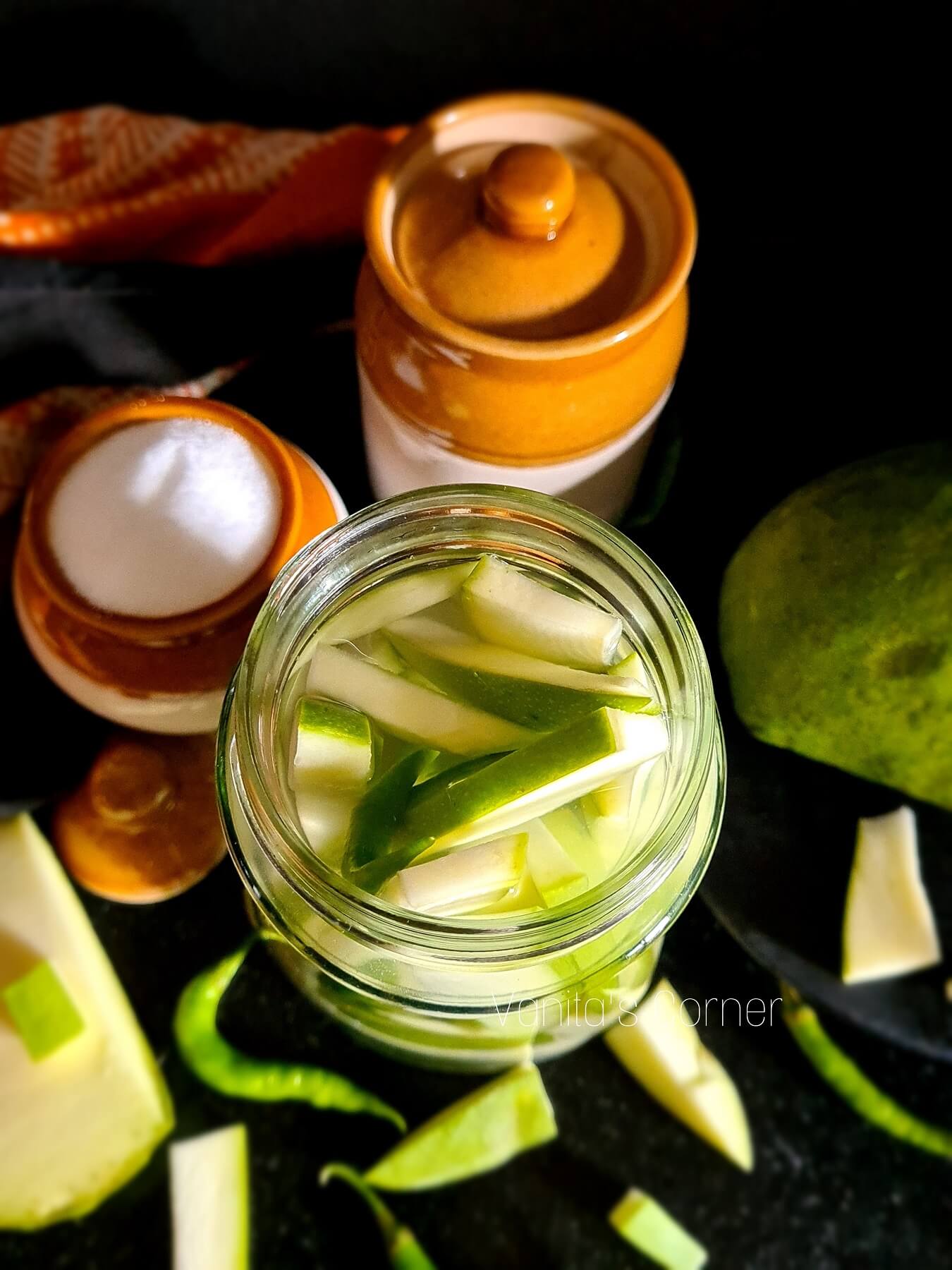 Method
Wash the mango and cut them into pieces (either long or small pieces). Generally, Mangaloreans cut the mangoes lengthwise and make long pieces.  

Cut the chillies lengthwise.  

Now, take a sterilized glass or ceramic bottle.

Drop some mango pieces into the jar.

Add few pieces of chillies.

Add salt.

Keep adding mangoes, chillies and salt in layers.

Add water and close the lid.

Keep this aside untouched for 3 to 4 days.

After 4 days, the mango skin turns olive green in colour and it is ready to use.
Notes
Use a glass or ceramic bottle for this recipe. Avoid using plastic or metallic containers. To sterilize the bottle, wash it well and allow the bottle to dry in the sun.

You can also add chopped ginger alongwith green chillies.

Water should be boiled and cooled completely.

Ensure that the water level is above the level of mango pieces, i.e. the mango pieces should be completely immersed in salt water.

This can be kept at room temperature for around 2 months. For longer shelf life, this needs to be refrigerated.
WATCH RECIPE VIDEO: