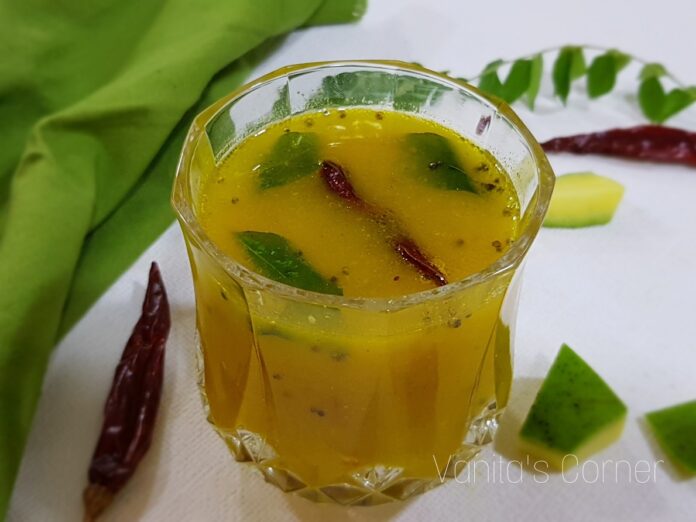 Raw mango rasam – A delicious rasam made with raw mangoes.
Rasam is a popular South Indian dish which is equivalent to a soup. It is known to be good for digestion  and is also considered an effective remedy for cold.  There are various types of rasams like tomato rasam,  lemon rasam, tomato pepper rasam, raw mango rasam, horse gram rasam, beetroot rasam and so on. Each rasam has its own distinct flavour . A large number of rasams are made with dal as a base, and there are others which that do not use dal at all. However,  the common ingredients in most of the rasams are tamarind and spices like cumin seeds, coriander seeds and peppercorns.  Rasams are generally served with rice, but can also be savoured like a soup before the meals.
Since, mangoes are now available in plenty, a must-make rasam in this season is the raw mango rasam.  Here's the recipe:
Ingredients
1 raw mango (kachchi kairi)
½ tsp cumin seeds (jeera)
½ tsp coriander seeds (dhaniya)
3 to 4 peppercorns (kali mirch)
1 green chilly (hari mirch)
a small piece of tamarind (imli)
1 tsp turmeric powder (haldi)
A small piece of jaggery (gud)
Salt as per taste (namak)
For tempering
1 tsp oil (tel)
1 tsp mustard seeds (rai/ sarson)
1 dry red chilly (sookhi laal mirch)
1 tsp asafoetida (hind)
Few curry leaves (kadi patta)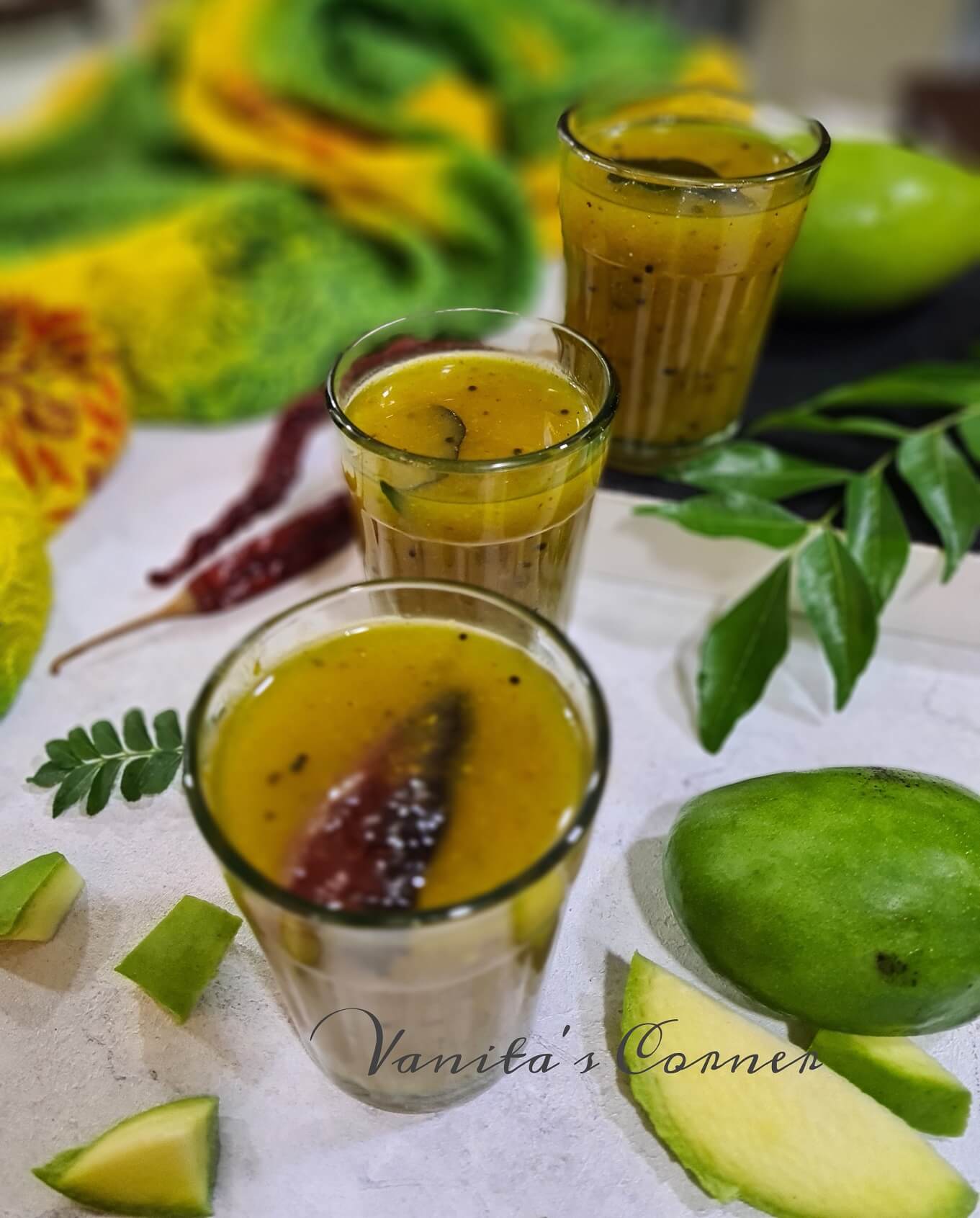 Method
Wash and peel the mango. Cut into small pieces. Keep aside.

Heat a pan and dry roast cumin seeds, coriander seeds and peppercorns.

When they turn aromatic, remove and allow them to cool.

Blend the roasted spices to a fine powder or transfer the roasted spices to a mortar and make a fine powder. This is the rasam powder. Keep this aside.

Heat a pan and add 1 cup of water into it.

Add the raw mango cubes.

Cook covered for 5 to 7 minutes on a low flame.

When the mango cubes are cooked, turn off the heat and allow the mango to cool completely.

Blend the cooked mango, green chilly, tamarind alongwith little water to a smooth paste.

Transfer this paste to the same pan.

Add 1 ½ cups of water and keep stirring till the mango paste blends well with the water.

The consistency of the rasam should be very thin.

Add turmeric powder, jaggery, rasam powder and salt.

Mix well.

Bring it to a brisk boil.

Keep this aside.

For the tempering, heat 1 tsp oil in a  small pan.

Add mustard seeds.

Add dry red chilly.

When the seeds start spluttering, add asafoetida and curry leaves.

Pour this tempering into the rasam.

Raw mango rasam is ready to be served.
WATCH RECIPE VIDEO