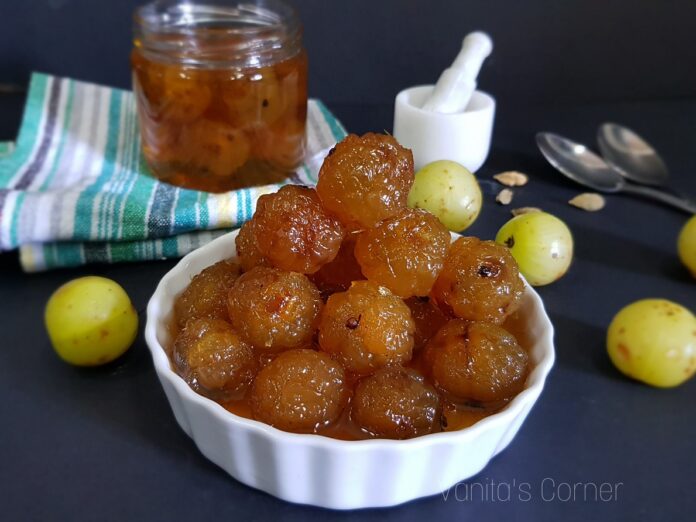 Amla Murabba – a delicious, sweet relish made with amla and sugar.
Amla, the miracle fruit has a special place in Ayurveda due to its health benefits. It is known to boost immunity and is best for skin and hair health. Amlas are best eaten raw to get maximum health benefits. But due to its bitter taste, it is commonly consumed in the form of  pickles, murabbas and candies.
Amla Murabba is a sweet relish made with amlas and sugar, and is a great way of preserving amlas for a longer time. There are several traditional methods for making this murabba. Some soak the amlas in alum (phitkari) overnight and then cook them in sugar syrup. However, I have followed the simple recipe of boiling the amlas in water and then cooking them in sugar syrup. Here is the recipe for Amla Murabba
Ingredients
½ kg Indian gooseberries (amlas)
½ kg sugar (cheeni)
a pinch of cardamom powder (elaichi)
a few strands of saffron (kesar)
Method
Wash the amlas well.

Prick all the amlas with a fork and keep them aside.

In a pan, boil around 5 to 6 glasses of water.

When the water starts boiling vigorously, gently drop the pricked amlas into the boiling water.

Allow the amlas to boil for 10 minutes.

Turn off the heat, drain the amlas and keep aside.

Now, heat a pan.

Transfer the boiled amlas to the pan.

Add sugar and ½ cup of water.

Cook over a slow flame, stirring at regular intervals,  for about 30 to 40 minutes, by which time the sugar will dissolve completely and the sugar syrup will start getting thick. Turn off the heat.

Add cardamom powder and saffron .

Allow the mixture to cool completely.

Transfer this mixture to a glass container.

Keep covered in a cool dry place for 3 days, so that the amlas soak well in the syrup.

On the 3rd day, check the murabba and the syrup.

The syrup should have the consistency of honey.

Store this in a dry, glass jar.

In case the syrup has turned watery, then you need to cook the mixture again for some time till the syrup becomes thick after which it should be cooled completely before storing in a glass jar.


Notes:

Amla murabba can be stored upto 1 year at room temperature.

It should be stored in a glass container.

While taking out the murabba make sure to use a clean and dry spoon.

The sugar syrup should have honey like consistency.

The thick syrup helps in preservation of the murabba.

Amla murabba should be consumed in moderation as it is too sweet.

I have only added cardamom and saffron to the murabba. You can even add black pepper powder and black salt to it.