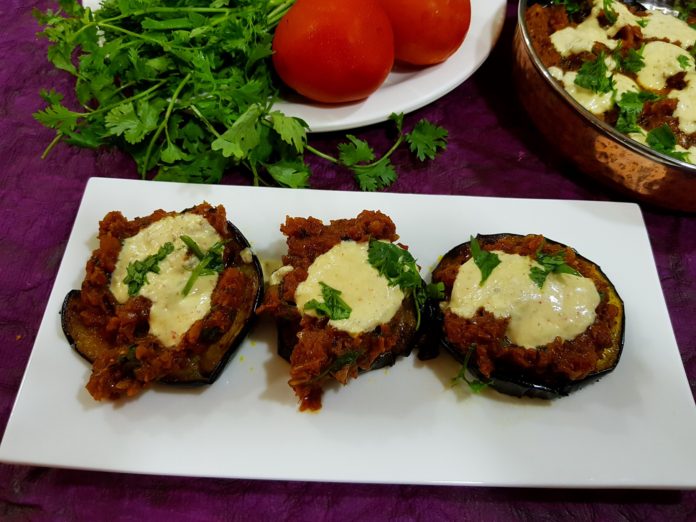 Baadal Jaam is a delicious brinjal preparation from the Awadhi cuisine. My first encounter with Baadal Jaam was at a buffet spread at a restaurant in Goa, few years ago. I had taken an instant liking to this dish. After getting hold of the recipe, this dish has become a regular dish in my menu at home.  Brinjals are cut into roundels, shallow fried and topped with onion tomato masala and a curd mixture.  This dish is generally served as an accompaniment, but you can have it with rotis too.  It is too tasty a dish and is definitely a must try recipe. So, grab the recipe and try it soon.
Ingredients
1 large brinjal
1 tsp turmeric powder
1 tsp red chilly powder
Salt as per taste
oil to shallow fry the brinjal
For Onion Tomato Masala
3 onions, finely chopped
2 tomatoes
1 tbsp oil
1 tsp cumin seeds (jeera)
1 tsp ginger garlic paste
1 tsp turmeric powder
1 tbsp red chilly powder
1 tsp garam masala
1 tsp cumin coriander powder (dhaniya jeera powder)
Salt as per taste
1 tbsp raw mango powder (amchoor)
|2 tbsp chopped fresh coriander leaves
For Curd mixture
3 tbsp thick curds
¼ tsp red chilly powder
¼ tsp cumin-coriander powder (dhaniya jeera powder)
A pinch of turmeric powder
Salt as per taste
For Garnishing
Chopped fresh coriander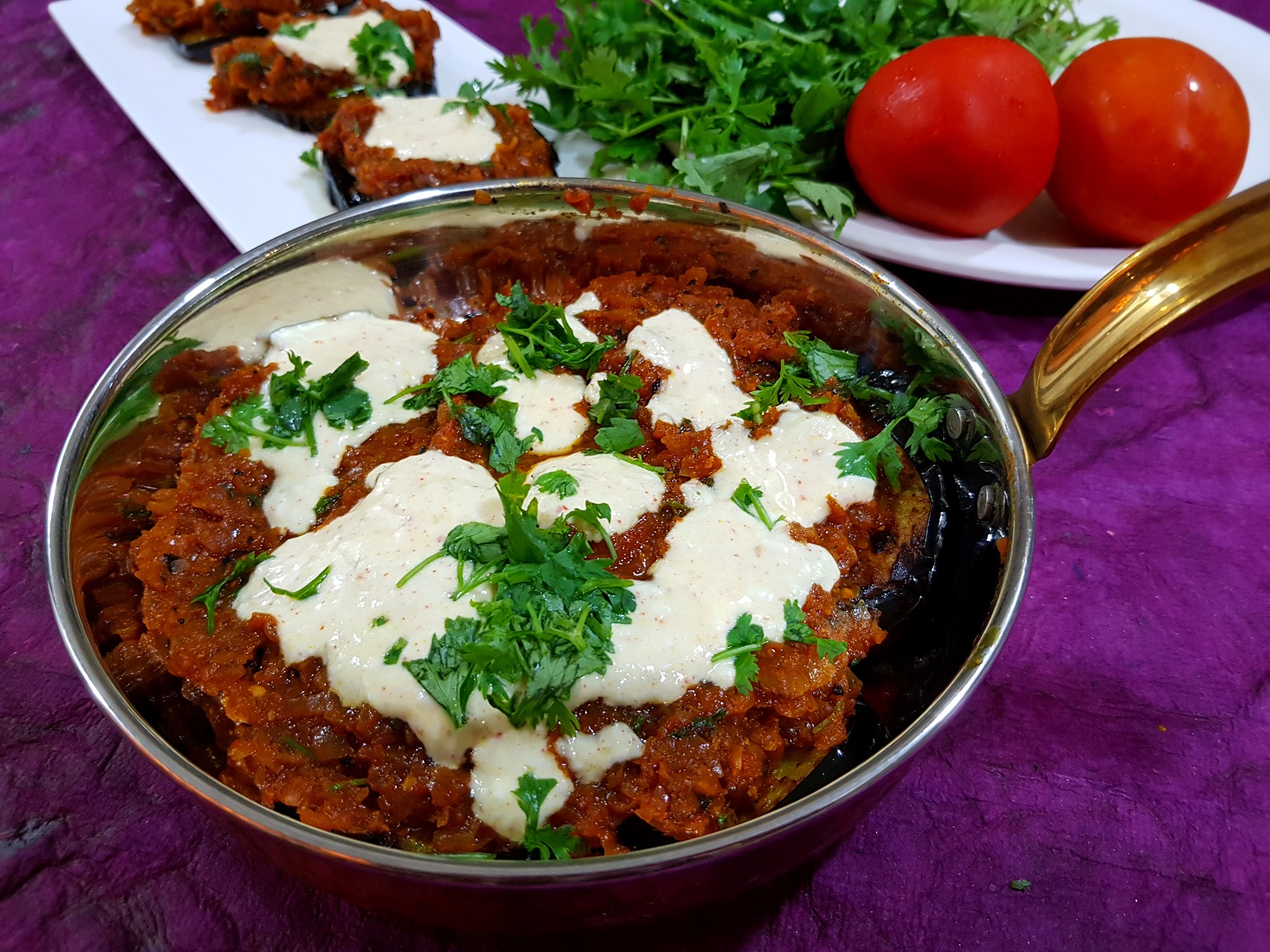 Method :-
To prepare onion tomato masala

Blend the tomatoes to a smooth puree and keep it aside.

Heat 1 tbsp oil in a pan.

Add chopped onions.

Saute and cook the onions till they turn golden brown and starts giving out an aroma.

Add the tomato puree, ginger garlic paste  and cook for 3 to 4 minutes.

Add turmeric powder, red chilly powder, cumin-coriander powder, garam masala, salt, amchoor powder and mix well.   

Allow the masalas to blend well with the onion and tomato mixture.

Add chopped coriander leaves and mix.

Keep this masala aside.
To prepare curd mixture
In a mixing bowl, take the curds.

Add salt, turmeric, red chilly powder, cumin coriander powder and mix well.

Keep the curd mixture aside.
Brinjal
Wash the brinjal and cut into thin roundels.

Spread the brinjal pieces on a plate.

Sprinkle salt, turmeric powder and red chilly powder on the brinjal slices.

Coat the brinjal slices well with turmeric, chilly powder and salt.

Heat 3 tbsp oil in a pan.

Spread the oil evenly in the pan.

Place the brinjal slices on the pan.

Cook them on both sides.
Assembling of Baadal Jaam can be done in 2 ways.
First method –
In a serving dish, arrange a layer of fried brinjals.

Over the brinjals, spread the onion tomato masala evenly.

Drizzle the curd mixture over that and garnish with chopped coriander.
Second method  –
In a serving tray, place fried brinjal slices keeping distance between each brinjal slice.

Top each brinjal slice with the onion tomato masala.

Drizzle curd mixture on each brinjal slice and garnish with fresh chopped coriander.
Serve Baadal Jaam as an accompaniment with your main dish or simply serve it with rotis.
WATCH RECIPE VIDEO
Brinjal lovers, do have a look at other brinjal recipes listed below :
Begun Bhaja, Stuffed Brinjal Sabzi, Baingan Aloo Sabzi