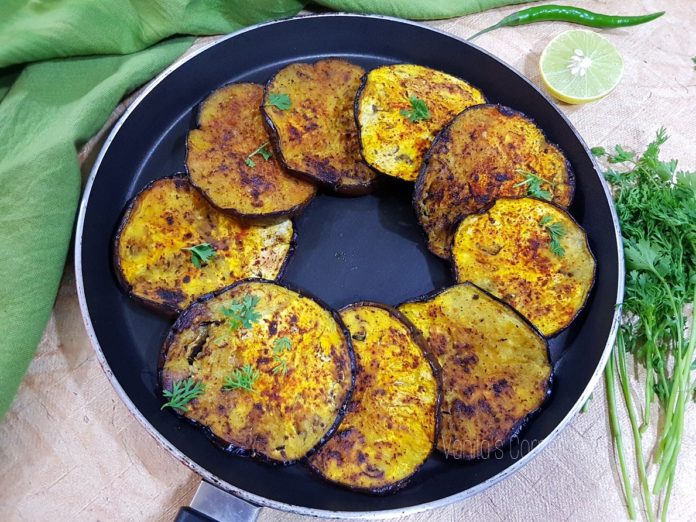 Begun Bhaja, in Bengali means fried brinjal/ eggplant.  This is the most commonly prepared dish at Bengali households. Eggplant is cut into thin slices, coated with masalas and fried.  Traditionally, begun bhaja is deep fried in mustard oil. However I have shallow fried the brinjals using minimum oil.  Begun bhaja makes for a good accompaniment with hot dal chawal. Here's the recipe :
Ingredients
1 large brinjal (baingan)
½ tsp turmeric powder (haldi)
1 tbsp red chilly powder (laal mirch powder)
1 tsp raw mango powder (amchoor) (optional)
½ tsp cumin coriander powder (dhaniya jeera powder) (optional)
Salt as per taste (namak)
Oil for shallow frying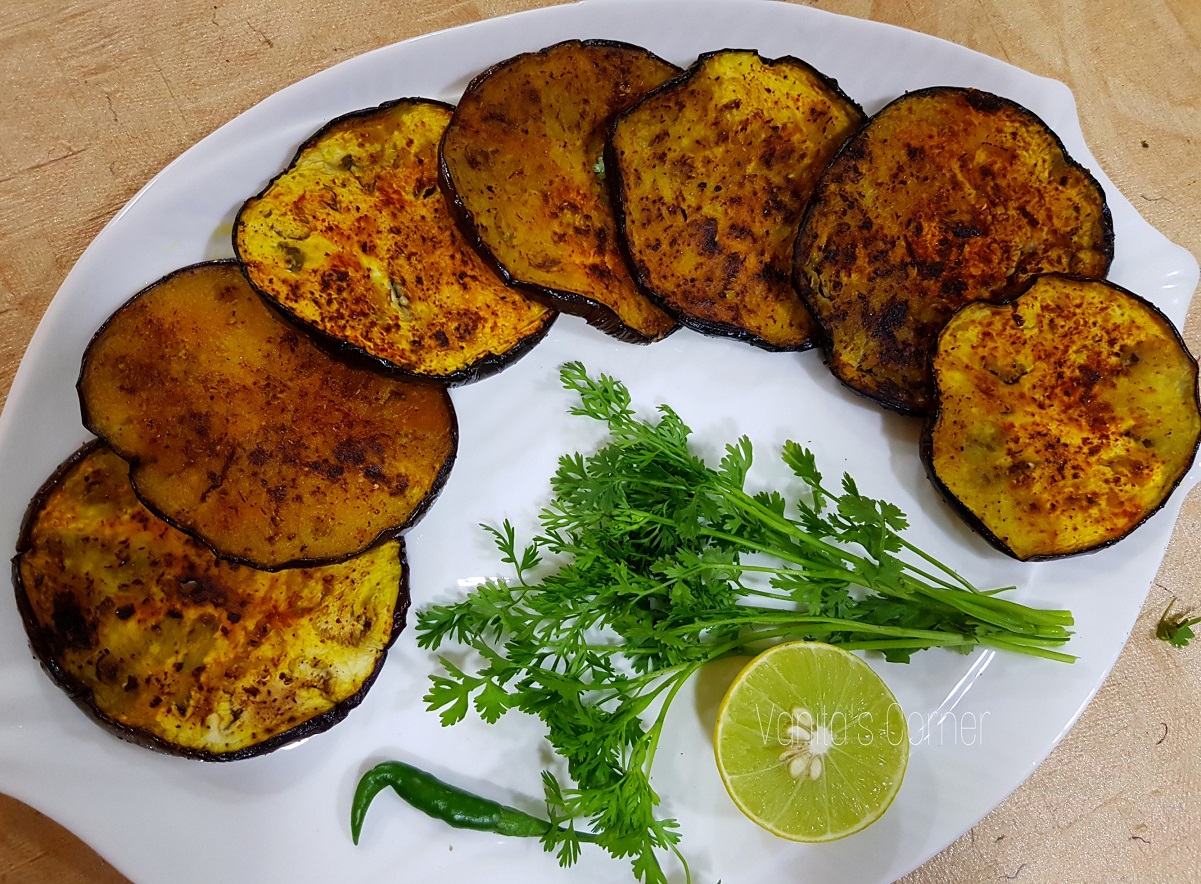 Method
Wash the brinjal and pat it dry.

Cut into thin slices. Keep aside. 

In a mixing bowl, add turmeric powder, red chilly powder, amchoor, cumin-coriander powder, salt and mix well.

Spread the brinjal slices on a plate.

Sprinkle the above masala powder and coat each  brinjal slice with the masala.  

Keep aside for 10 minutes.

Heat 3 to 4 tbsp oil in a pan.

When the oil is hot, place the brinjal slices on the pan.

Allow the brinjal slices to cook on a slow flame so that it gets cooked well from inside.  

Flip  brinjal slices and cook on both the sides.

When the brinjal is cooked well on both sides, remove from the pan and serve hot.
Notes:
Shallow frying the brinjal slices take more time as compared to deep frying. For shallow frying, the brinjal should be cut into thin slices.

Traditionally, begun bhaja is made by coating the brinjal slices with only turmeric powder, red chilly powder, salt and sugar. However I have added amchoor and cumin coriander powder to make it more flavourful.

After coating the brinjal slices with the masala powder, they can be further coated with rice flour or wheat flour before frying.
WATCH RECIPE VIDEO :