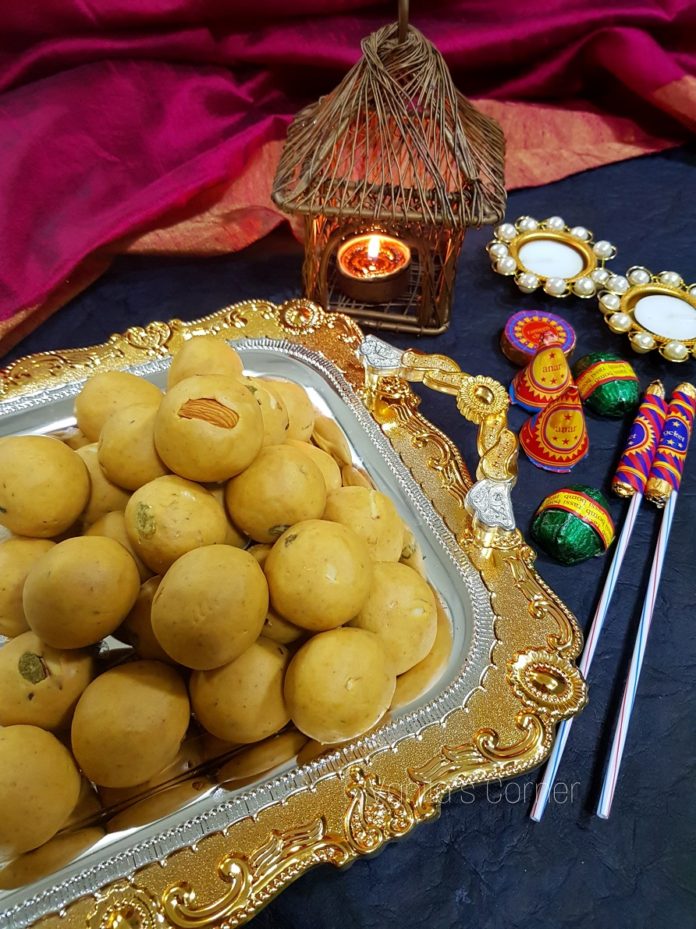 Besan laddoo is a popular mithai made all over India. However, every state has a different way of making these laddoos. Some add a little rava to the besan, others use coarsely ground chana dal and so on. Besan laddoos are a quintessential part of Diwali celebration in Maharahtra.
The one rule that I follow while making these laddoos is to roast the besan well. The flavour of the laddoos depend on how well the besan is cooked.   Here goes the recipe.
Ingredients
4 cups  Besan ( gram flour)
1 cup Ghee (clarified butter)
1 1/2 to 2 cups Powdered sugar (as per taste)
1 tsp Powdered cardamom
2 tbsp Raisins
3 tbsp Almond slivers                                    
Method
Sieve besan and keep it aside.

Sieve powdered sugar and keep it aside.

Heat ghee in a pan.

Add  besan.

Roast the  besan on  low flame till it  gives out nice aroma and starts leaving sides of the pan.  

One needs to be a little patient here as this takes around 40 to 45 minutes. But the rich flavour of the laddoos depend on how well the besan is cooked.

But take care not to overcook/burn the besan.

Allow the roasted besan to cool completely.

After cooling, the colour of the besan will turn a little darker.

To the roasted besan, add  cardamom powder, raisins and almond slivers.

Add powdered sugar and mix well using your hands.

Make medium sized laddoos.

Cool and store in an air tight container.

Serve as and when required.
 Note:
The foremost requirement while making besan laddoos is patience, as you need to constantly stir the besan mixture for nearly 40 to 45 minutes.

The proportion of besan and ghee should be in the ratio of 4 : 1.

To know when to turn off the gas after roasting besan, you should check the following: 
            –   besan should give out a nice aroma
           –   it should change its colour to golden
           –   it should start releasing ghee
Powdered sugar should be added only after the roasted besan has cooled completely
WATCH RECIPE VIDEO :