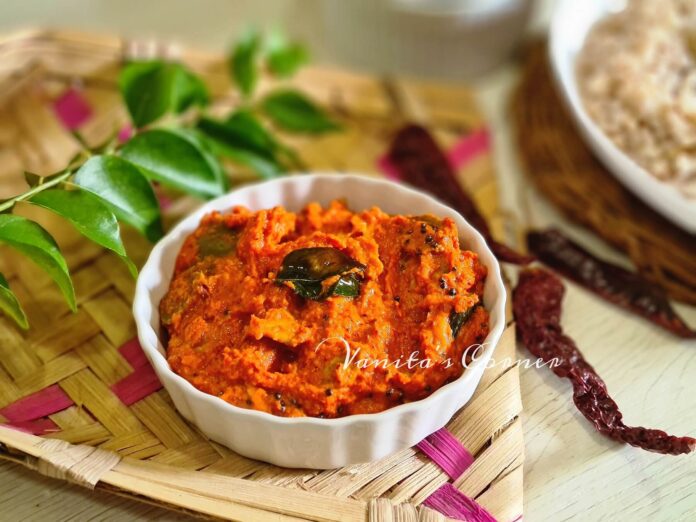 Brined Mango Chutney/ Neer Uppad Kukku Chutney – a Mangalorean style chutney made with brined raw mangoes.
The seasonal raw mangoes are preserved for the entire year by placing them in salt water. Summer is the time when mangoes are available in plenty. That is the time when raw mango pickles are made to last the whole year. Apart from pickles, mangoes are put in brine and are preserved for the whole year so that they could be used after the mango season was over. Brined mangoes can be used in pickle form or can be used to make chutneys/ can be added to curries instead of raw mangoes.
In olden days, brined mango chutney/ brined jackfruit recipes such as Uppad Pachir Sukka, Jackfruit rind (Rachcha) chutney were commonly made during monsoons in Mangalore when they did not have access to fresh vegetables. These chutneys with rice conjee made for a hearty meal.
If you have been following my blog, you must be aware that I am fond of traditional recipes, be it of any region. I like trying out traditional recipes for all the nourishment they offer and also for preserving our rich tradition and culture. Brined Mango chutney is one of the traditional Mangalorean recipes and is almost forgotten now. So, for people such as me who like to try out traditional recipes, I wanted to post this recipe and so here I am today with the recipe of brined mango chutney.
Raw mangoes in brine remain good for the whole year. I had placed these mangoes in brine in June 2022 and used the mango to make chutney only last week, i.e. after nearly four months. Brined Mango chutney pairs well with rice conjee/ganji. Here is how to make brined mango chutney and also how to preserve raw mangoes.
How to preserve raw mangoes
Ingredients
3 raw mangoes
4 tbsp salt
water
Method
Wash 3 raw mangoes and keep aside. In a pan, pour around 4 to 5 cups of water and bring it to a roaring boil. Turn off the heat. Drop the mangoes into hot water. Cover the pan and keep aside for 6 to 7 hours. After 7 hours, remove the mangoes and transfer them to a glass bottle. Add salt. Add regular water. There is no need to add boiled water here. Let the mangoes be submerged fully. The water level should be 2 to 3 inches above the level of the mangoes. Close the lid and keep aside. The mangoes can be used after 8 to 10 days. These mangoes can be stored upto one year.
Notes:
Sometimes, a white layer of fungus forms on top of the water. To avoid fungus from forming, keep shaking the bottle every once in a while or mix the solution with a spoon.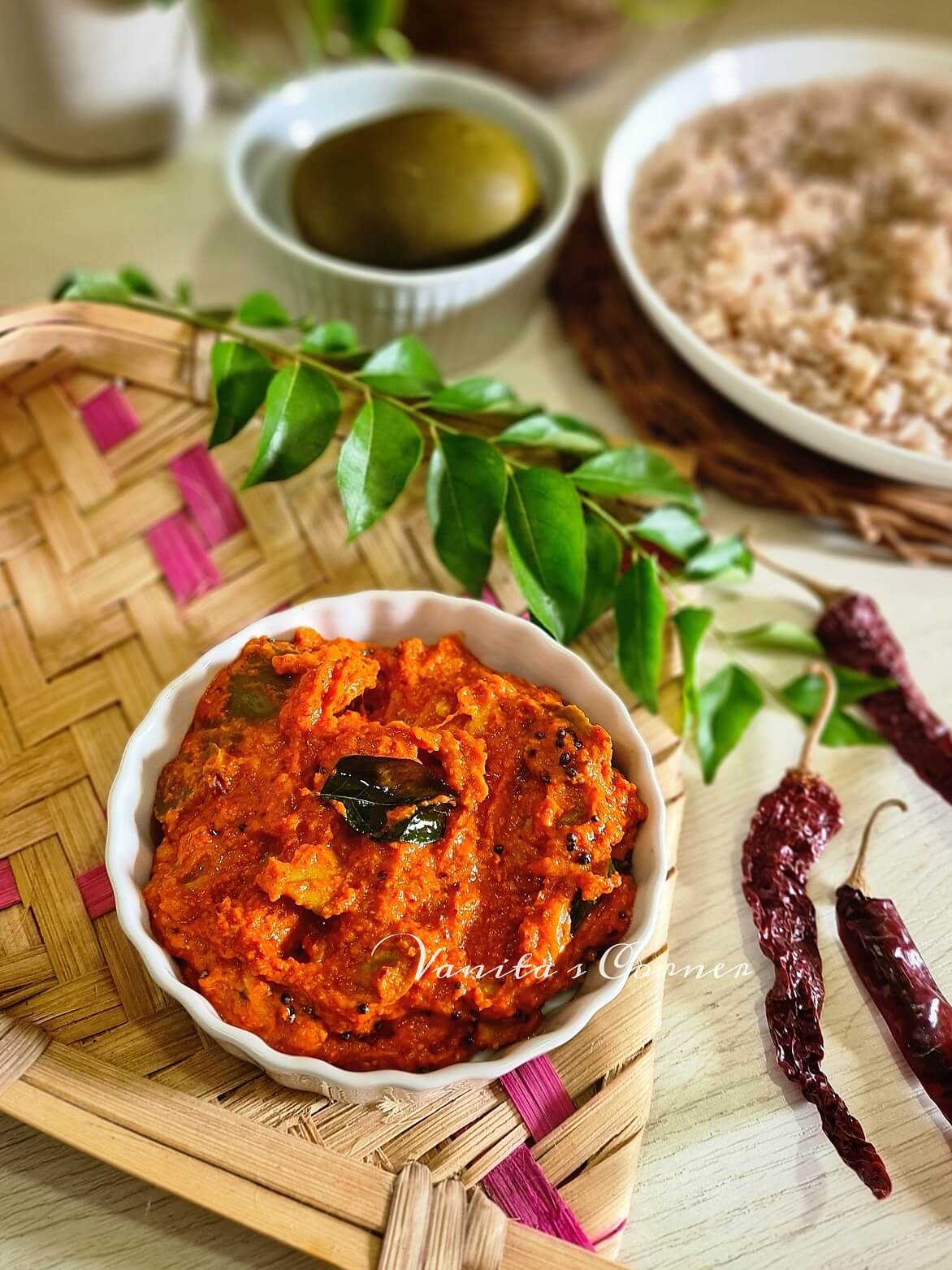 How to make brined mango chutney
Ingredients
1 brined mango
½ cup fresh coconut
3 dry red chillies
1 large clove of garlic
1/8 tsp mustard seeds
For tempering
1 tsp oil
½ tsp mustard seeds
few curry leaves
Method
In a mixer jar, add grated coconut, garlic, dry red chillies and mustard seeds.

Add some water and blend to a fine paste.

Transfer the chutney to a mixing bowl.

Now, squeeze one brined mango into the chutney.

Mash the mango and mix with the chutney. Discard the seed.

For the tempering heat oil in a small pan.

Add mustard seeds and curry leaves.

When the mustard seeds start crackling, pour into the chutney.

Serve Brined mango chutney with boiled rice conjee/ganji.
Notes
the red chillies and mustard seeds in the chutney are raw and not roasted.

Squeezing the mango into the chutney is the traditional method of making this chutney. You can also chop the mango into small pieces and mix with the chutney. 
WATCH RECIPE VIDEO:
Thank you for stopping by. If you like/ tried this recipe, leaving a comment below the post will enable more readers and cooking enthusiasts to discover these recipes. Also, if you are on Instagram, do share a picture of the dish and tag @vanitascorner to be featured in my stories.
Do follow me on Instagram, Facebook and Pinterest.
Happy Cooking!!