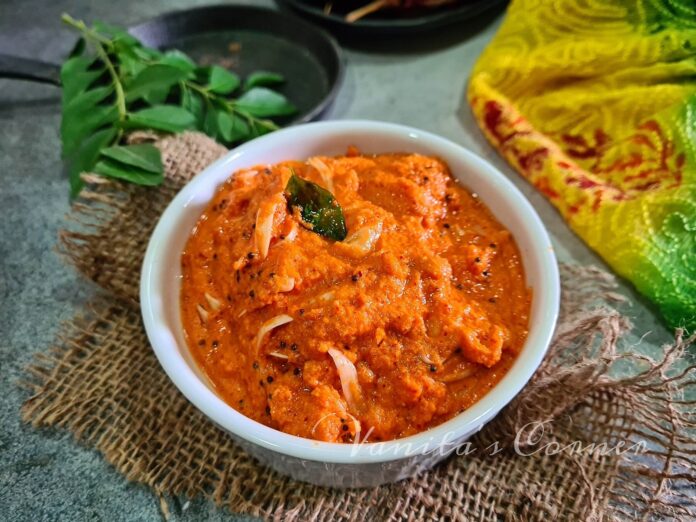 Brined Jackfruit Rind Chutney – Jackfruit rinds are cut into small pieces and preserved in salt water, which later is used to make chutney. This is a Mangalore specific recipe and is known as Rachcha da Chutney (Rachcha in Tulu means jackfruit rind)  in Tulu language.
Mother Nature provides us with the best food every season. Summer is the season for mangoes, the king of fruits and jackfruits, which is the latest superfood on the block. Jackfruit has become quite popular amongst vegans and vegetarians  as an alternative to meat. Each and every part of the fruit from its flesh, seeds and even the rind is edible. Jackfruit is rich in many essential nutrients and antioxidants. Raw jackfruit is used to make sabzis, curries, biryanis, kebabs whereas ripe jackfruit is eaten as it is or used to make desserts such as payasam, fritters, appam, ice-cream etc.
Jackfruit is largely grown in southern India and holds a special place in the hearts of South Indians. Jackfruit, ripe and raw is used to prepare variety of delicacies. Mangaloreans preserve raw jackfruit in salt water to be used in monsoons when they do not have access to fresh vegetables/fish. Not only the jackfruit segments, but jackfruit rinds are preserved in salt water for future use. You read it right….jackfruit rind is also edible and the brined jackfruit rind tastes great to be eaten as it is with your meals or is made into a chutney or is paired with pickle and serve with rice conjee.
The concept of consuming vegetables without wasting any part, i.e. stem, peels and seeds is not new to Indians and so is the case with Mangaloreans. Call it frugality or environment consciousness, Indians have been following the zero waste concept for generations. Jackfruit seeds, jackfruit rind, pumpkin peel and flowers, moringa leaves and flowers, ridge gourd peel are all used for cooking  and it goes without mentioning that these are all loaded with nutrients.
After removing the yellow jackfruit segments from the fruit, jackfruit rind is cut into small pieces  and the thorny outer part is discarded.  The pieces of jackfruit rind is then preserved in salt water. This remains good for a long time, atleast for 4 to 6 months. The brined jackfruit comes handy when its raining heavily and you do not have access to fresh vegetables. It is used to make chutney or is just paired with pickle and served with rice porridge.
Brined jackfruit rind chutney is made by grinding coconut, red chillies and garlic which is then mixed alongwith brined jackfruit pieces. I have added a tempering of oil, mustard seeds and curry leaves to the chutney which is optional.  I have not added salt to the chutney as jackfruit rind already has salt in it.
So, here is how the jackfruit rind is preserved in salt water.
Firstly, when you cut open a jackfruit, remove the yellow, fleshy jackfruit bulbs/segments.  Peel the outer thorny part of the jackfruit and discard them. Now, chop the jackfruit rind. Transfer it to a vessel or a strainer and rinse it under running water. Now, transfer it to a glass jar/bottle.  Add 1 to 2 green chillies, slit vertically. Add sufficient water in such a way that the jackfruit rind cubes are fully immersed in water. Add salt. Close the jar and keep aside for few days. In a week's time, the jackfruit rind cubes will turn soft and is good for consumption.
How to make Brined jackfruit rind chutney
Step by Step recipe:
Take around ¾ cup of brined jackfruit rind and keep aside.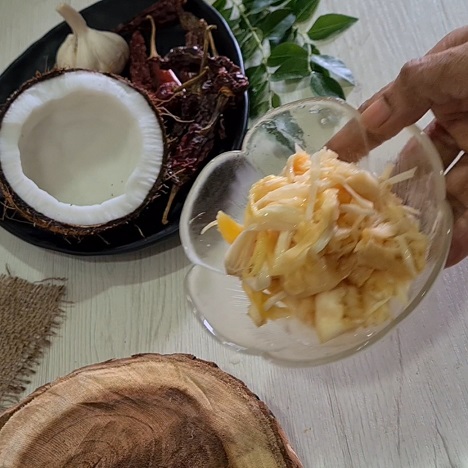 In a mixer jar, add fresh coconut, dry red chillies and garlic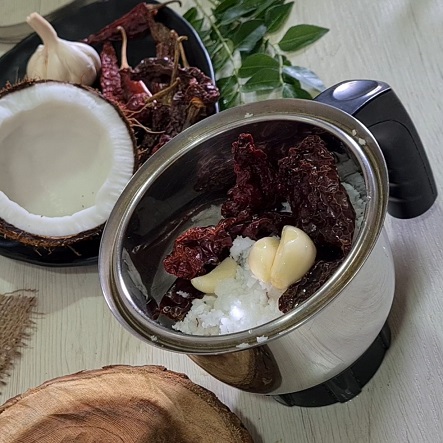 Add water and blend to a fine paste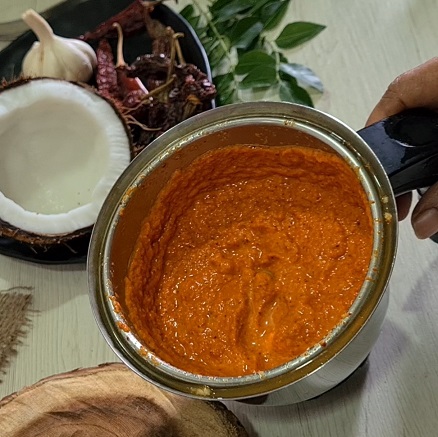 Transfer to a mixing bowl and add brined jackfruit rind.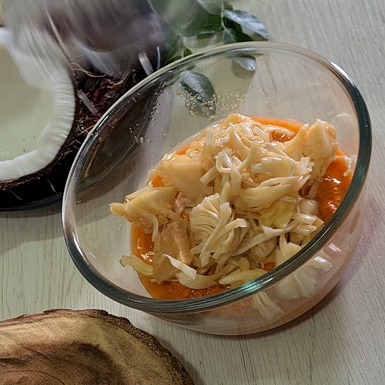 Mix well and crush the jackfruit rind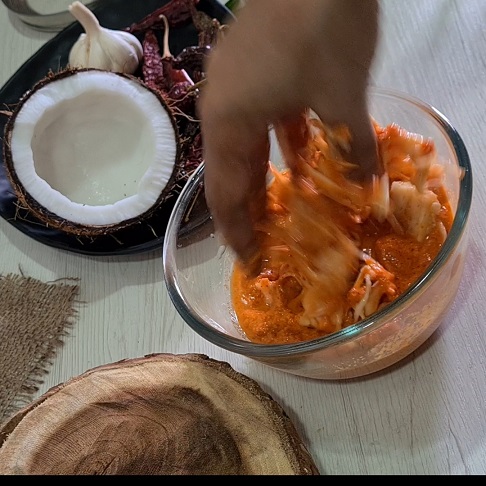 Heat oil and add mustard seeds and curry leaves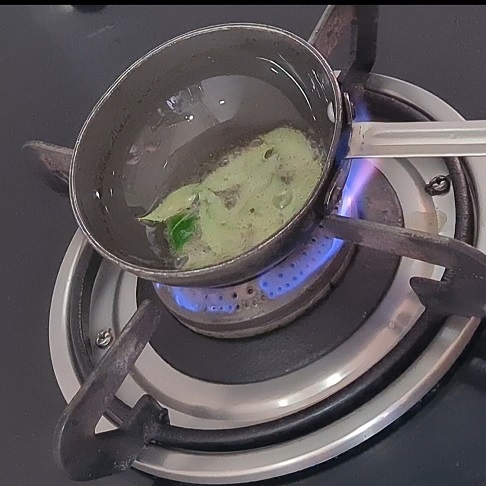 Pour the tempering into the chutney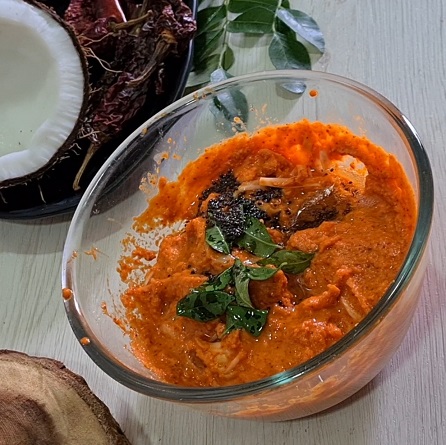 Serve the chutney with rice conjee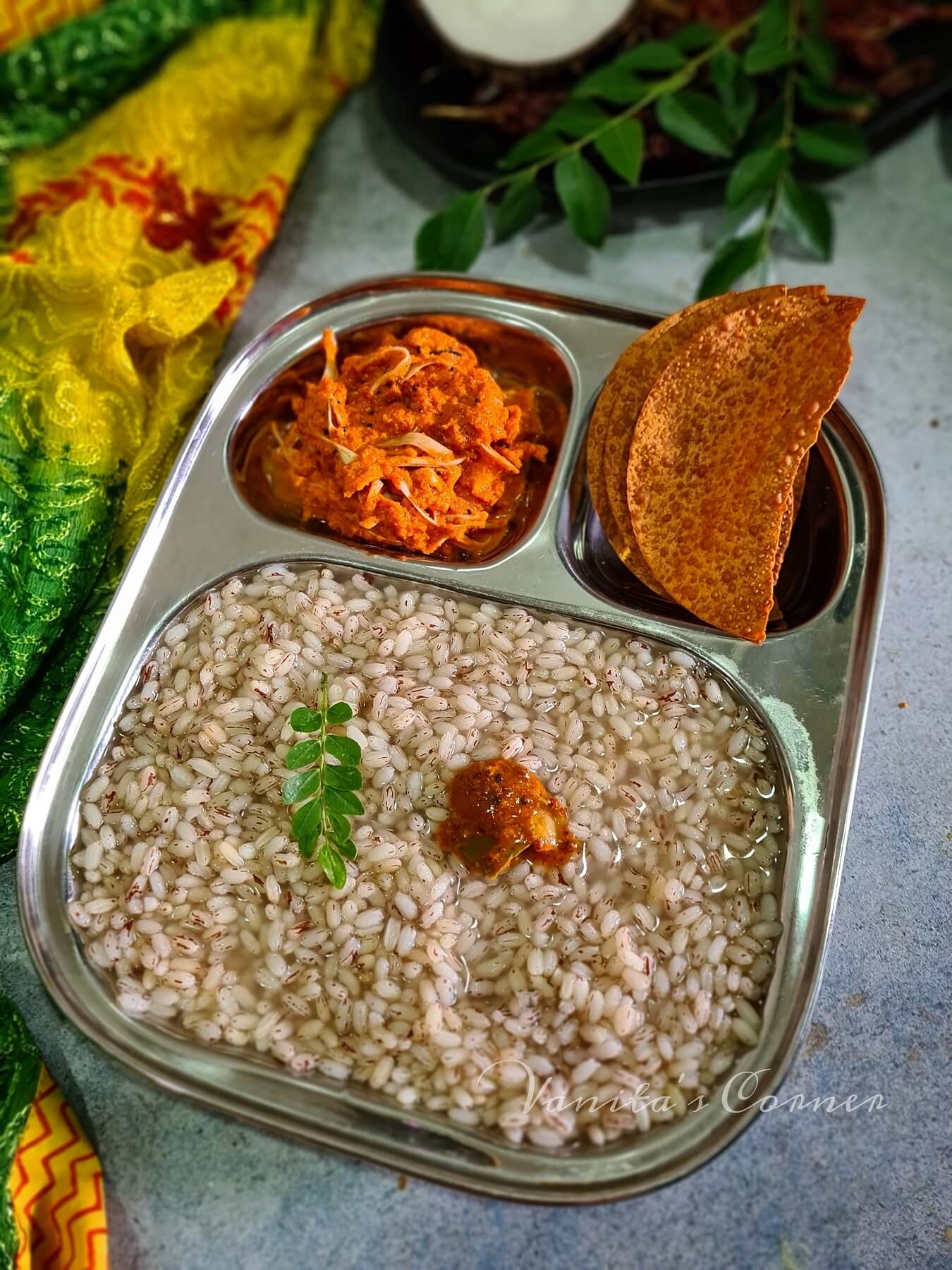 Recipe:
Ingredients
¾ cup brined jackfruit rind cubes
¾ cup fresh coconut, grated
4 dry red chillies
3 cloves of garlic
For tempering
1 tbsp oil
½ tsp mustard seeds
few curry leaves
(I have not used salt as the brined jackfruit rind already has salt in it)
Method
In a mixer jar, add fresh, grated coconut, dry red chillies and garlic.

Add little water and blend to a fine paste.

Transfer this to a mixing bowl.

Add brined jackfruit rind to it.

Using your fingers, mix it well, thereby crushing the jackfruit rind.

Next, heat oil in a small pan .

Add mustard seeds .

When the seeds start spluttering, add curry leaves.

Pour the tempering into the chutney.

Brined Jackfruit rind chutney is ready to be served with rice Conjee.
Notes:
As the jackfruit rind has salt in it, I have not used salt. However, you can check the salt and add if required.

Red chillies are not roasted in this recipe. The raw chillies impart a beautiful flavour to the chutney.
WATCH RECIPE VIDEO:
Thank you for stopping by. If you like/ tried this recipe, leaving a comment below the post will enable more readers and cooking enthusiasts to discover these recipes. Also, if you are on Instagram, do share a picture of the dish and tag @vanitascorner to be featured in my stories.
Do follow me on Instagram, Facebook and Pinterest.
Happy Cooking!!