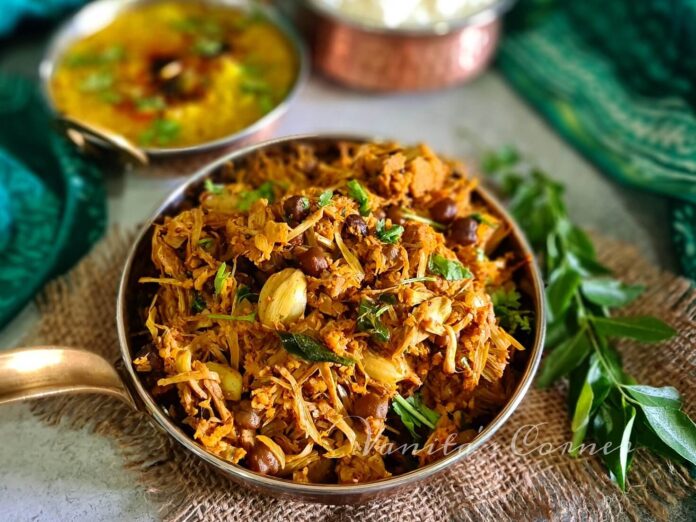 Jackfruit Chana Sukka – a delicious vegetarian dish from the Mangalorean cuisine
On the onset of summer, raw, tender jackfruit makes its appearance in the markets. Jackfruit, raw and ripe is used in variety of dishes. Over the recent years, it has become a favourite meat substitute for vegans and vegetarians, due to its meaty texture. However, cutting of jackfruit can be a messy job. To know, how to cut the jackfruit, click here. Raw jackfruit is used to make sabzis, biryani, cutlets etc. Raw jackfruit (Kathal) biryani has become a family favorite and I have already made it thrice this season.  The tedious job of cleaning the jackfruit has not deterred me from making it  so many times.
Today I am here with a Mangalorean recipe using raw jackfruit. As I have mentioned earlier, Mangalorean cuisine is famous for its sukka recipes and there are host of vegetarian and non-vegetarian sukka recipes – to name a few, we have Chicken Sukka, Tendli Chana Sukka, Prawns sukka, suran chana sukka, clams sukka and so on.  Traditional Sukka recipe calls for roasting of spices, grinding of spices and coconut. But today I am here with a shortcut recipe. I have used Mangalorean curry powder to make this dish. Hence, there is no need to roast the spices, grind the masala and the dish gets made in no time without compromising the taste. So, here goes the recipe for Jackfruit Chana Sukka:
Ingredients
450 grams raw jackfruit, cut into medium sized cubes
1/3 cup black chana
6 to 7 big cloves of garlic, chopped
2 tbsp coconut oil
1 tsp mustard seeds
½ tsp asafoetida/hing
1 medium onion, chopped
½  tsp turmeric powder
few curry leaves
3 tbsp Mangalorean curry powder
2 tsp tamarind pulp
1 tbsp jaggery powder
salt to taste
½ cup fresh coconut, grated
2 tbsp fresh coriander, chopped
Method
Wash and soak chanas in water for 4 to 5 hours.

Pressure cook chanas for 3 to 4 whistles. Keep aside.  

Place the chopped jackfruit in a steel container and pressure cook for 3 whistles. The water should be in the pressure cooker and not in the steel container. Open the pressure cooker after the pressure has released naturally.

You can mash the cooked jackfruit lightly, keeping some pieces chunky.  Keep aside.

Heat coconut oil.

Add the mustard seeds, hing, chopped garlic, curry leaves and chopped onion. Saute for few seconds.

Add turmeric powder and mix.

Next, add the cooked jackfruit and cooked chanas.

Add Mangalorean curry powder, tamarind pulp, salt and jaggery powder. Mix to coat well.  

Cover and cook for 5 minutes until the flavours combine. 

Next, add grated coconut and mix.

Cover and cook for 2 more minutes. 

Garnish with chopped coriander.

Serve Jackfruit Chana Sukka  with dal rice or rice and tomato saar. It pairs well with rotis too.
Note:
In the absence of Mangalorean curry powder, you can use red chilly powder and cumin coriander powder. It will still taste delicious.
WATCH RECIPE VIDEO: