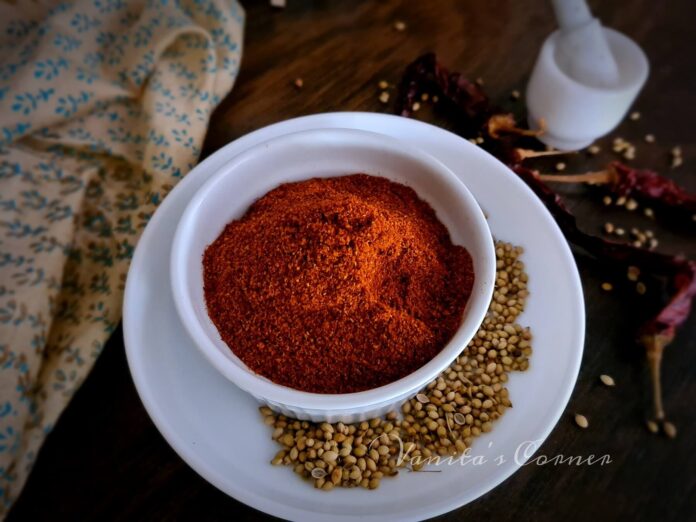 Mangalorean Curry Powder / Taal Masala Powder / Kundapur masala is a blend of various spices such as dry red chillies, coriander seeds, cumin seeds, black peppercorns, mustard seeds and fenugreek seeds.
This spice blend is used to make most Mangalorean dishes – vegetarian and non-vegetarian. For making the masala paste from scratch for Mangalorean dishes, the spices need to be roasted, allowed to cool and then ground into paste alongwith other ingredients such as coconut, onion, garlic, tamarind etc, and hence can be time consuming. But if you have Mangalorean curry powder readily available, it saves a lot of time and hence is very convenient.
This curry powder can be used for making fish curry, chicken sukka, kori rotti, fish fry, tendli chana sukka, moong potato curry and host of other dishes. This spice powder can be stored in an airtight container for a long time (atleast 6 to 8 months). So, here is how I make the Mangalorean Curry Powder.
Ingredients
20 gms Byadgi chillies
20 gms Kashmiri chillies
10 gms Guntur or Pandi chillies
4 tbps coriander seeds (dhaniya)
2 ½ tsp cumin seeds (jeera)
½ tsp mustard seeds (rai/sarso)
2 ½ tsp black peppercorns (kali mirch)
½ tsp fenugreek seeds (methi)
1 tsp turmeric powder (haldi)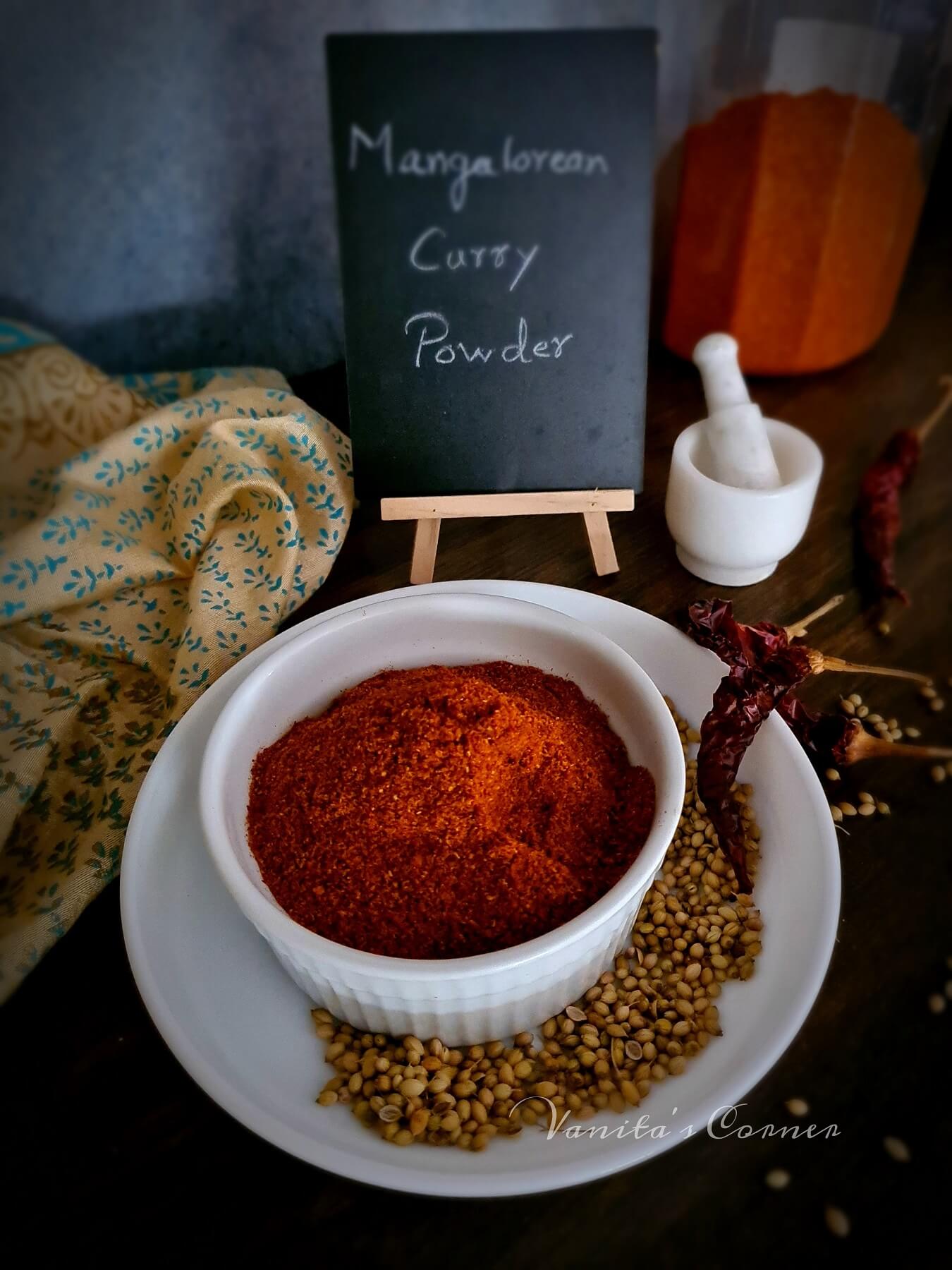 I have posted some recipes using this spice blend. To read those recipes, click here.
Method
Heat a pan.

Add dry chillies.

Saute on low flame till the chillies turn crisp.

Remove and keep aside.

Next, roast all the spices (except turmeric powder), one by one on low flame till they turn aromatic .

Allow the roasted spices to cool down.

Transfer the roasted spices to a mixer jar.

Blend to a fine powder.

Add turmeric powder and mix well.

Store in an airtight jar and use as required.
WATCH RECIPE VIDEO:
Thank you for stopping by. If you like/ tried this recipe, leaving a comment below the post will enable more readers and cooking enthusiasts to discover these recipes. Also, if you are on Instagram, do share a picture of the dish and tag @vanitascorner to be featured in my stories.
Do follow me on Instagram, Facebook and Pinterest.
Subscribe to my youtube channel for easy video recipes.
Happy Cooking!!