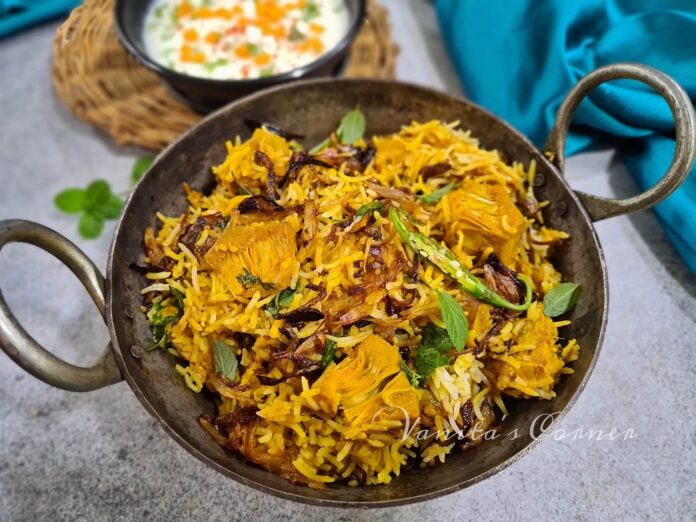 Kathal Biryani – Biryani made with tender raw jackfruit.
Biryani is loved by almost everyone. A complete meal in itself, there are variety of biryanis one can make – vegetarian as well as non-vegetarian. Kathal biryani is a vegetarian biryani made with raw jackfruit. The meat like texture of jackfruit acts as an alternative to mutton or chicken. Jackfruit absorbs all the flavours of the masalas very well and makes this biryani very delicious.
Jackfruit is high in fiber and low in calories, fat and carbohydrates and hence makes for a good alternative to animal meat. I have followed Chef Ajay Chopra's recipe to make this biryani and believe me, this is one of the best biryani recipes. It  turns out super delicious, each time I make it and has become a family favourite.  Here is the recipe for Kathal Biryani:
Ingredients
For marinating & frying raw jackfruit
A small raw jackfruit / 3 cups of jackfruit chunks (How to cut jackfruit)
1 tsp turmeric powder
2 tsp red chilli powder
¾ tsp garam masala
salt as per taste
2 to 3 tsp gram flour (besan)
Oil for frying
For the Biryani rice
2 cups of long grain basmati rice
1 inch piece of cinnamon (dalchini)
1 black cardamom (badi elaichi)
2 green cardamom (elaichi)
7 to 8 black pepper (kali mirch)
5 to 6 cloves (lavang)
2 bay leaves (tej patta)
salt to taste
few mint leaves (pudina)
1 tsp ghee
Other Ingredients
2 big onions, thinly sliced
2 tbsp oil
2 tsp ghee
2 pieces of 1 inch sized cinnamon (dalchini)
1 black cardamom (badi elaichi)
3 tsp ginger garlic paste
1 tsp turmeric powder
2 tsp dhaniya powder
2 tsp Kashmiri chilly powder
1 ½  bowls of beaten curds
¼ cup mint leaves
3  green chillies, slit
¼ cup chopped coriander leaves
salt to taste
For saffron milk mixture
1 cup milk
3 tbsp fresh cream
a pinch of saffron (kesar)
a pinch of cardamom powder (elaichi powder)
¼ tsp garam masala
few drops of kevda essence
For layering the biryani
1 ½ cups of fried onions
½ cup of chopped mint leaves
½ cup of chopped coriander leaves
For making dough for cooking biryani on dum
1 cup wheat flour
Method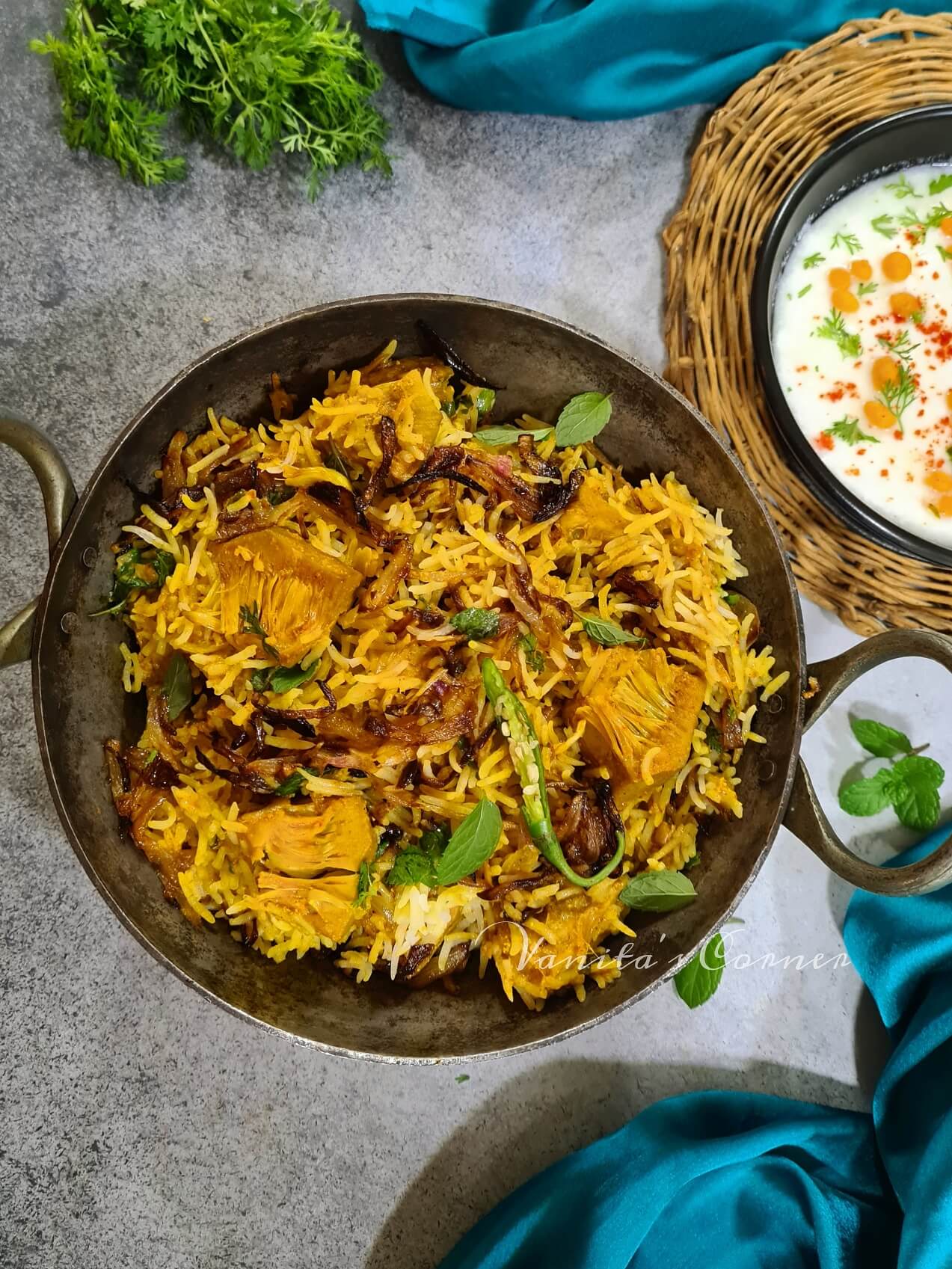 Chopping & frying of jackfruit
Firstly, to cut raw jackfruit, grease your hands and the knife with oil. Oiling prevents the jackfruit's sticky latex sticking to the hands / knife and makes the process of cutting easy.

Discard the skin of the jackfruit and cut into medium sized chunks.

Keep the chunks immersed in a bowl of water to avoid discoloration of the fruit.

Marinate the jackfruit chunks with salt, turmeric powder, red chilly powder and garam masala. Keep aside for 15 minutes. '

After 15 minutes, sprinkle besan over the jackfruit chunks and mix.

Deep fry the jackfruit pieces and keep aside.

The jackfruit pieces need not be cooked fully as they will be cooked in the gravy later.

Keep fried jackfruit pieces aside.


Making of dough for cooking biryani on dum
In a mixing bowl, add the wheat flour, water as required and make a stiff dough.

Keep this aside.

This will be used for sealing the biryani vessel to cook the biryani on dum. 
Making of Biryani Rice
For the biryani rice, wash and soak rice for 1 hour.

Drain the water and keep aside.

In a small muslin cloth, place cinnamon, black cardamom, green cardamom black pepper and cloves.

Tie and make a small bundle (potli).

 Heat 3 cups of water in a vessel.

Add the potli, bay leaves, mint leaves and ghee.

Allow the water to boil vigorously.

The water will absorb the aroma and flavours of the spices added.

Add rice and cook till it is 60% done.

We need par-boiled rice to make biryani.

When the rice is 60% done, turn off the heat. Strain the rice. Do not discard the water. Reserve this water to be used later.

Discard the spice potli, and bay leaves.

Spread the cooked rice on a large plate and keep aside.

Making of Kathal Masala 
Heat a thick bottomed pan in which you plan to cook the kathal biryani.

Add 2 tbsp oil and 2 tsp ghee.

Add cinnamon, black cardmom and green elaichi.

On a  slow flame, roast these spices well.

When the spices start turning black, remove the spices and discard them.

By roasting spices well in oil and ghee, the aroma and flavours of the spices are absorbed by the oil/ghee.

Now, add sliced onions.

Fry the onions till they turn soft and golden brown.

Add ginger garlic paste and keep stirring.

Add turmeric powder, red chilli powder, dhaniya powder.

You can add the drained rice water as and when required while making this masala.

Add beaten curds. Mix well.

Add mint leaves, chopped coriander leaves and green chillies. Keep stirring.

Add fried jackfruit  and mix.

Add the drained rice water (in which rice was cooked)  to adjust the consistency of the gravy.

Cover the pan and cook for 8 to 10 minutes on a low flame.

Once the kathal masala is ready, take it off the heat and keep aside.
Preparing of saffron milk
Heat a pan. Add milk, fresh cream, saffron, cardamom powder, garam masala and kevda essence.

Keep stirring on low flame.

Allow this mixture to boil well. Keep aside.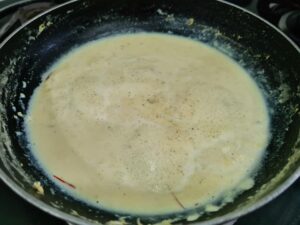 Layering of Kathal biryani
Now, from the pan in which you cooked the kathal masala, remove half the quanity of kathal masala into a different vessel.

You have half the quantity of kathal masala in the pan.

Spread chopped mint, coriander and a layer of fried onions on the kathal masala.

Spread half the quantity of cooked rice over the masala.

On the rice layer, sprinkle chopped mint leaves, chopped coriander and fried onions.

Add another layer of kathal masala. Spread chopped mint, coriander and fried onions over it.

Finally, add the final layer of rice over it.

Pour the saffron milk over the rice.

Top it with fried onions, chopped mint leaves and chopped coriander leaves.

 Finally drizzle a tbsp ghee on it.

Place the lid over the pan.

You may seal the ends of the vessel with the dough for cooking the biryani on dum.

Shape the dough into  a large log and seal the pan and the lid with the dough, so that the steam doesn't escape and the flavours are trapped in the pan.

Cook the biryani on lowest flame for 15 to 20 minutes.

After 20 minutes, turn off the heat  and allow the biryani to rest for few minutes before you open the pan.  Serve hot with raita.