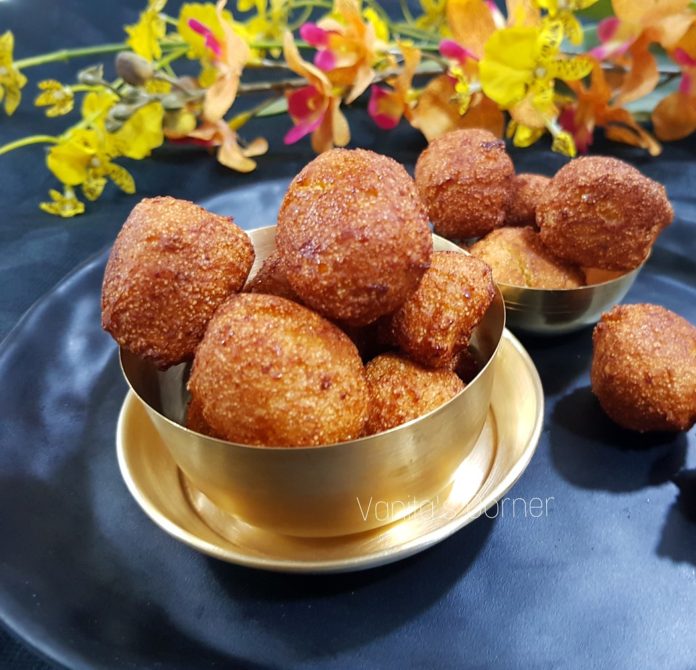 Ripe Jackfruit Fritters/Pelakai Garya/ Pelakai Garige/ Ponsa Mulik is a delicious, deep fried snack from the Mangalorean cuisine.  They are crispy outside, soft on the inside and tastes awesome. 
Jackfruit | Kathal | Fanas brings back childhood memories of the summer vacations spent in Mangalore. Huge trees  with jackfruits hanging on them were a common sight during summers. Jackfruit being one of my favourite fruits, I used to look forward to eating them.
Cutting of a jackfruit and  cleaning it  was a task in itself. The resin (white sticky substance)  from the fruit, tends to stick to the fingers, and can make the cleaning process very messy. But my grandmother armed with a sickle, would dig into the massive fruit. She would apply coconut oil to her hands and skilfully cut open the jackfruit over rounds of stories about the village. Me, my sisters and cousins would sit with her, listen to her stories and enjoyed the fruit. After having the fruit to our hearts content,  the remaining fruit would be used to make pancakes, fritters, papad, kheer etc.
Its just the beginning of summer and jackfruits have already made their entry in Mumbai markets. Yesterday, on my visit to the market, I bought some jackfruit segments. So, here I am with the season's first jackfruit dish – Jackfruit fritters known as Pelakai Garya in Tulu and Ponsa Mulik in Konkani.
Do give this recipe a try and I am sure you cannot stop at one. Here's the recipe:
Ingredients
10 to 12 deseeded segments of ripe jackfruit (pake hue kathal)
2 tbsp of fresh grated coconut (nariyal)
2 tbsp of jaggery, grated or  cut into small pieces (gud)
½ cup semolina (rava/ sooji)
1 tbsp rice flour (chawal ka atta)
½ tsp cardamom powder (elaichi powder)
Oil for frying the fritters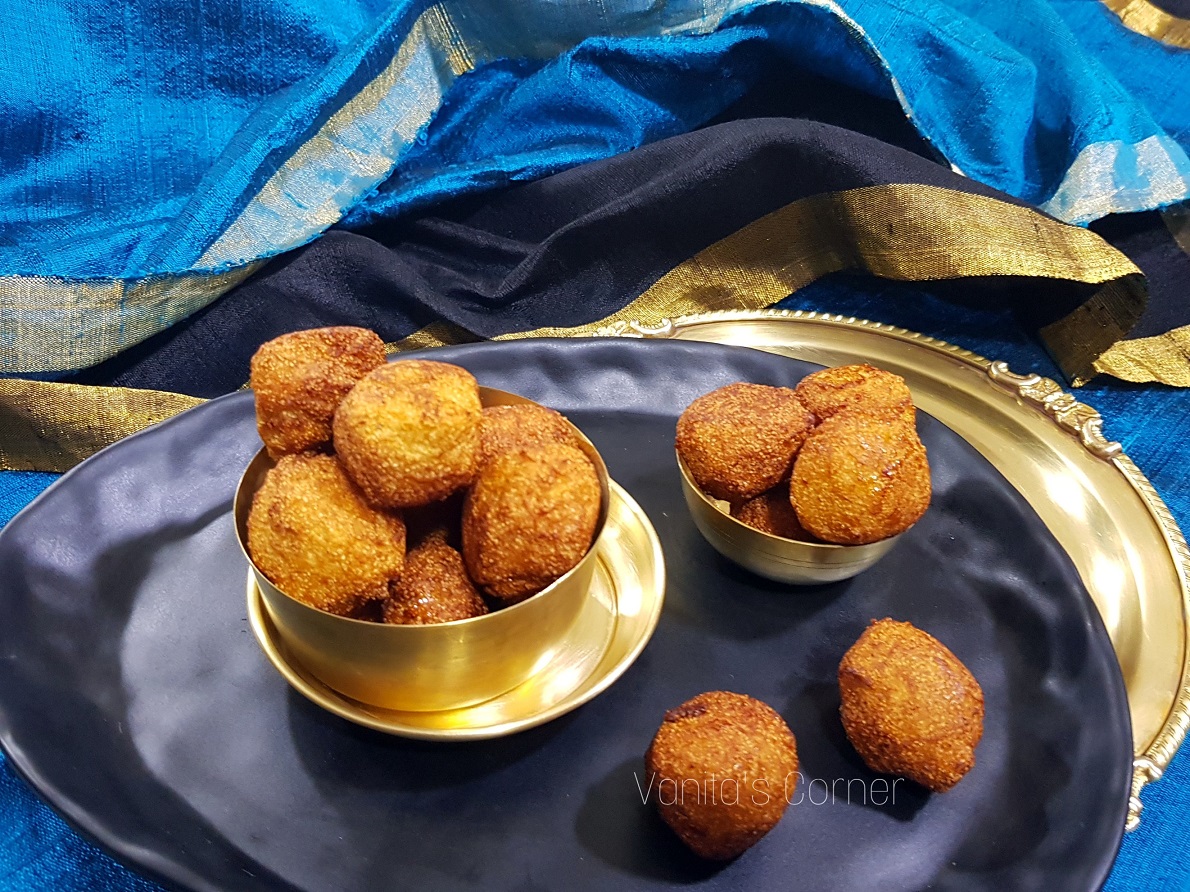 Method :
Blend jackfruit segments, coconut and jaggery to a fine paste without adding water.  

Transfer the ground mixture to a mixing bowl.

To the jackfruit mixture, add rava, rice flour and cardamom powder.

Mix well.

Keep the batter  aside for 15 minutes.

Heat oil in a pan to fry the fritters.

Take a small portion of the thick batter, shape into round balls and drop into hot oil.

Repeat with the remaining batter.  

Deep fry on low flame till they turn crisp.   

Ripe jackfruit fritters are ready to be served. 
Notes:
Adding of rice flour is optional. It is just to add that extra crispiness to the fritters.
WATCH RECIPE VIDEO :