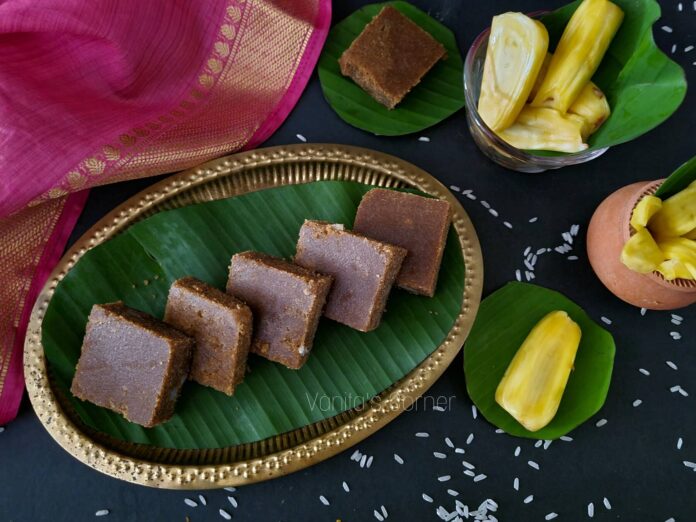 Steamed Jackfruit cake is a traditional Mangalorean snack.
Its summer and we have started getting  jackfruits in the market – raw and ripe. Raw jackfruit is used to make curries, pakodas and biryani. On the other hand, ripe jackfruit segments are eaten as it is or is used to make plenty of dishes. As a child, during my annual visits to Mangalore, I have had quite a few jackfruit delicacies, such as ripe jackfruit fritters, jackfruit appam, jackfruit payasam, steamed jackfruit cake etc.
Steamed jackfruit cake is known as "Pelakai da Adde" in Tulu*. 'Pelakai' in Tulu means Jackfruit and 'Adde' is steamed cake.  It is prepared with rice, ripe jackfruit, coconut and jaggery. It is not soft like cake but dense in texture. It can be served for breakfast or as a snack with evening tea. Apart from jackfruit, Mangaloreans make these type of steamed cakes with bottlegourd (known as Tureta Adde in Tulu) and cucumbers.  Being a Mangalorean, I love these dishes and hence make it a point to make them as and when possible. 
The recipe for Steamed Jackfruit cake or Pelakai da Adde is as under:
(* Tulu : Language spoken by people in the south west part of Karnataka.)
Ingredients
1 ½  cups rice (chawal)
1 ½  cups jackfruit segments (pake hue kathal)
½ cup fresh grated coconut  (nariyal)
1 cup organic jaggery (broken into pieces) (gud)
2 tbsp coconut, chopped into tiny pieces  (nariyal)
Salt as per taste (namak)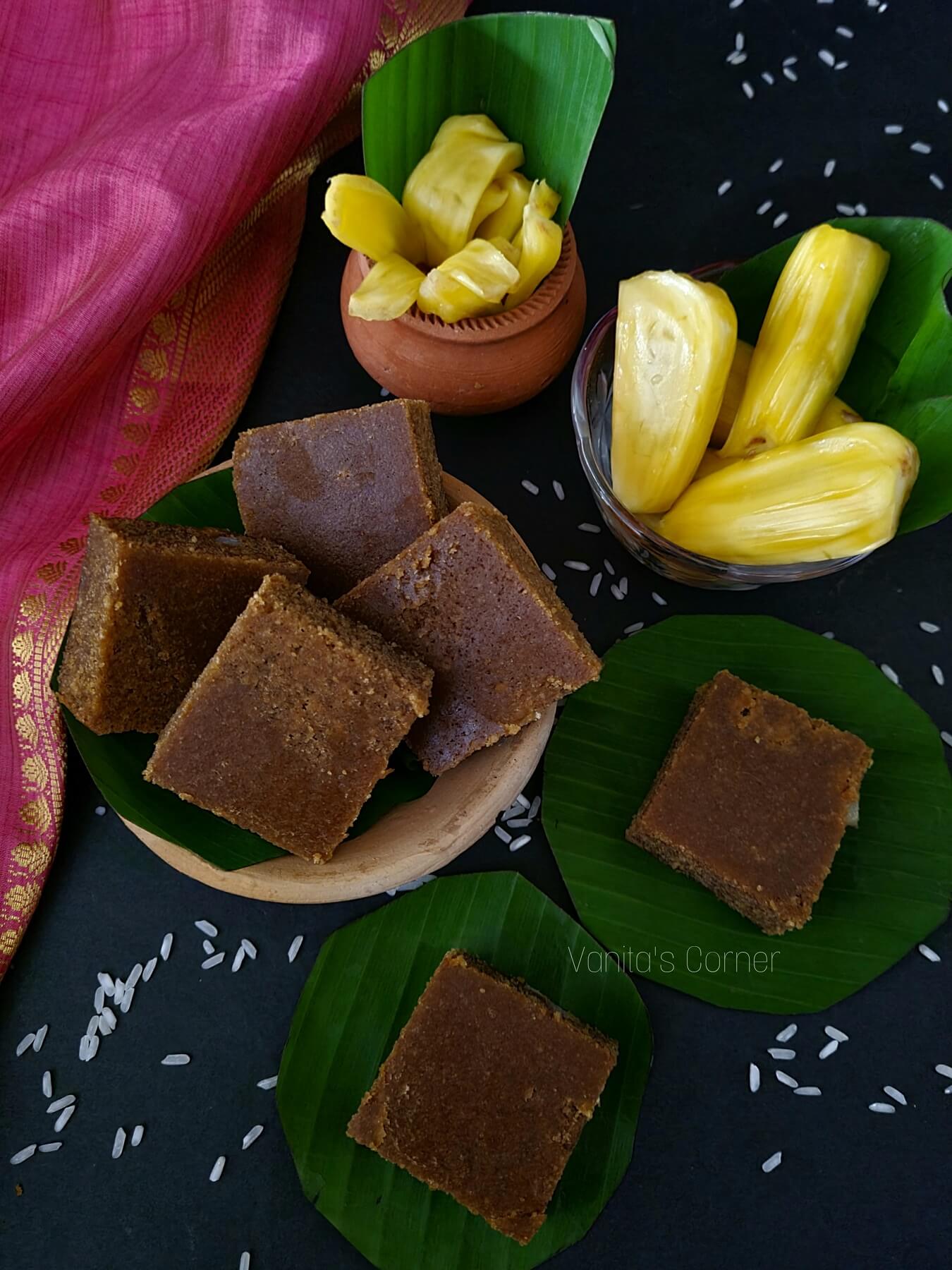 Method
 

Wash and soak rice for 3 to 4

 

hours.

 

Firstly, transfer the jackfruit segments to a mixer jar.

Blend without adding any water.

To this, add soaked rice, grated coconut, jaggery and salt. Blend these ingredients without adding any water to a fine paste.

To this batter, add chopped coconut and mix well.

Grease a plate and pour the batter on to the plate.

Place the plate in a steamer.

Steam for 20 minutes or until it is cooked.

Remove from the steamer and allow it to cool.

Cut into medium sized square or diamond shaped pieces.

 

Steamed jackfruit cake is ready to be served.
 Notes:
I have used organic jaggery. Hence, the colour of the dish is on the darker side. You can use any jaggery for this dish.
Cardamom powder can also be added to the batter.
WATCH RECIPE VIDEO: