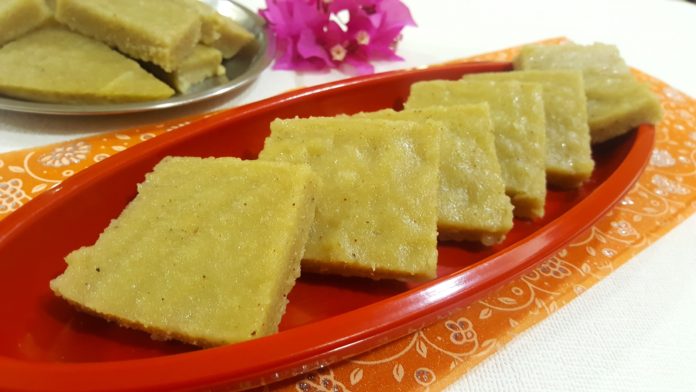 Steamed Bottle gourd cake is a traditional Mangalorean dish. It is known as "Tureta Adde" in Tulu*. 'Ture' in Tulu means Bottle gourd and 'Adde' is steamed cake.  It is prepared with rice, bottlegourd, coconut and jaggery. It is not soft like cake but dense in texture. It can be served for breakfast or as a snack with evening tea. It also makes a healthy mid morning meal  for two reasons : (a) it is steamed and (b) it has bottle gourd which is rich in dietery fibres, minerals and vitamins.  I have learnt this dish from my mother who makes this quite often. Here's the recipe:
(* Tulu : Language spoken by people in the south west part of Karnataka.)
Ingredients
1 cup rice
2 cups chopped bottlegourd
½ cup scraped coconut
½ cup jaggery (broken into pieces)
½ tsp cardamom powder
Salt as per taste
Method
Wash and soak rice for 2 hours.

Blend soaked rice, peeled and chopped bottlegourd, scraped coconut, jaggery to a fine paste.

To this batter, add salt and cardamom powder.  

Mix well. Grease a plate and pour the batter on to the plate.

Place the plate in a steamer.

Steam for 20 minutes or until it is cooked.

Remove from the steamer and allow it to cool.

Cut into medium sized square or diamond shaped pieces.

Serve steamed bottle gourd cake for breakfast or as a snack.
WATCH RECIPE VIDEO
Also have a look at the following Mangalorean snacks: