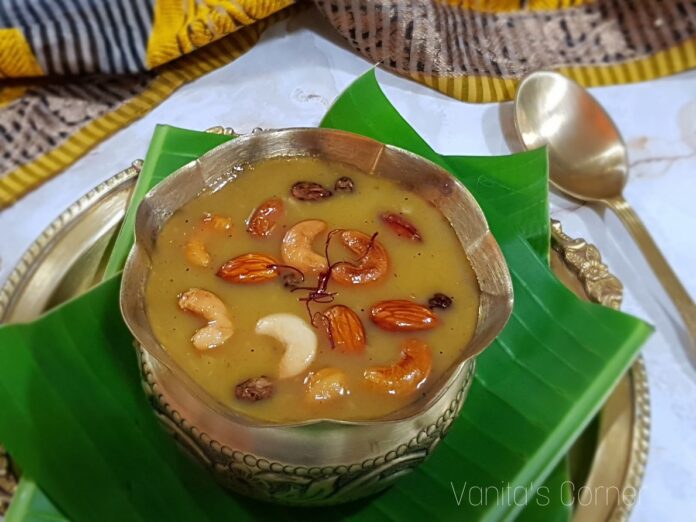 It's the month of May and summer is at its peak.  The worst thing about summer is the soaring mercury levels and sultry weather. But summer brings with it certain delicious fruits like mangoes and jackfruit. Mangoes and jackfruits are used to make quite a few dishes. One such dish using jackfruit is Jackfruit Payasam / Jackfruit kheer. 
Jackfruit Payasam is a traditional/popular dish from Kerala made using jackfruit, coconut milk and jaggery. Kerala probably has more varieties of payasams  than any other region from southern India.  No South Indian meal is complete without payasam.  Payasam is the perfect dish to end a traditional South Indian meal.
Jackfruit payasam gets its distinctive taste and aroma from jackfruit  and is amazingly delicious. Since, jackfruit is now available in plenty, do give this recipe a try. Here's the recipe to Jackfruit Payasam.
Ingredients
8 to 10 segments of ripe jackfruit (paka hua kathal)
2 tbsp clarified butter (ghee)
3/4 cup of jaggery, broken into small pieces (gud)
1 cup thick coconut milk (first extract) (nariyal ka doodh)(How to make coconut milk)
1 cup thin coconut milk (2nd extract) (nariyal ka doodh)
2 tbsp of grated coconut. (nariyal)
1 tsp cardamom powder (elaichi powder)
8 to 10  cashewnuts (kaju)
7 to 8 almonds (badaam)
10 to 12 raisins (kishmish)
A few strands of saffron for garnishing (kesar)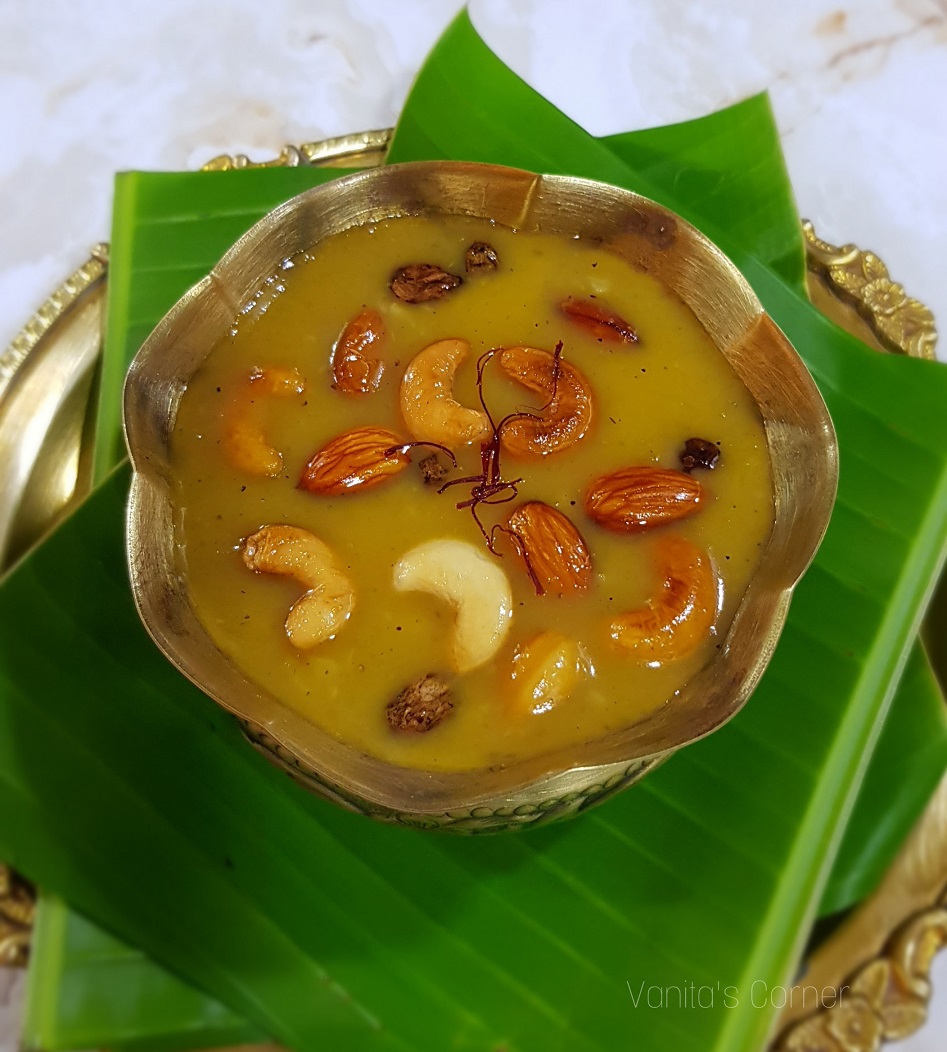 Method
Deseed the jackfruit segments.

In a cooker container, place the jackfruit alongwith half a cup of water.

Pour enough water in the pressure cooker.

Place the cooker container in the cooker and cook  for 3 to 4 whistles.

After it cools down, blend jackfruit to a smooth paste.

Keep this aside.

Heat a pan.

Add ghee.

When the ghee starts melting, add cashew nuts.

Saute it for few seconds.

Add the almonds and saute.

When the cashew starts changing colour, add raisins and saute for few seconds.

Remove the roasted dry fruits and keep aside.

To the same pan, add 1 cup of thin coconut milk.

Add jaggery  and grated coconut.

Keep stirring till the jaggery dissolves.

After the jaggery has dissolved, add jackfruit paste.

Keep stirring till the jackfruit paste blends well with the coconut milk.

Add cardamom powder.

Now, stir in the thick coconut milk and cook for 2 to 3 minutes.

Add the roasted dry fruits.

Jackfruit payasam is ready to be served.

While serving the payasam, garnish with few strands of saffron.
WATCH RECIPE VIDEO: