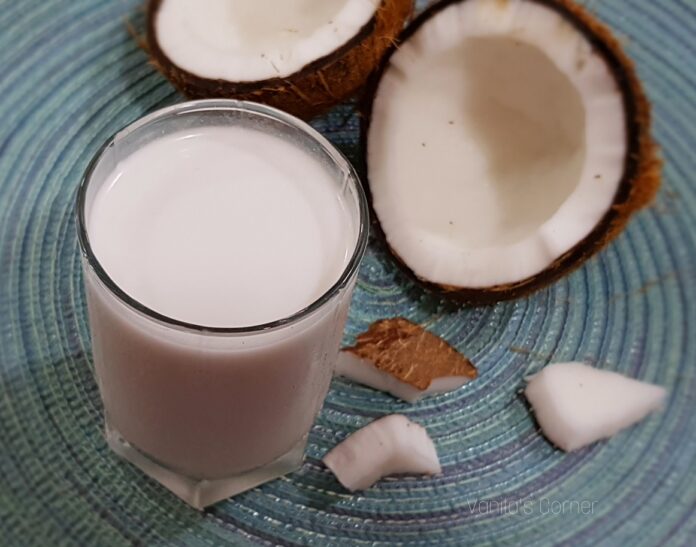 Coconut milk is used in number of dishes. Added to South Indian curries, payasams, Thai curries, Vegan recipes (to name a few), it is an important ingredient in the kitchen. Nowadays, it is available in the market. But you can make fresh coconut milk easily at home. Let's see how to make it at home.
Ingredients
1 ½ cup of fresh grated coconut (nariyal)
1 cup of water (room temperature)
How to break open a coconut – click here
Method
Add fresh grated coconut to a mixer jar.

Add ½ a cup of water.

Blend to a fine paste.

Strain through a fine sieve and collect the coconut milk in a bowl.

This is the first extract (thick coconut milk).

Grind the coconut remains again with ½ a cup of water.

Strain and collect the coconut milk.

This is the second extract (thin coconut milk).

You can repeat the process using the coconut remains to extract the third extract which will be thinner in texture than the second extract.
Note:
It can be stored in an airtight container upto 3 to 4 days in the refrigerator or can be frozen upto a month.
WATCH RECIPE VIDEO:
Thank you for stopping by. If you like/ tried this recipe, leaving a comment below the post will enable more readers and cooking enthusiasts to discover these recipes. Also, if you are on Instagram, do share a picture of the dish and tag @vanitascorner to be featured in my stories.
Do follow me on Instagram, Facebook and Pinterest.
Subscribe to my youtube channel for easy video recipes.
Happy Cooking!!