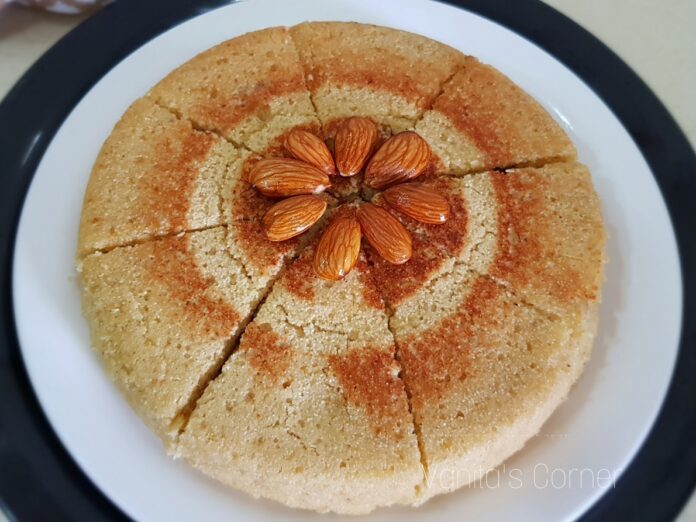 Pansache Dhonas is a steamed Jackfruit Cake made by Goans , using the ripe jackfruit pulp. Jackfruit pulp  alongwith jaggery and coconut is mixed with semolina (rava) and then steamed.  The steamed cake is then  fried in ghee on both sides just before serving.  Pansache Dhonas makes for a good tea-time snack.
A similar jackfruit cake is made by Mangaloreans too, but rice is used instead of rava. I have earlier shared the recipe of Mangalorean style Steamed bottlegourd cake, wherein I have used bottlegourd instead of jackfruit. Ripe jackfruit is now available in plenty and hence it is good time to try jackfruit recipes such as jackfruit dhonas, Jackfruit Payasam, Ponsa Mulik etc.  Here is the recipe for Pansache Dhonas:
WATCH RECIPE VIDEO:
Recipe:
Ingredients
1 ½ cup of semolina (rava)
20 deseeded segments of ripe jackfruit (pake hue kathal)
1 cup of grated jaggery (gud)
1 cup of grated coconut (nariyal)
2 to 3 tsp clarified butter (ghee)
10 to 12 almonds (badam)
10 to 12 cashew nuts (kaju)
1 tsp cardamom powder (elaichi powder)
1 tsp eno fruit salt or baking soda (optional)
A pinch of salt (namak)
Method
Heat 1 tsp ghee ina a pan.

Add rava and roast till it turns aromatic.

Keep roasted rava aside.

Add ½ tsp ghee to the pan.

Add almonds and cashew nuts.

Roast for few seconds.

Keep roasted nuts aside. 

Now, into a mixer jar, add ripe jackfruit segments, grated coconut, grated jaggery and blend to a smooth paste.

Next, in a large mixing bowl, add roasted rava, jackfruit-coconut-jaggery pulp, roasted nuts, cardamom powder, salt and whisk well. 

If the mixture is too thick, add little water and mix.

The batter should have pouring consistency. 

Add eno fruit salt or baking soda to the batter and give a mix.

Pour the batter into a greased cake pan. Place the cake panin a steamer, in which some water is already boiling.  

Cover and steam for 10 to 15 minutes.

Remove cake pan from the steamer.

Allow the jackfruit cake to cool before you demould. 

Heat the remaining ghee in a pan and place the cake (either whole or cut  into pieces).

Cook on both sides until it turns lightly crisp.

Serve hot or cold.
Note:
Adding eno fruit salt or baking soda is optional. It is added to give fluffy texture to the cake.