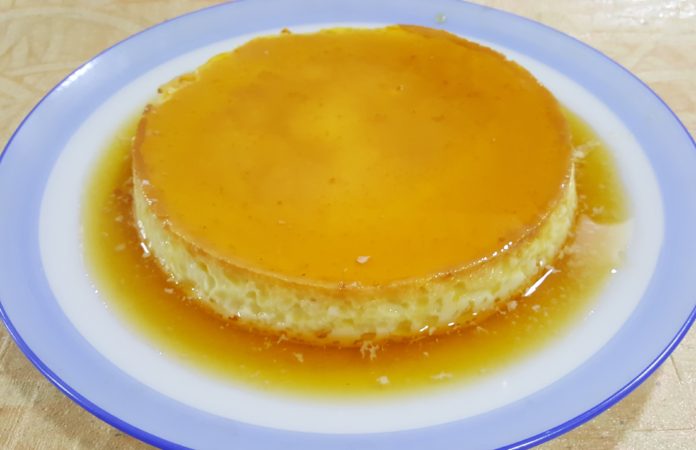 Caramel Custard is a delicious dessert with a soft caramel on top. This is a simple and perfect dessert for a quick treat. Here goes the recipe :
Ingredients
400 ml milk
3 eggs
5 tbsp sugar
1 tsp vanilla essence
For the caramel
½ cup sugar
¼ cup water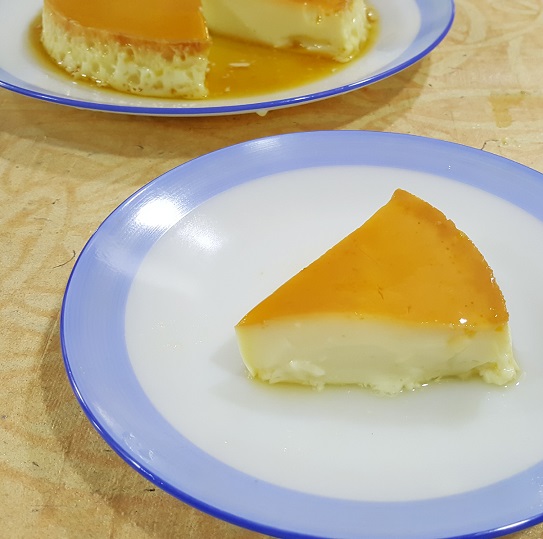 Method
In a mixing bowl take 3 eggs, add the milk, sugar and vanilla essence.

Mix them well with a whisk. Keep this aside.

Heat a thick bottomed pan.

Add ½ cup sugar and ¼ cup water.

Allow the sugar to caramelize. Do not stir.

Once the sugar is caramelized, remove from fire and pour the caramel into a mould/tin.

Spread the caramel evenly.

Cover the mould/tin with a lid or aluminium foil.

In a steamer, add 2 cups of water and place a trivet at the bottom.

Place the mould/tin on the trivet. Cover and steam for 25 minutes.

After 25 minutes, open the lid of the steamer.

Remove the tin from the steamer. Let it cool.

Once it cools down, refrigerate for 3 to 4 hours.

After 4 hours, use a knife to loosen the custard from the sides. Place  a plate on the tin and holding the tin carefully, invert the tin.  Caramel custard is ready to be served.
Note:

It is important not to stir the sugar while making the caramel. Stirring the sugar will result in the caramel getting sticky and thick.

The sugar should not be cooked for a long time , or else the caramel will get bitter.
WATCH RECIPE VIDEO
Some other milk based desserts on this blog are : Dry fruits Shrikhand, Mango Shrikhand, Rose Phirni, Thandai Phirni, Mango Ice-cream, Rava Kheer, Rice Kheer