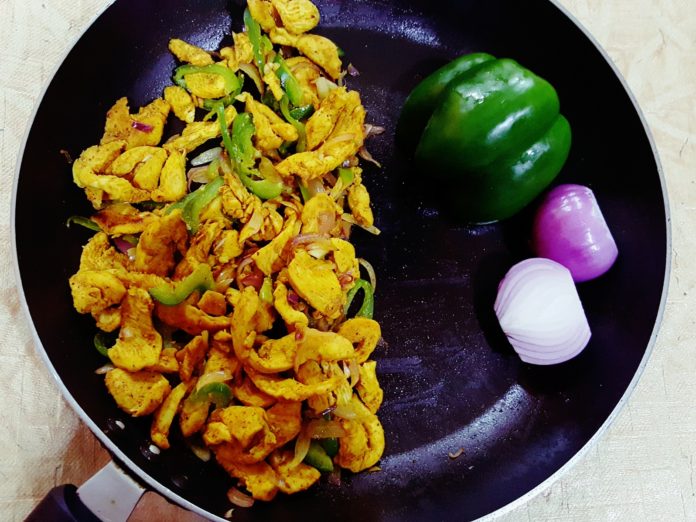 Chicken Stir Fry  is a  quick and easy chicken dish which can be made in a jiffy.  Chicken stir fry with some salads make a good dinner option when you want to avoid carbohydrates for dinner. 
Ingredients
1 ½ cup  boneless Chicken 
1 tsp ginger garlic paste
½ tsp turmeric powder
1 tsp chilly powder
1 tsp cumin-coriander powder
2 tbsp thick curds
2 tsp oil
2 to 3 garlic finely chopped
1 onion 
1 small capsicum 
1 tsp vinegar
Salt as per taste
Method                              
Cut the boneless pieces of chicken into thick strips.

Cut the onion and capsicum into thin slices.

In a mixing bowl , add curds, ginger garlic paste, chilly powder, turmeric powder, cumin-coriander powder , salt  and mix well to make a smooth paste.  

Add the chicken  strips to this and mix well so that the chicken is coated well with the marinade.

Heat 1 tsp oil in a pan.

Add the marinated chicken.

Cook the chicken for 7 to 10 minutes tossing until cooked.

Remove and keep it  aside. 

In the same pan, heat 1 tsp oil, add the chopped garlic and saute.

Add the sliced onions and saute  for 2 minutes.

Now add the sliced capsicum and saute for another 2 minutes.

To this, add the cooked chicken strips.

Saute for a minute.

Add vinegar and mix it.

Cook for another minute and the chicken stir fry is ready to serve.