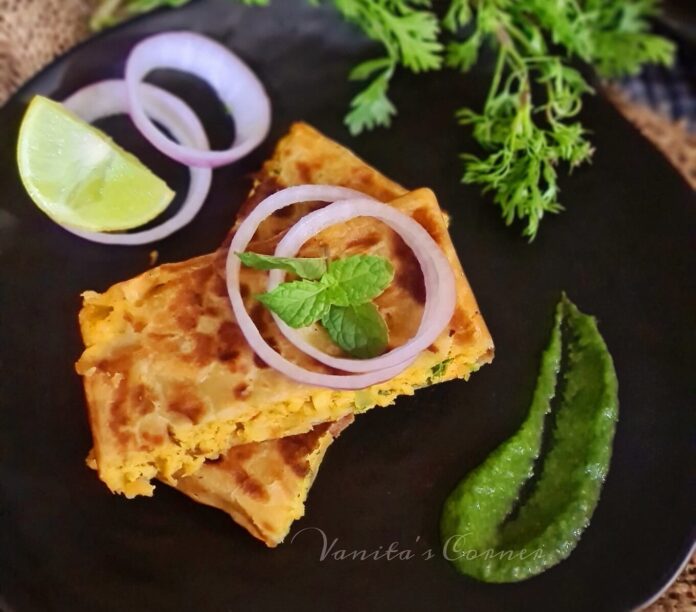 Whole-wheat Chicken Baida Roti – a popular street food of Mumbai made by stuffing chicken kheema and eggs in a roti and then pan frying it.
Chicken Baida Roti is a family favourite. We had Jafferbhai's Delhi Darbar outlet close to our place and so whenever we ordered food from there, Chicken or mutton baida roti was a must.  Chicken/Mutton baida roti served with mint coriander chutney makes for a good appetizer and  is filling enough to be served as a meal by itself. Baida roti is generally made using refined flour (maida). But I prefer using wholewheat flour to make baida roti.  Here's the recipe for Whole-wheat Chicken Baida Roti:
Ingredients
400 gms chicken mince/kheema
1 ½ cups wholewheat flour
2 eggs
1 tbsp oil + 1 tsp oil 
1 tsp cumin seeds
1 medium sized onion, finely chopped
2 green chillies, finely chopped
1 tbsp ginger garlic paste
1 tsp turmeric powder
1 tbsp red chilly powder
1 tbsp cumin coriander powder
1 tsp garam masala
1 tsp chicken masala (optional)
salt as per taste
½ cup coriander leaves, chopped
oil for cooking baida roti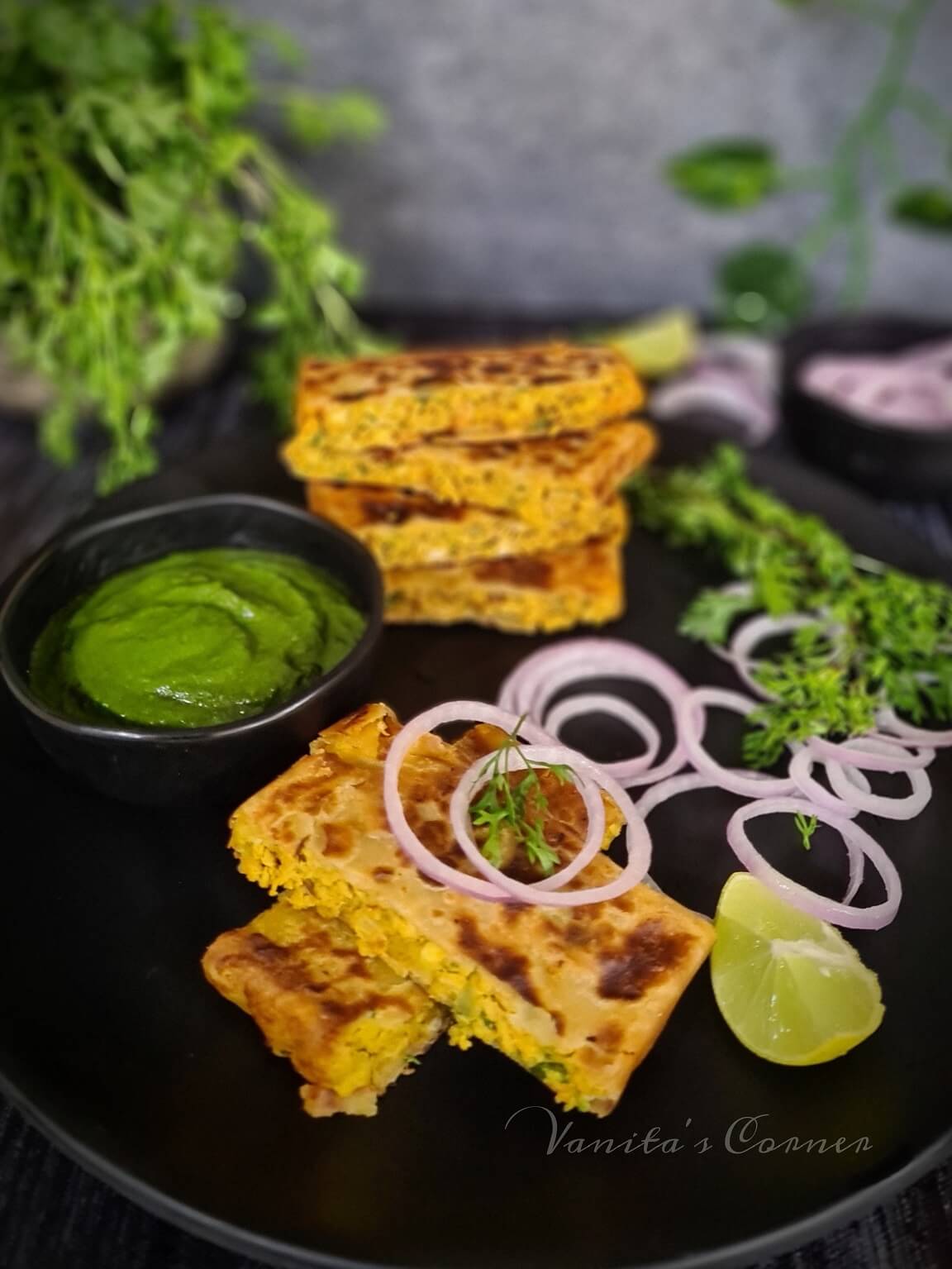 Method
To make the chicken stuffing
Heat 1 tbsp oil in a pan.

Add cumin seeds.

When the seeds start crackling, add ginger garlic paste and saute for few seconds.

Add chopped onion and saute.

Add chopped green chillies.

Saute till the onion turns translucent.

Add chicken kheema.

Saute and cook on low flame for 8 to 10 minutes.

Add turmeric powder, red chilly powder, cumin coriander powder, garam masala and salt.

Mix well and cook for 2 to 3 minutes.

Stir in the chicken masala and cook for a minute.

Finally add chopped coriander and give a mix.  

Transfer chicken kheema to a bowl and keep aside. 
For the roti dough
In a mixing bowl, add wholewheat flour and salt.

Add water as required and knead into a smooth, stiff dough.

Finally, add 1 tsp oil and knead for few minutes.

Keep aside.
How to proceed 
Now, break 2 eggs and add to the chicken kheema and mix well.

Further, divide the dough into small equal dough balls.

Take a dough ball and roll into a thin roti.

Place 3 to 4 tbsp of chicken mixture in the centre of the roti and spread a little.

Fold the roti from all sides giving it a square shape.

Heat a pan and place the roti on the pan.

Drizzle oil around the roti.

Shallow fry till it is cooked well from all sides and turns crisp and golden brown.

Cut the baida roti into square or rectangular pieces.  

Repeat the same with remaining dough balls.  

Serve chicken baida roti with mint coriander chutney.
Note:
With the quantity mentioned above, I made 5 baida rotis and cut each baida roti into 3 rectangular pieces.
I have added only 2 eggs to the chicken mixture. You can add more eggs if you wish.
WATCH RECIPE VIDEO: