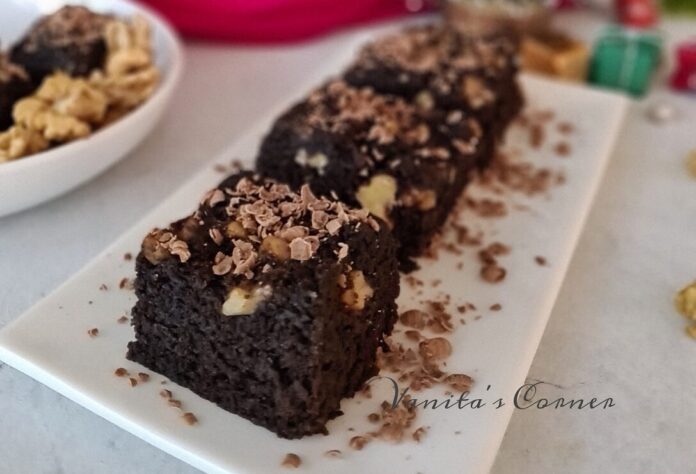 Chocolate Walnut Brownies – an easy, quick and delicious dessert.
Christmas is almost here. Keeping with the spirit of Christmas, made these delicious chocolate walnut brownies. These are extremely easy to make and gets done in minutes. Few years back, I found this recipe in a Tupperware promotional pamphlet. Since then I have been making these brownies using the measurements given therein and they turn out really great.  Here's the recipe:
Ingredients
80 grams Refined flour (Maida)
120 grams Butter
100 grams dark chocolate
100 grams powdered  sugar
2 eggs
1 tsp Vanilla essence
¼ tsp baking soda
50 grams walnuts (chopped)
Method :
In a mixing bowl, add dark chocolate (cut into tiny pieces).

Add butter.

Microwave for 1 minute.

Whisk till the chocolate melts completely.

Transfer this mixture to a microwave safe bowl.

Stir in the powdered sugar.

Add eggs one at a time beating with a whisk or a spoon.

Add vanilla essence and give it a mix.

Now, add the refined flour and baking soda.

Give it a gentle mix.

Further, add the  chopped walnuts and mix. 

Microwave this mixture for 4 minutes 30 seconds  (3 minutes cycle)** and 2 minutes standing time.  Standing time is the time given for completing the cooking, even after the microwave has been put off as the cooking is still on.

Remove from the microwave.

Insert a tooth pick. The tooth pick should come out clean indicating that the brownie is ready to be served.

Allow this to cool.

After it cools, place a plate on the container and holding it carefully, invert the container.

Cut into squares and serve with vanilla ice cream
** 3 minute cycle… After 3 minutes, pause the microwave, and then microwave again for 1 minute 30 seconds.
WATCH RECIPE VIDEO: