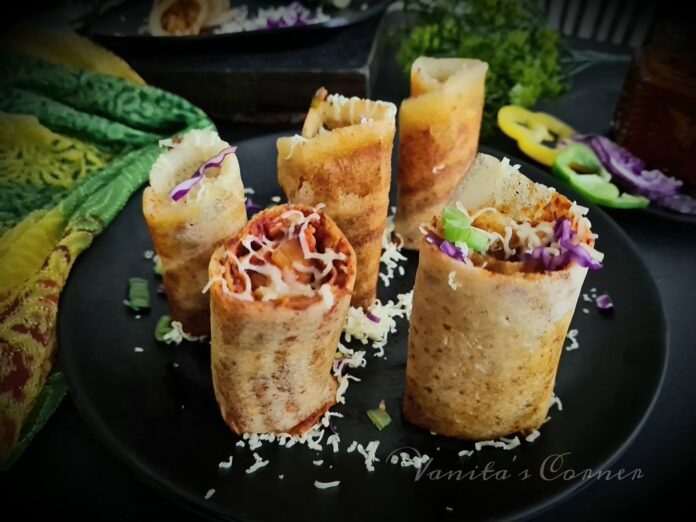 Jini Dosa is a popular Mumbai street style dosa. Jini Dosa is topped with veggies, sauces, spices and is cooked till it turns crispy. The dosa is then cut into strips and rolled and is later topped with grated cheese.  This is perfect for evening snack or even dinner for that matter. This dosa is very popular amongst kids.  With all the sauces, veggies, butter and cheese, Jini dosa turns out very tasty.
Here is the recipe for Jini Dosa:
Ingredients
For dosa batter
1 cup rice
½ cup split black gram (udad dal)
1 tsp split chickpeas (chana dal)
½ tsp fenugreek seeds (methi seeds)
3 tbsp flattened rice (poha)
salt as per taste
For the stuffing

1 cup chopped spring onions
1 cup chopped yellow capsicum
1 cup chopped green capsicum
1 cup chopped purple cabbage
Homemade Schezwan sauce
tomato sauce
pav bhaji masala
chaat masala
butter
ghee 
processed cheese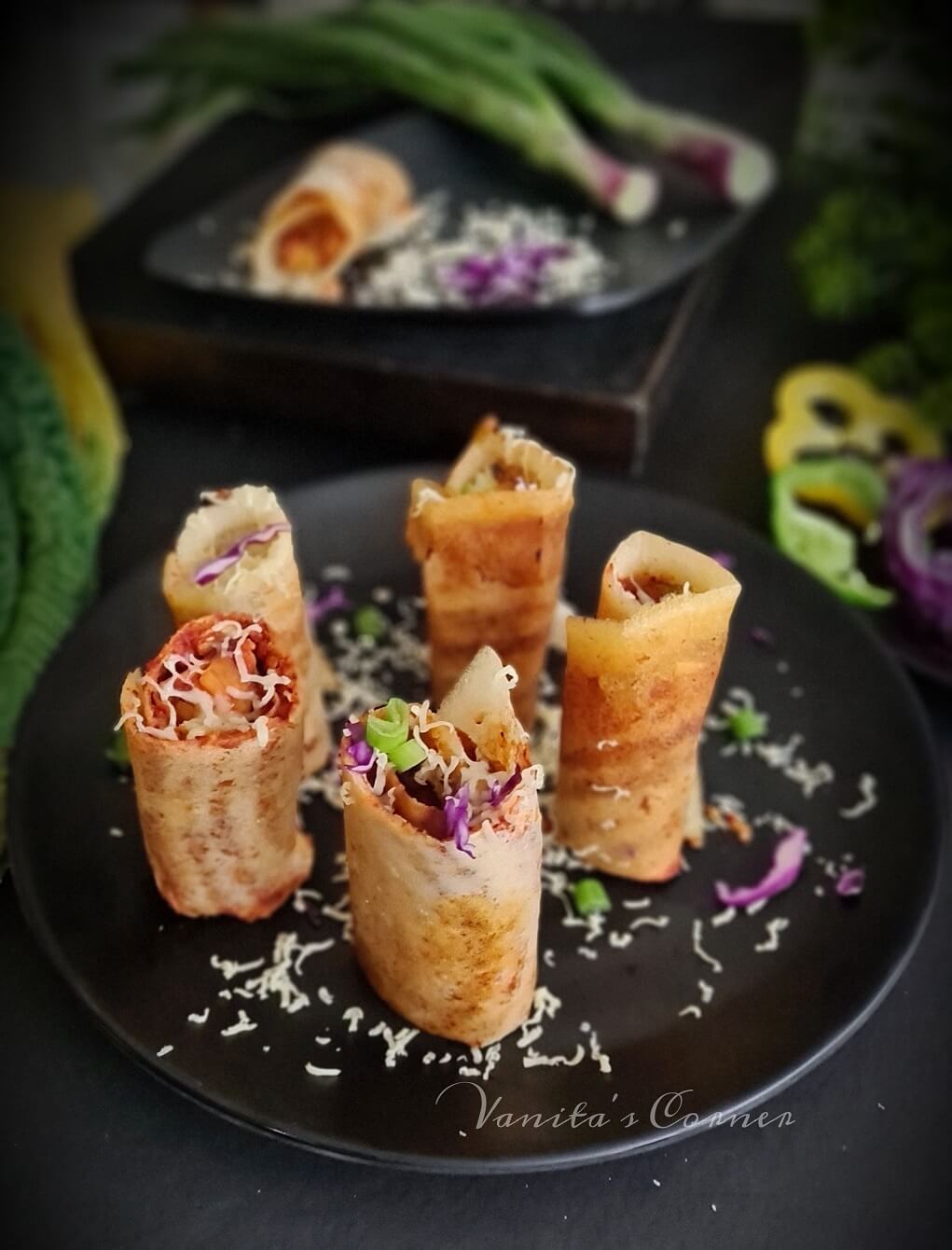 Method
For making dosa batter
Wash and soak rice, methi seeds and chana dal in one vessel for 3 to 4 hours.

Soak udad dal in another vessel for 3 to 4 hours.  

Soak poha in water for 20 minutes before grinding.

Drain the water from udad dal and blend to a fine paste.

Transfer udad dal paste to a vessel.

Blend soaked rice, methi seeds, chana dal and poha to a fine paste.

Mix both the batter well using your hand or a whisk.

Add salt and mix well.

Allow the batter to ferment for 8 to 10 hours.
How to proceed
Once the dosa batter is fermented, lightly stir the batter.

Add water, if required, to adjust the consistency.

Heat a dosa pan.

The pan should be medium hot.

Pour a ladleful of batter on the pan.

Spread it in a circular motion.

Cook the dosa on low heat.

Drizzle ghee on the edges of the dosa.

Place a tsp of butter on the dosa. Spread the butter using a spatula.

Now, add 2 tbsp chopped onions, 1 tbsp chopped yellow capsicum, 1 tbsp chopped green capsicum, 2 tbsp chopped cabbage, 1 tbsp schezwan sauce, 1tbsp tomato sauce, ½ tsp pavbhaji masala and  ¼ tsp chaat masala.

Mix well and spread the stuffing over the dosa.

Grate cheese over the dosa and spread it using a spatula.

Allow the dosa to turn crispy.

Cut the dosa into strips using pizza cutter or a knife.

Roll the strips and serve Jini dosa, topped with grated cheese.

Repeat the same with the remaining dosa batter and the stuffing.
Notes
For the stuffing I have used spring onions, yellow capsicum, green capsicum and purple cabbage. You can use regular onions, capsicum of your choice and ordinary green cabbage too.
Cook the dosa on low heat allowing it to turn crispy.
In case cutting of dosa strips becomes difficult, you can roll the dosa, remove it on a cutting board and then cut into pieces.
WATCH RECIPE VIDEO: