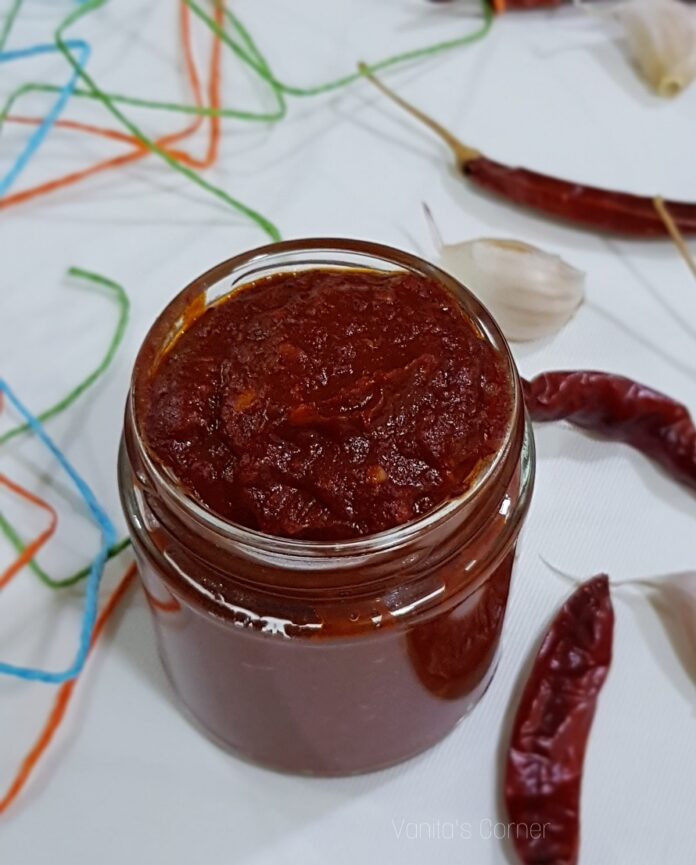 Schezwan sauce, a common addition to many Chinese dishes is the soul of Indo Chinese cuisine. It can also be served with French fries, cutlets, sandwiches  etc., and is used to make Schezwan dosa, jini dosa, Chinese bhel amongst other dishes. It can be easily made at home with readily available ingredients  without adding any chemical preservatives.
Ingredients
For red chilly paste
50 grams dry Kashmiri red chillies (sookhi laal mirch)
50 grams garlic, peeled (lehsun)
Other Ingredients
3 tbsp oil (tel)
1 tsp finely chopped garlic (lehsun)
1 tbsp finely chopped ginger (adrak)
a small onion, finely chopped (pyaaz)
2 tsp sugar (cheeni)
2 tbsp vinegar (sirka)
Salt as per taste (namak)
WATCH RECIPE VIDEO:
Method
Heat 1 cup water in a pan.
When the water starts boiling, add red chillies and garlic.
Let the chillies and  garlic cook for few minutes.
When the chillies turn soft, turn off the heat.
Allow this to cool completely.
Blend it to a fine paste.
Keep chilly garlic paste aside.
Heat oil in a pan.
Add finely chopped garlic, ginger and onion.
Saute all the ingredients, keeping the gas on high flame.
When they start (garlic, ginger and onion) changing colour, add the chilly garlic paste. Saute and cook for few minutes.
Add half a cup of water to adjust the consistency.
Let this cook for 8 to 10 minutes.
Add salt, sugar and vinegar.
Mix and cook for another 5 minutes. 
You can serve the sauce hot or can refrigerate and serve chilled.
Transfer the schezwan sauce to an airtight container and store refrigerated upto 15 days.
Note:
I have used Kashmiri chillies. But a mix of Kashmiri and Bedgi chillies can also be used.