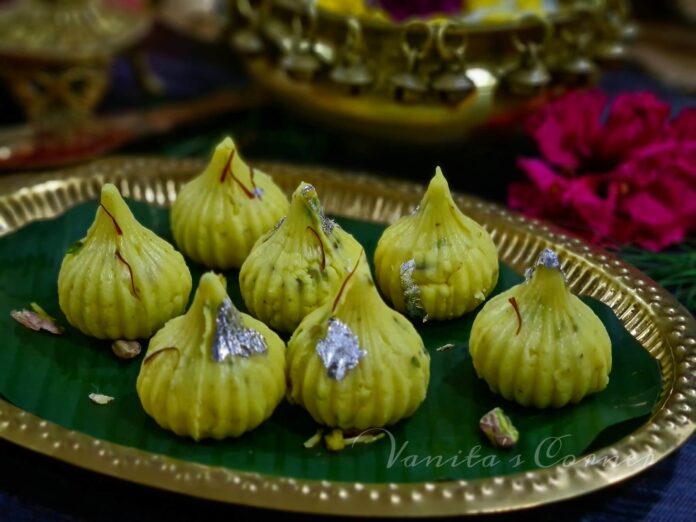 Kesar Mawa Modak – an easy modak recipe using milk powder.
Ganesh Chaturthi is round the corner and everyone has started preparations to welcome Ganpati Bappa. It is one of the most popular festivals celebrated in Maharashtra and the festivities last for 10 days.  Every household has its own way of worshipping Lord Ganesha and prepare different types of sweets and delicacies as offerings to Ganpati Bappa.
It is believed that Ganpati Bappa was fond of eating sweets and modak was one of his favourites. Traditionally, Ukadiche modak was prepared as bhog/prasad, but now umpteen varieties of modaks are prepared. Some of the varieties of modaks are fried modak, mawa modak, kaju modak, chocolate modak, gulkand modak and so on.
Kesar Mawa Modak is an easy modak recipe made using milk powder and turns out absolutely delicious. So, this Ganesh Chaturthi, do try this recipe to please Ganpati Bappa.
Ingredients
1 cup / 140 grams of milk powder
1/3 cup milk
few strands of saffron/kesar
2 tbsp milk to soak saffron
1 tsp ghee
1/3 cup powdered sugar
2 tbsp chopped pistachios
½ tsp cardamom powder
edible silver leaf/chandi varak (optional)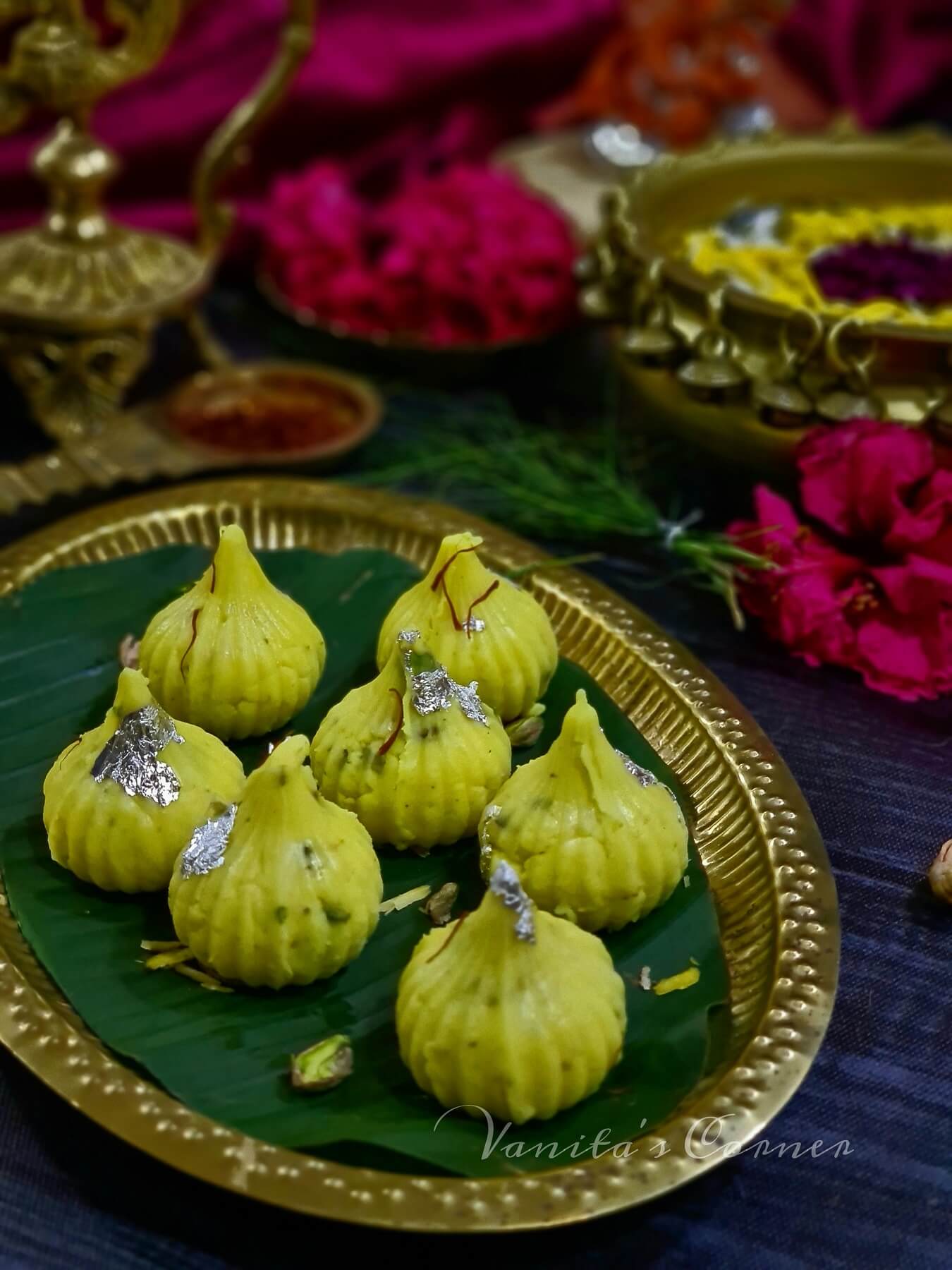 Method
Soak saffron in 2 tbsp warm milk for 30 minutes.

Heat a pan.

Add ghee.

When the ghee starts melting, add milk and saffron milk. Mix well.

Add milk powder and keep stirring on low flame.

After about 10 to 12 minutes, the mixture will start leaving the sides of the pan.

Keep stirring until it forms a lump.

Transfer this to a mixing bowl.

Allow this to cool slightly.

Add powdered sugar and mix well.

Add chopped pistachios and mix.

At this stage, the mixture will become slightly sticky.

Keep this mixture aside for 10 mintues to cool completely.

After 10 minutes, the mixture will be no longer sticky and will hold shape.

Now, grease a modak mould using ghee.

Take a portion of the mawa mixture and press it into the modak mould  and spread it evenly on all sides of the mould.

Close the mould tightly.

Demould the modak from the mould.

Repeat this for all the modaks.

Garnish the modaks with edible silver leaf and saffron.

Kesar Mawa Modak is ready to be served.