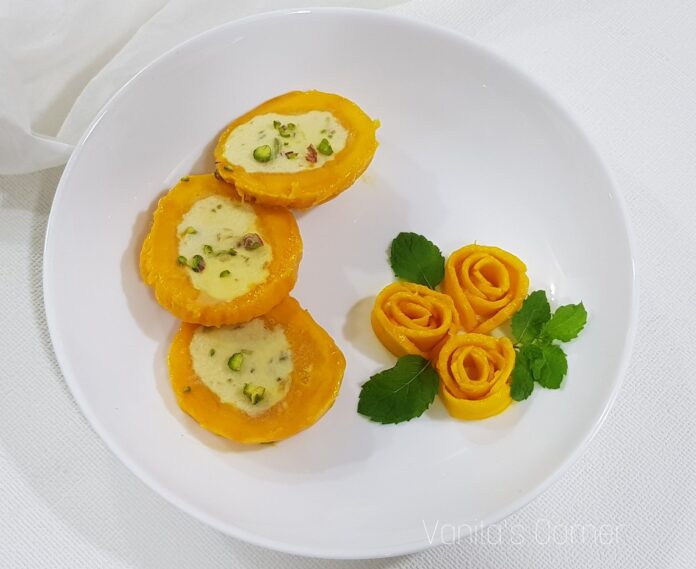 Kulfi stuffed mangoes – Whole mangoes stuffed with creamy kesar pista kulfi.
When I had first seen Chef Kunal Kapoor making kulfi stuffed mangoes about 2 years back, I was in awe of this idea of stuffing mangoes with kulfi. I understand these kulfi stuffed fruits (mangoes, apples, pomegranate)  are a speciality of Delhi's  famous Kuremal Kulfiwale.  
Kulfi stuffed mangoes were on my to-do list for a long time, but somehow, didn't get around making it. This year, I didn't want the  mango season pass away without making this dessert.  So, here are two summer favourites (mangoes and kulfi) combined into one mean dessert.  This frozen mango and creamy kulfi combination is a must try for everyone, atleast once.   Let us have a look at the recipe for kulfi stuffed mangoes.
Ingredients
For the kulfi
1 litre full fat milk (doodh)
4 to 5 tbsp sugar (cheeni)
3  tbsp chopped pistachios (pista)
few strands of saffron (kesar)
½ tsp cardamom powder (elaichi powder)
1 tbsp chopped pistachios for garnishing
Mangoes (preferably Alphonso mangoes)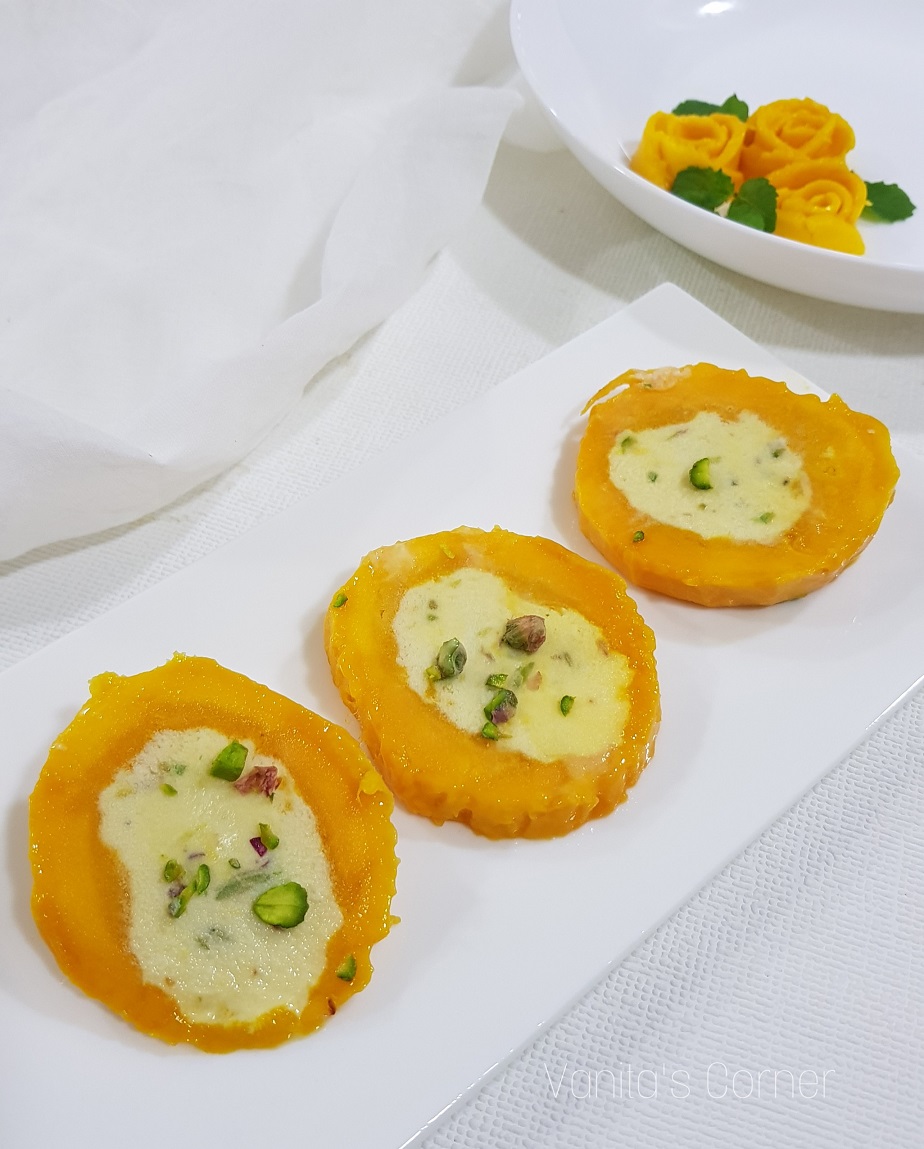 For the recipe for Mango Kulfi, click here
Method
Heat milk in a pan.

When the milk is moderately hot, take out a tablespoon of milk in a small bowl.

Add a pinch of saffron strands to it. Keep this aside.

Keep stirring the milk on a low flame till it reduces to one-third of its quantity.

When the milk has reduced in quantity and become thick, add sugar to it.

Mix well and cook for few more minutes.

Now, add the chopped pistachios, saffron mixture, cardamom powder and give a mix.

Turn off the heat and allow this to cool completely. Keep this aside.

Now, cut the crown of the mango.

Using a kitchen knife,  loosen the pulp around the mango seed.

Hold the seed and rotate it to loosen it further.

Gently scoop out the seed.

Place the mango in a glass so that it stands upright.

Remove pulp/flesh from the seed, if any and add it back to the empty mango shell.

Pour kulfi mixture into the mango shell.

Cover the mango with its crown.

Repeat the same process for all the mangoes.

Freeze the mangoes for 5 to 6 hours.

Once frozen, remove and peel the mangoes.

Slice the mangoes, garnish with chopped pistachios and serve.
WATCH RECIPE VIDEO: