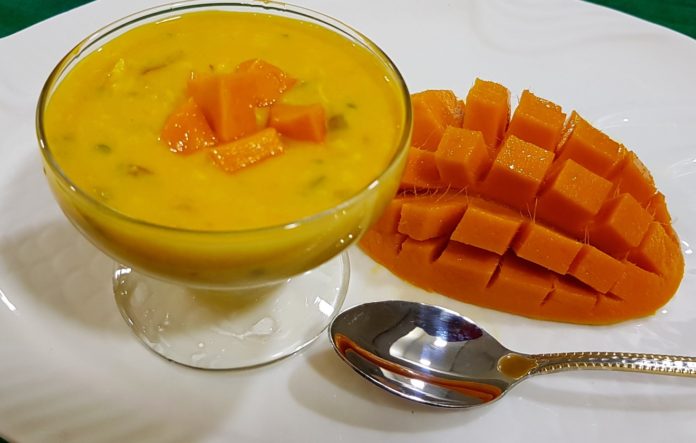 Basundi is a creamy, rich and delicious dessert made with thickened milk. You can make basundi in different flavours.  As mangoes are available in plenty now, I have added mangoes to the basundi and  made mango basundi. Lets take a look at the recipe.
Ingredients
3 cups full fat milk
3 tsp sugar
a large pinch of saffron (kesar)
2 tbsp chopped nuts (almonds, pistachios & cashew nuts)
¾ cup mango puree
½ cup small mango cubes for garnishing
Method
Heat a broad bottomed pan.

Add the milk and cook on a slow flame.

Keep stirring occasionally.  

Remove 2 tsp milk in a small bowl and add  saffron to it. Set it aside.

Add  sugar to the boiling milk. 

Allow the milk  to boil till it reduces to half its quantity.

Keep scraping the sides of the vessel.

Add the saffron mixture to the milk and mix.

Add the chopped nuts and mix.

The basic basundi is ready.

Allow it to cool completely.

Now, add the mango puree and mix well.  

Refrigerate and serve chilled garnished with small mango cubes.
Note:
I have not added cardamom (elaichi) powder to the basundi as I didnt want cardamom to affect the mango flavour. But, you are free to add cardamom powder if you wish.
WATCH RECIPE VIDEO