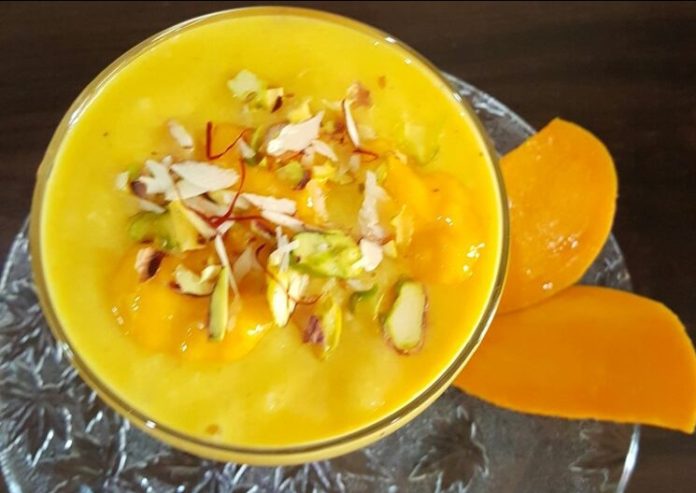 The best thing about the summer are the mangoes and the various desserts made with mangoes. Phirni is a creamy dessert made with milk, rice and sugar.  Mango Phirni is a variation to the traditional phirni, where mango puree is added to the phirni.  As mangoes are in season now, do try this recipe:
Ingredients:
¼ cup Rice
2 tbsp Almonds     
2 tbsp Cashew nuts  
1 cup Mango pulp   
4 cups Milk                
1/3 cup Sugar     
1 tsp Cardamom powder   
Chopped almonds and pistachios for garnishing
a pinch of saffron  
Method:
Soak the rice in water and set it aside for 30 minutes.

Soak the almonds and cashews in hot water and set it aside for 30 minutes.

Soak saffron threads in two tbsps of milk  and keep it aside.

Drain the water from rice and grind it to a coarse paste.

Drain the water from soaked nuts, peel the almond skin.

Grind almond and cashews to a paste.

Heat a pan, add 4 cups of  milk and bring it to boil.

Allow the milk to boil in medium flame till it reduces to 3/4 of quantity.

Now, add the rice paste to the milk and start stirring continuously to avoid the lumps.

Keep stirring the milk and boil  till it becomes a porridge consistency. When the consistency is thick like a porridge, add sugar.

Add saffron thread milk and almond-cashew paste.

Add cardamom powder and mix everything well.

Switch off the flame and allow the phirni to cool completely.

Once the phirni is cooled, add the mango pulp and mix well.

Garnish with nuts and refrigerate for about 2 hours.

Serve chilled.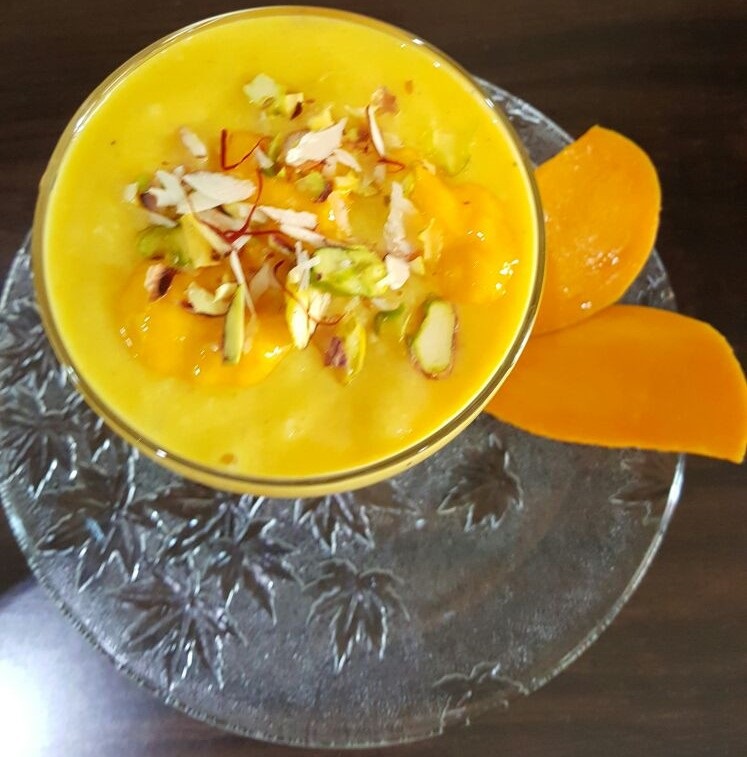 If you love phirni, do check the recipe of Thandai Phirni