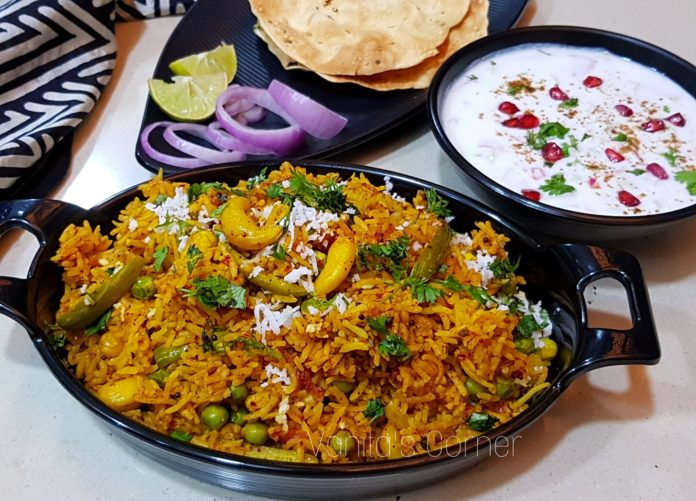 Masale bhaat – a traditional Maharashtrian rice preparation.  
Masale Bhaat is a popular Maharashtrian dish and is served at many Maharashtrian weddings and festive occasions. Rice is cooked with vegetables and masalas (spice powder) to make masale bhaat.  This spicy and flavourful rice makes for a great one-pot dish and when served with raita is a complete meal.
I have given below recipe for the masala powder that I have used. Instead of this masala powder, one can use readymade Maharashtrian Goda masala.  You can add your favourite vegetables to masale bhaat. Here, I have used tendlis (ivy gourd), green peas and potatoes. When it comes to rice, any kind of rice works for this recipe. I personally like to use long grain basmati rice to make masale bhaat. 
Here's the recipe for masale bhaat:
Ingredients
For masala powder
1 tsp Coriander seeds
½ tsp Cumin seeds
½ tsp Sesame seeds
½ tsp Poppy seeds
½ inch stick Cinnamon
4 to 5 Cloves
¼ tsp Black pepper
2 Dry red chillies
1 Star anise
1 Black cardamom
1 tbsp Dry coconut (grated)
1 tsp Oil
For masala bhaat
1 tbsp Ghee
1 Bay leaf
½ tsp Mustard seeds
½ tsp Cumin seeds
¼ tsp Asafoetida
1 small Onion  (finely chopped)
3 to 4 cloves Garlic (finely chopped)
½ inch piece  Ginger  (finely chopped)
1 medium Tomato (finely chopped)
8 to 10 Cashew nuts
1 cup Mixed vegetables(Tendli + green peas + potato)
1 tsp Turmeric powder
1 cup Basmati rice
1 tbsp Fresh Coconut (grated) – for garnishing
1 tbsp Fresh coriander (chopped) – for garnishing 
Salt as per taste
Method
To make the masala powder, heat 1 tsp oil in a pan and roast all the items one by one (mentioned under masala powder).

After it cools, grind into a fine powder.  Keep this aside.

Wash the rice and soak it in water for 30 minutes.

Heat ghee in a deep pan.

Add bay leaf, mustard seeds, cumin seeds, asafoetida and saute.

Add chopped onions, ginger, garlic and saute well.

Add chopped tomato, cashews, mixed vegetables and mix it well.

Add turmeric powder,  masala powder and mix.

Add the rice, around 2 ½ cups of water, salt and mix it well.

Cover and cook for 15 to 20 minutes on medium flame.

Garnish with chopped coriander leaves and grated fresh coconut.

Serve the masala bhaat with with raita and pickle.
WATCH RECIPE VIDEO:
Thank you for stopping by. If you like/ tried this recipe, leaving a comment below the post will enable more readers and cooking enthusiasts to discover these recipes. Also, if you are on Instagram, do share a picture of the dish and tag @vanitascorner to be featured in my stories.
Do follow me on Instagram, Facebook and Pinterest.
Happy Cooking!!