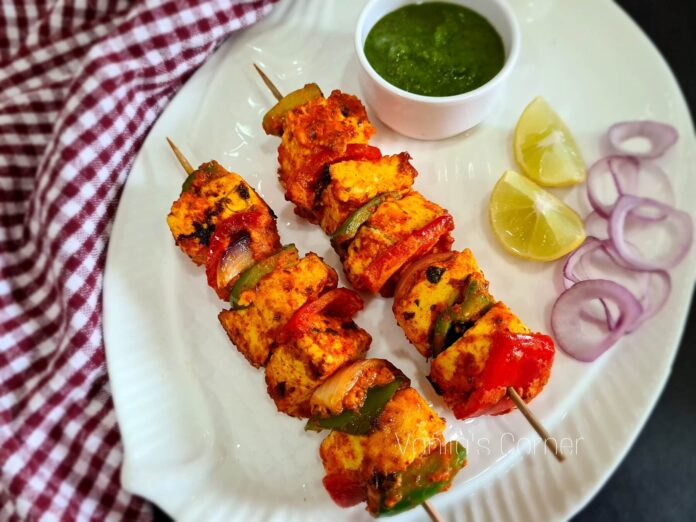 Paneer Tikka – a famous vegetarian starter.
Paneer tikka is a popular vegetarian appetizer, loved by many. This is one of the most common vegetarian appetizer which the vegetarians order, while dining out. Paneer and vegetable cubes are marinated in a mixture of curds, spices  and grilled in a tandoor. The restaurant style tandoori paneer tikka has a smoky flavour, the paneer cubes  are slightly charred on the outside, and is soft from within. The same recipe can be recreated at home in a pan, without a tandoor. The key to a perfect paneer tikka is right marination and the smoky flavour.  Here is the recipe for Paneer Tikka:
Ingredients
For marination
400 grams cottage cheese (paneer)
½ cup hung curds (dahi)
1 tbsp ginger garlic paste (adrak lehsun paste)
1 tsp dried fenugreek leaves (kasuri methi)
1 tsp turmeric powder (haldi)
1 tbsp red chilly powder (laal mirch)
1 tbsp oil (tel)
½ tsp garam masala
1 tbsp roasted gram flour (besan)
1 tsp carom seeds (ajwain)
salt as per taste (namak)
½ cup onions, cut in quarters (pyaaz)
½ cup green capsicum cubes (Shimla mirch)
½ cup red capsicum cubes (laal shimla mirch)
For cooking paneer tikka
1 tbsp oil (tel)
2 tsp butter (makkhan)
bamboo skewers
For the smoky flavour
A small piece of charcoal
1 tsp clarified butter (ghee)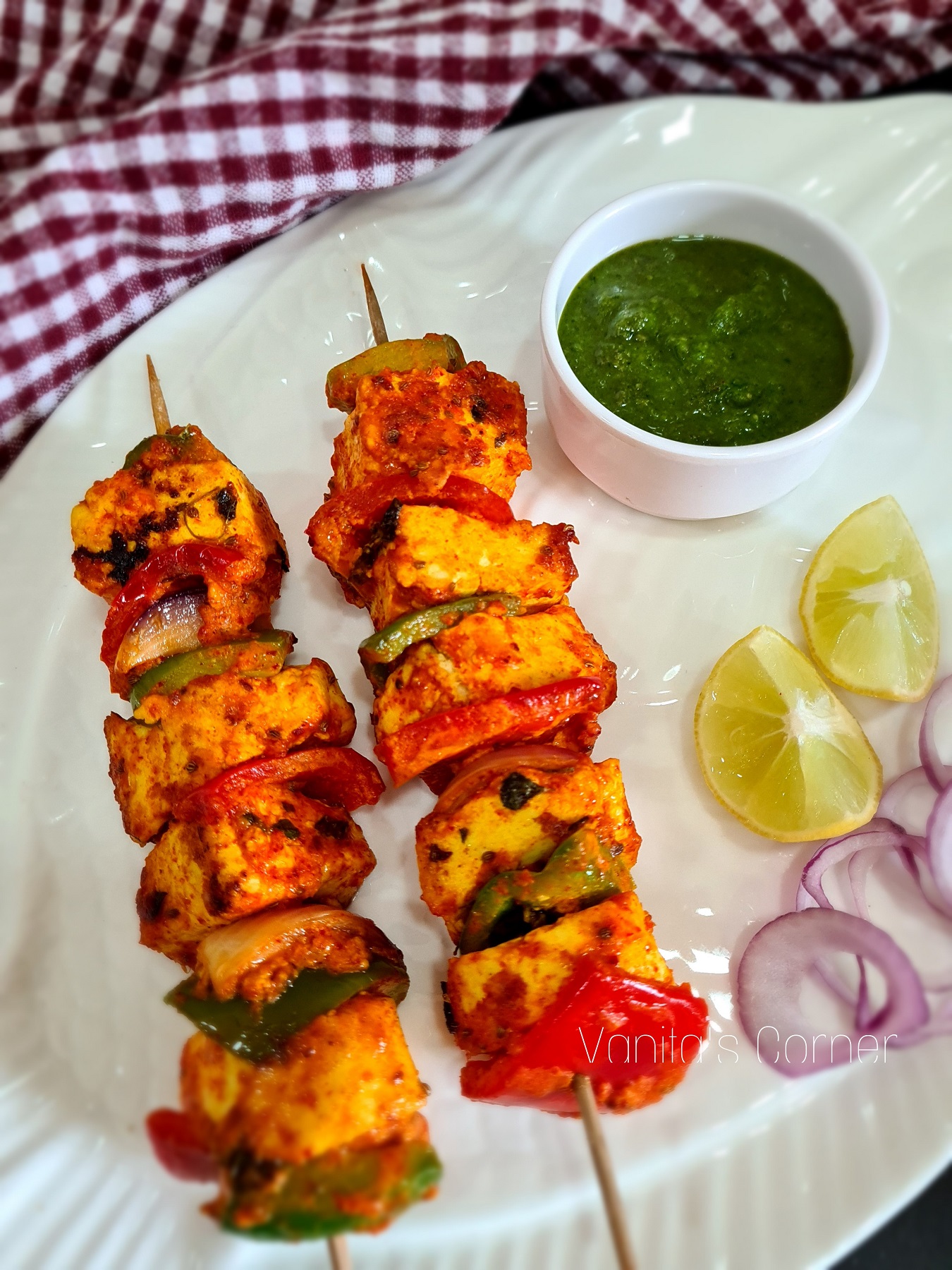 Method
In a mixing bowl, add hung curds, ginger garlic paste, kasuri methi, salt, turmeric powder, red chilly powder, garam masala, carom seeds, oil and  roasted gram flour. Mix well.

Now, add onions, green capsicum and red capsicum . Mix well.

Add paneer cubes and mix gently till they are coated well with the marinade.  

Keep this aside for 15 minutes.  

Skewer the vegetables and paneer and set them aside.

While putting the vegetables and paneer in the skewer, ensure that you begin with a capsicum and then keep alternating between paneer, onion and capsicum and end with a capsicum or onion cube,  so that the paneer cubes are held firmly.

If using bamboo skewers, keep them immersed in the water for 30 minutes before using.

Heat 1 tbsp oil in a pan. Add 1 tsp butter. When the butter starts melting, place the paneer tikka skewers on the pan.

Allow it to cook on a low flame. Keep turning the skewers and cook on all sides.

For the smoky flavour, place a piece of dry charcoal on an open flame.

Let it burn till the charcoal turns red in colour.

Pick up the charcoal with the help of tongs and place it in a steel bowl,

Place this bowl on the pan containing paneer tikka skewers.

Add a teaspoon of ghee on the hot coal.

The ghee will melt and smoke will emanate from it.

Cover the pan for 2 minutes for the smoky flavour to infuse. 

Transfer paneer tikka skewers to a serving plate.

Serve with green chutney, onion rings and lemon wedges.
WATCH RECIPE VIDEO: