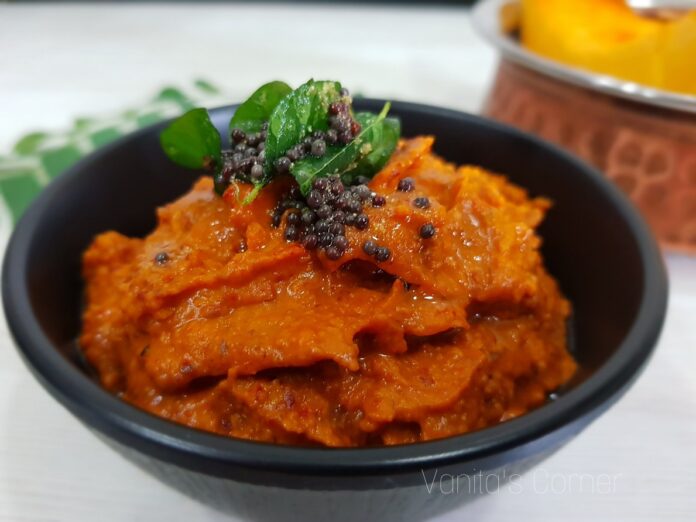 Pumpkin Peel chutney – a tasty side dish with your meals.
Have you heard of the latest trend known as  Root to stem eating?  As the name suggests,  it is about consuming vegetable or fruits without wasting any part, i.e. the stems, seeds and peels are used for cooking.   Though this concept has become popular with the contemporary chefs in the recent times, this is not new to India.  Call it Indian frugality or environment consciousness, Indians have been using the peels, seeds and stems of vegetables for generations. For eg. Jackfruit seeds, Watermelon rind, Pumpkin flowers, Moringa flowers, Ridge gourd peel, cauliflower stalks, Pumpkin rind are all used for cooking and needless to mention, they are loaded with vitamins and minerals. But, with time and growing prosperity, this environment friendly habits have disappeared from many kitchens.  But, once in a while, I feel it is good to go back to our roots and also  if it is an environment friendly habit, then one must follow it.  So, one such recipe is the Pumpkin Peel chutney, where the hero ingredient is the pumpkin rind. Here goes the recipe:
Ingredients
1 cup of chopped pumpkin rind (kaddu ke chilke)
1 tbsp oil
1 tsp cumin seeds (jeera)
3 dried red chillies (sookhi laal mirch)
1 tsp sesame seeds (til)
3 tbsp fresh grated coconut (naryal)
A small piece of tamarind (imli)
A small piece of jaggery (gud)
½ tsp turmeric powder (haldi)
½ tsp asafoetida (hing)
Salt as per taste (namak)
For tempering
½ tsp oil (tel)
½ tsp mustard seeds (rai/ sarson)
A pinch of asafetida (hing)
3 to 5 curry leaves (kadi patta)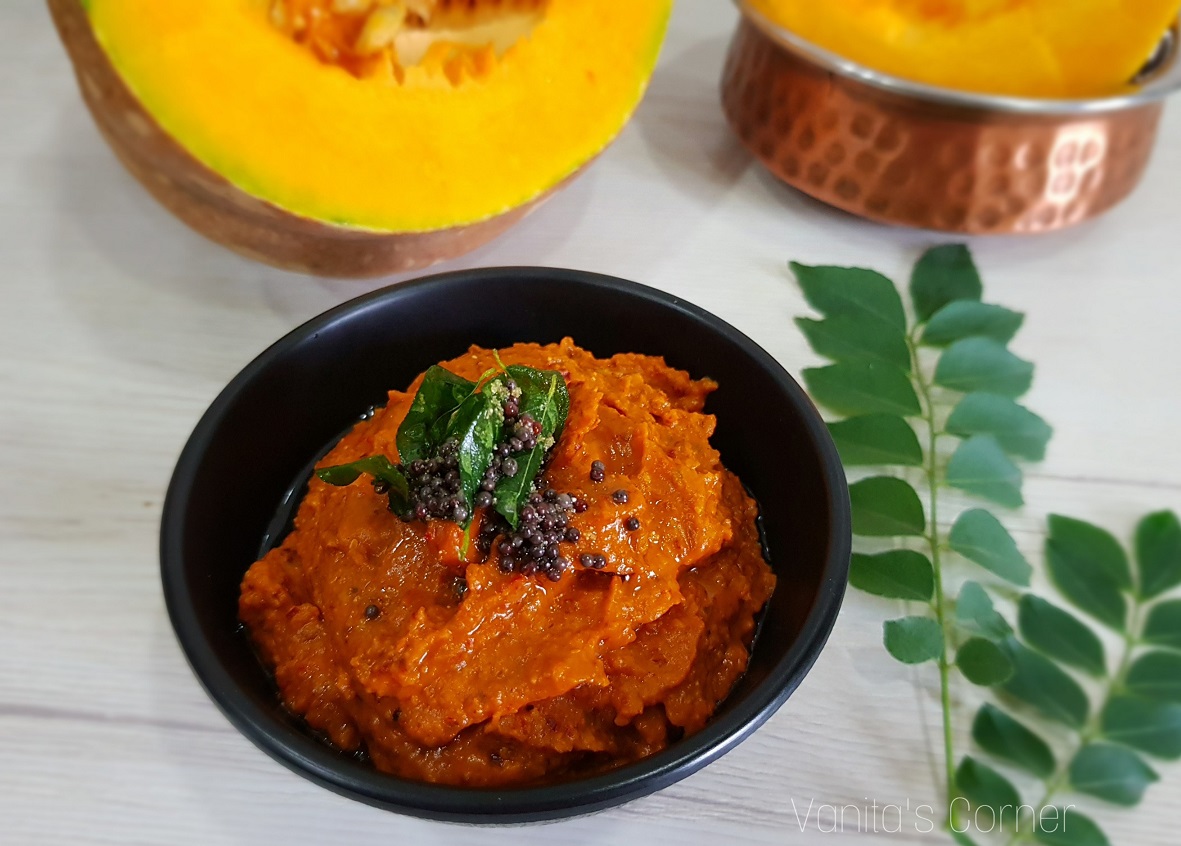 Method
Take two thick pieces of pumpkin.

Peel the rind .

Reserve the pumpkin flesh for another use. You can make pumpkin puris using the pumpkin flesh. 

Cut the pumpkin rind into thin strips.

Heat 1 tbsp oil in a pan.

Add cumin seeds.

When the seeds start spluttering add asafoetida.

Add chopped pumpkin rind.

Saute till they turn soft.

Now add the red chillies and sesame seeds.

Saute for few seconds.

Add grated coconut.

Saute till all the ingredients are well roasted.

Turn off the heat and allow the roasted ingredients to cool.

Mix in  tamarind, jaggery, turmeric powder and salt.

Add around ½ cup water and grind to a fine paste.

Heat ½ tsp oil in a small pan.

Add mustard seeds.

When the seeds start crackling, add asafoetida and curry leaves.

Pour the tempering over the ground chutney paste.

Pumpkin Peel Chutney is ready to be served.
WATCH RECIPE VIDEO: