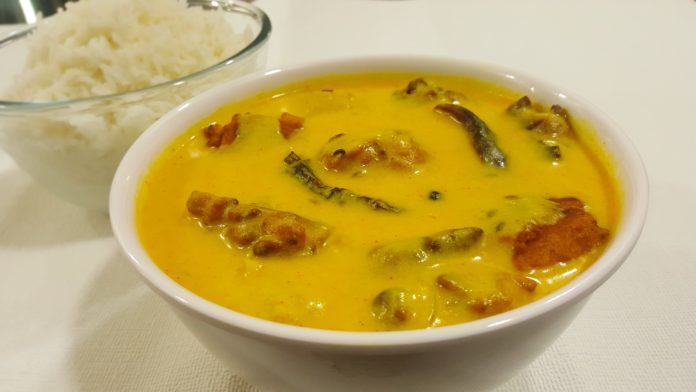 Every state has its own way of making kadhi. Punjab too has its own kadhi. Punjabi Kadhi is prepared with besan (gram flour), curds and besan and onion fritters. Besan fritters (pakodas) are deep fried and are submerged in thick yoghurt gravy. Punjabi Kadhi with steamed rice is an absolute comfort food. 
Ingredients
For Pakodas
2 cups gram flour (besan)
1 medium onion (chopped)
1 inch ginger (grated)
1 tsp carom seeds (ajwain)
1 tsp red chilly powder
½ tsp turmeric powder
½ tsp asafoetida
Salt as per taste
Oil for deep frying
For Kadhi
2 cups curds
½ cup gram flour (besan)
1 tsp turmeric powder
a tsp of red chilly powder
1 tbsp oil
½ tsp fenugreek seeds (methi seeds)
1 tsp cumin seeds
6 to 7 black peppercorns
2 dried red chillies (broken into large pieces)
1 medium onion chopped
½  inch ginger (chopped)
Salt as per taste
Method
For Pakodas
In a mixing bowl, combine besan, chopped onions, grated ginger, carom seeds, red chilly powder, turmeric powder, asafoetida and salt.

Add about half a cup of water and mix well.

Pakodas can be made in two ways. The first method is to deep fry the pakodas and the second method is to cook the pakodas in a paniyaram (appam) pan. I have demonstrated both the methods in the recipe video hereunder.

For deep frying, heat oil in a pan. Drop small portion of the besan mixture into the hot oil and deep fry till golden brown. Drain and keep it aside.

For cooking in the paniyaram pan, Heat and grease a paniyaram pan. Drop 1 tbsp batter in each depression.  Cover and cook on low flame for 4 to 5 minutes.  Turn the pakodas and cook again for 4 to 5 minutes. Remove and keep this aside.
For Kadhi
 In a mixing bowl, whisk the yoghurt and besan together till smooth by adding little water.

Heat 1 tbsp oil in a pan. Add the fenugreek seeds, cumin seeds, peppercorns and red chillies. Saute for few seconds.

Add the chopped onions, chopped ginger and saute for a minute.

Stir in the yogurt mixture.

Add turmeric powder, red chilly powder, salt and bring it to a boil.

Add the fried pakodas and continue to simmer for 5 minutes.

Serve hot with steamed rice.
WATCH RECIPE VIDEO
If you like dahi kadhis, do have a look at Gujarati Kadhi and  Palak Pakodi Kadhi.