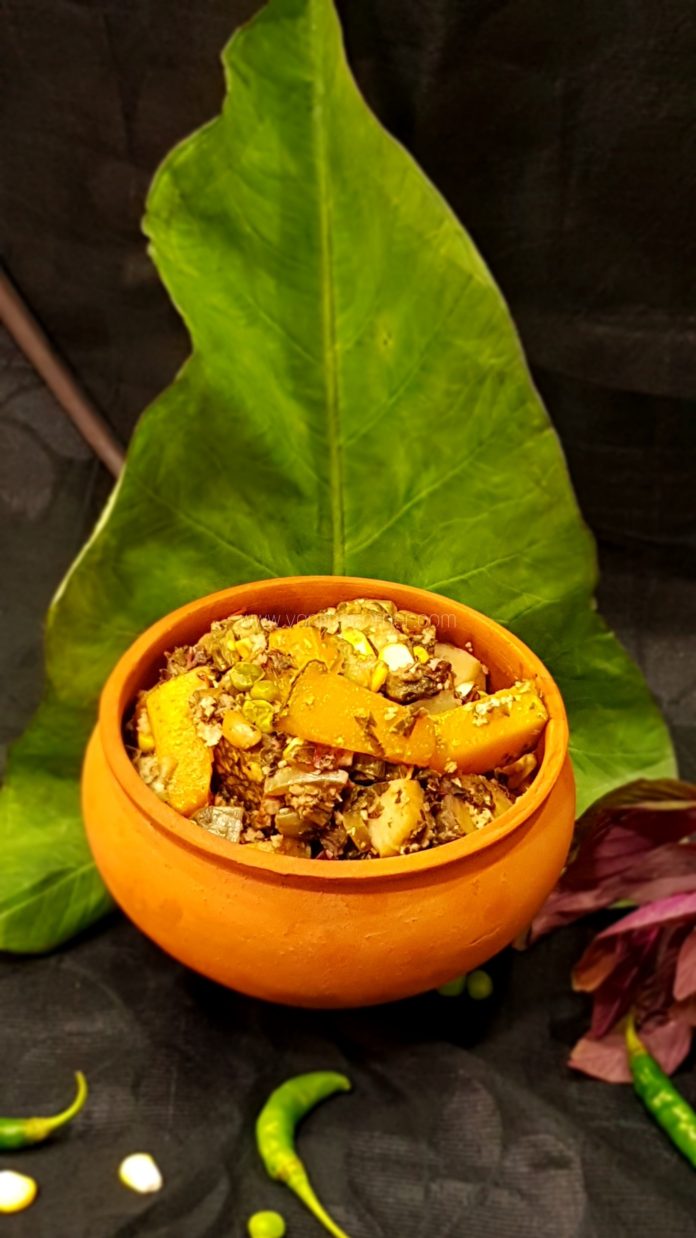 Rushichi Bhaji is a classic Maharashtrian dish usually prepared on Rishi Panchami, i.e. the day after Ganesh Chaturthi. It is prepared with seasonal vegetables and tubers like colocasia leaves, red amaranth leaves, raw banana, sweet potato, red pumpkin, sweet corn, green peas etc.  This dish is supposed to symbolise the cooking done by the rishis (sages) in their time, i.e. simple ways of cooking without any masalas.  The vegetables are cooked with few green chillies, grated coconut, tamarind pulp and jaggery, but it still tastes delicious. Here's the recipe for Rushichi Bhaji:
Ingredients
1 cup Colocasia leaves, chopped (aluchi paan / arbi ke patte)
½ cup colocasia stems (aluchi det/ arbi ke danthal), peeled and chopped
1 cup red amaranth leaves (laal maat/ laal chauli )
1 cup chopped snake gourd (padwal)
1 cup chopped ridge gourd (shirali /dhodka/ turai)
1 cup chopped sweet potatoes (ratalu /shakarkand)
1 cup peeled and chopped raw banana (kachchi keli /kachche kele)
½ cup green peas (vatana/ matar)
½ cup sweet corn (makai ke daane)
1 cup red pumpkin (laal bhopla/ laal kaddu)
2 tsp peanuts (shengdane/ mungphali)
a lemon sized ball of tamarind (chinch /imli)
½ cup grated fresh coconut (naaral / nariyal)
3 green chillies (hirwi mirchi/ hari mirch)
A small piece of jaggery (gud)
2 tsp oil (tel)
Salt as per taste (meet/ namak)
Method
Soak peanuts for minimum 2 hours.

Soak tamarind in ½ cup water for 30 minutes.

Mash and squeeze the tamarind and strain the pulp. Keep this aside.

Heat a pan and add oil.

Add chopped green chillies and saute.

Add peeled and chopped colocasia stems and saute.

Add the colocasia leaves, chopped snake gourd, ridge gourd, sweet potato, raw banana, pumpkin, green peas, peanuts, sweet corn, amaranth leaves and mix well.

Add the tamarind pulp, grated coconut, salt and 1 cup water.

Add the jaggery.  

Give a mix and cook covered for 10 to 15 minutes.

Keep checking at intervals and stir the vegetables.

Once all the vegetables are cooked, serve hot with bajra bhakri/ jowar bhakri or rice bhakri. It goes well with chapatis too.
Note:
Vegetables like lady finger (bhindi), colocasia tubers (arbi/alu) and roselle leaves (ambadi leaves) can also be added in this dish. In case, you are using ambadi leaves, then skip the tamarind pulp as ambadi leaves by themselves are sour to taste.
WATCH RECIPE VIDEO: